Breaking Down the Truth of Dominique Wilkins' Classic Larry Bird Trash Talk Story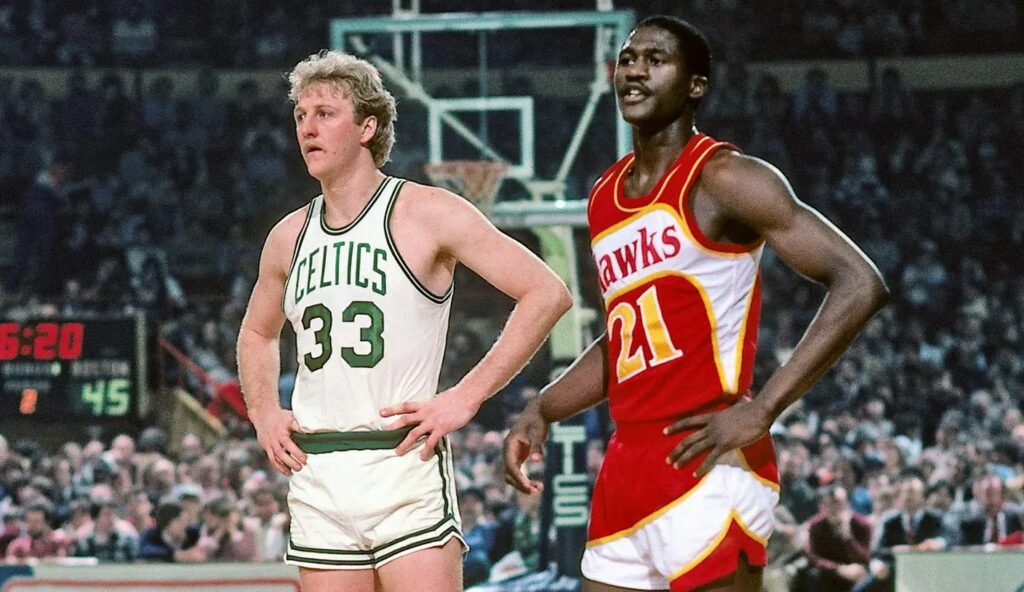 BASKETBALL LEGEND: Dominique Wilkins dunked on Larry Bird and kept Bird to "only" 39 points in the first game they played against each other in the NBA.
Let me say right off of the bat that I think that players should be allowed WIDE berth for their recollections of games, by which I mean that if a player gets a story BASICALLY correct, I don't think it's reasonable to say that a legend is "false" for minor details being incorrect. I have used box score data to debunk legends before, but I think it is only useful when it debunks a very specific claim. For instance, I'll be doing a future Baseball Legend about a player applauding another player because of the way that the other player did Thing X, only, the problem is, using box score data, we know that the other player never actually DID Thing X. I think that that is a fair enough situation.
But if you say stuff like, "In a game early in my career," and it was the sixth game of your career versus the first game of your career, I don't think that that is enough to say it is a "false legend." It's really just a case of allowing a little poetic license while still being essentially "true" for the sake of the legend. I'm not at all about busting guys on not remembering specific details of incidents. That's just nitpicking.
However, a side effect sometimes of players not precisely remembering their past games is that it starts a bit of a chain reaction, where their slightly misremembered stories get repeated by other people, telephone-style, and soon we DO get to the point where whole legends spring up that aren't close to the "real" story.
This brings me to a well-repeated Dominique Wilkins story of his early interactions in the NBA with Larry Bird. Wilkins has told this story on multiple occasions, so it is at the point where it is well-honed, and he repeats it pretty much verbatim each time he tells it. From one such telling in The Boston Herald in 2015 (but seriously, like, this exact story has been told by Dominique multiple times over the past decade or so):
One of the first times I ever played against him, I went out for the opening tip and I went to shake his hand. He just stood there and looked at me stone-faced with his hands behind his back. I was like, 'Whoa.' Then we were getting ready for the tip and he says to me, 'You don't belong in this league, Homes.' I couldn't believe it, but it happened so fast, I didn't know what to think. Then they had the ball and I was on him and he said, 'I don't know why they got you guarding me, Homes. You can't guard me.' Then, whap, he hit a 3. Then he came down again and said, 'They made a mistake putting you on me, Homes,' and he took another 3. So now I'm hot. I'm hot. I mean, I'm steaming. Then a little while later, I came down on a break and he was backpedaling. I just went right after him. I jumped up and he tried to challenge, but I took that right through the rim. He fell and hit the basket support. He got up and said, 'I like you, rookie. You've got(guts).' I was happy for a second, and then he said, 'But I'm still going for 40 on you tonight.' But I got him. He only scored 39.
It's a great story, and Wilkins tells it REALLY well. However, he is also conflating events a bit.
Bird and Wilkins played each other six times in Wilkins' rookie year of 1982-83.
In their first meeting, Wilkins actually outscored Bird, 22-21, in a Celtics blowout of the Hawks that didn't require Bird to exert himself all that much.
It was in that game that Wilkins did his amazing dunk on Bird that is still well-remembered to this day…
However, it was in their FINAL regular season matchup of that season, in April 1983 (the two teams would also face each other in the playoffs that year) that Bird scored 39 points.
Note, too, that Bird never made more than one three-pointer in any of the six games. Bird, and NBA players in general, just weren't shooting that many three-pointers in the early 1980s.
Wilkins only says "one of the first times," so he doesn't explicitly say that it was that first game, but the drive he is talking about WAS in that game, and Bird's trash-talking really only makes sense for that first game. So whatever, Wilkins conflated a couple of games into one game. It's not a big deal, but I think it is worth noting only because people sharing that dunk now think that it happened in a game where Bird then scored 39, and that's not the case.
So just for the sake of clearing that up, let us note that that aspect of the legend is…
STATUS: False
Be sure to check out Sports Legends Revealed for more urban legends about the world of sports. Here is the archie for just legends about basketball.
Feel free (heck, I implore you!) to write in with your suggestions for future installments! My e-mail address is bcronin@legendsrevealed.com.