How Bob Hope Was Like a Relative Johnny Carson Had to Just Put Up With at Thanksgiving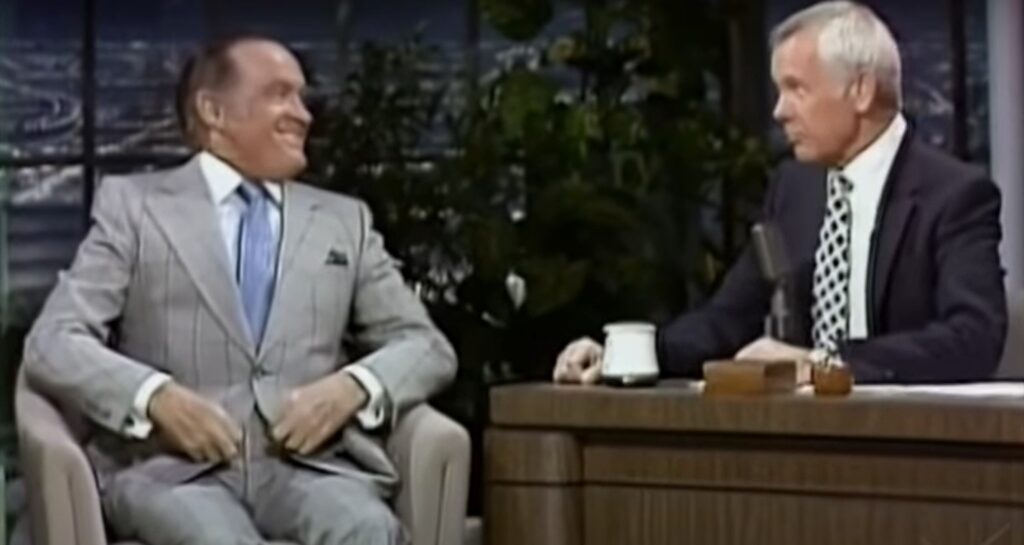 Today, I explain how Bob Hope was like an elderly relative that Johnny Carson was forced to put up with on The Tonight Show.
Knowledge Waits is a feature where I just share some bit of pop culture history that interests me that doesn't quite fit into the other features.
Celebrity feuds are, of course, entertaining in and of themselves, but they're typically about stuff that an everyday person can't really necessarily relate to, unless someone tried to steal all of YOUR backup dancers, that is.
That is why I enjoy the sort of one-sided "feud" between Johnny Carson and Bob Hope, where really, what the situation was like was the very relatable "Elderly relative who you have to humor," especially as we're now in the holiday season, and a lot of people are going to have to deal with this exact situation.
Bob Hope, of course, was an NBC star before NBC was even a television station, as he was one (if not THE) biggest NBC radio star, with his highly rated radio show, The Pepsodent Show (eventually The Bob Hope Show), running from 1938-1948 (it was the top-rated radio show from 1942-44). He was lured into television in 1950, with the first of a shocking TWO HUNRED AND SEVENTY TWO TV specials for NBC. These specials were routinely major hits (Hope also hosted Bob Hope Presents the Chrysler Theatre, for four seasons in the 1960s).
So Hope was NBC's biggest star, by far, for many many years. He was the top well until the 1980s, when he was probably eclipsed by, I dunno, let's say maybe Johnny Carson? Maybe Bill Cosby? I really don't know, but I think it is safe to say that by the mid-1980s, Hope was not number one anymore, but he was still very important. He still did TWENTY-FIVE specials from 1985-1989, after all. So he was a big deal at NBC right until he turned 90 in 1993, and then he "only" did six more specials before passing away at 100 in 2003.
And AS NBC's biggest star, he was given pretty much free reign to publicize these specials on NBC's The Tonight Show whenever he wanted to, much to the chagrin of its iconic host, Johnny Carson. Carson didn't, like, HATE Hope, and he certainly respected his work ethic and drive, but he didn't particularly like Hope OR Hope's brand of comedy. Tonight Show producer Peter Lassally explained to People a while back, "Johnny admired Hope's place in show business, but he was not a great admirer of his work." Since Hope was constantly promoting SOMEthing, he would be on the show all of the time, and as Lassaly noted, "We'd get a request and Johnny would go, 'Again?' And I'd say, 'Do you want to tell him no?' And he'd say, 'No. You can't turn down Bob Hope.'"
And there was the rub. Carson couldn't tell him no, so he would just have to humor him, as Hope would consistently big dog him, but Carson had to suck it up and let Hope get through his shtick. One of the things Carson really hated was that Hope had all of his lines pre-written, and Carson had a set of questions he had to ask because Hope only had lines prepared for those specific questions.
Andrew Nicholls, Carson's former co-head writer, also told People, "There was nothing spontaneous about Hope. He was a guy who relied on his writers for every topic. Johnny was very quick on his feet. Very well read. He was a guy who learned Swahili, learned Russian, learned astronomy. He appreciated people who he felt engaged with the real world. There was nothing to talk to Bob about."
Carson was a pro, and Hope WAS a pro, as well, so the finished bits would be fine, but when you see a bunch of them, you can really begin to see the strain of Carson trying to just get through the interaction and move on (I first noticed this while watching Carson re-runs on Antenna TV, Hope would show up so often that when you see them all strung together, you get a real sense of "Oh wow, Carson actively doesn't like talking to this guy").
Here are some Hope appearances (not looking for any specific one, just grabbed the first three I could find).
Here's one from 1980…
Here's one from 1981…
And here's one from very late in Carson's run on the show (Carson actually retired before Hope did!), when Hope was starting to really get out of (dude was 88 years old)…
Nicholls even said that Carson once told him, referring to Hope's later appearances, "If I ever end up like that, guys, I want you to shoot me."
So it's fascinating to watch, because it really isn't like Carson HATED the guy. He clearly didn't, and Hope didn't seem to care enough about Carson to hate HIM, either, it was just this awkward bit where Hope wanted to promote his specials and Carson wanted to simply get through the interaction without too much trouble. If you're having an awkward time with an elderly relative this holiday season, just try to pretend like you're Johnny Carson and simply get to the clip package, whatever way you can!
If anyone has any piece of pop culture history that you'd like me to discuss, drop me a line at brian@popculturereferences.com.