How Three's Company Was Like a Silver Age Comic Book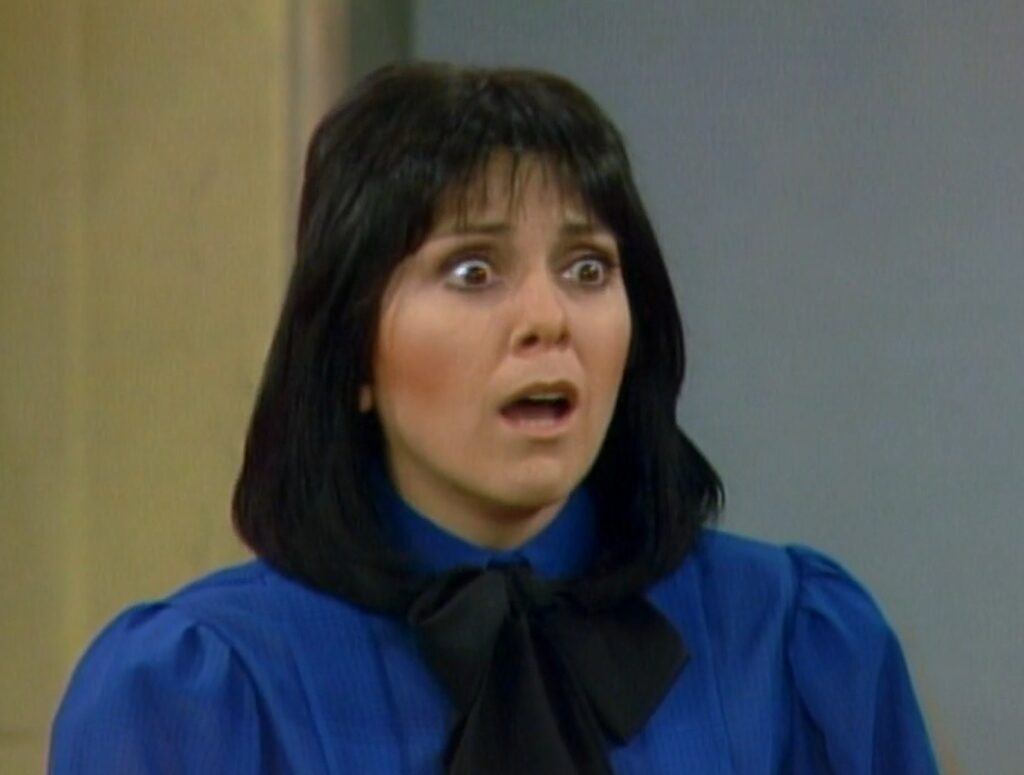 Today, I explain how Three's Company worked under the same plot rules as Silver Age comic books.
Knowledge Waits is a feature where I just share some bit of pop culture history that interests me that doesn't quite fit into the other features.
This is one of many different types of stories like this, but as a sample, let's take a look at 1961's Superboy #89 (by Robert Bernstein and George Papp), which introduced the superhero known as Mon-El. He arrived on Earth in a rocket ship similar to the one that Superboy traveled in when he arrived on Earth as a baby. When Superboy takes him out of the wreckage, he is shocked to note that the stranger that he just saved has a costume that has the same basic color scheme of Superboy's costume. He is shocked further, however, when he finds a note on the stranger's person that is from Superboy's own parents, Jor-El and Lara!
Once Superboy established that this stranger from another world has the same powers as him, he understandably assumes that he is Superboy's long-lost older brother, stuck in suspended animation for years. So Superboy brings the stranger to Ma and Pa Kent and they effectively adopt him. Anyhow, they come up with new names for him, as he has amnesia and cannot remember his own name. In one of the most adorable things ever, they decide to name him Mon-El because he arrived on a Monday. Come on, that's too damn adorable!
Since the comic book came out in the Silver Age, it is based on the notion that no one trusts anyone and if you give someone the slightest reason to doubt you, they will assume the absolute worst of you. Mon-El's belt is made out of a metal that is not native to Krypton and he doesn't react to Kryptonite, so Superboy automatically assumes that he is a villain.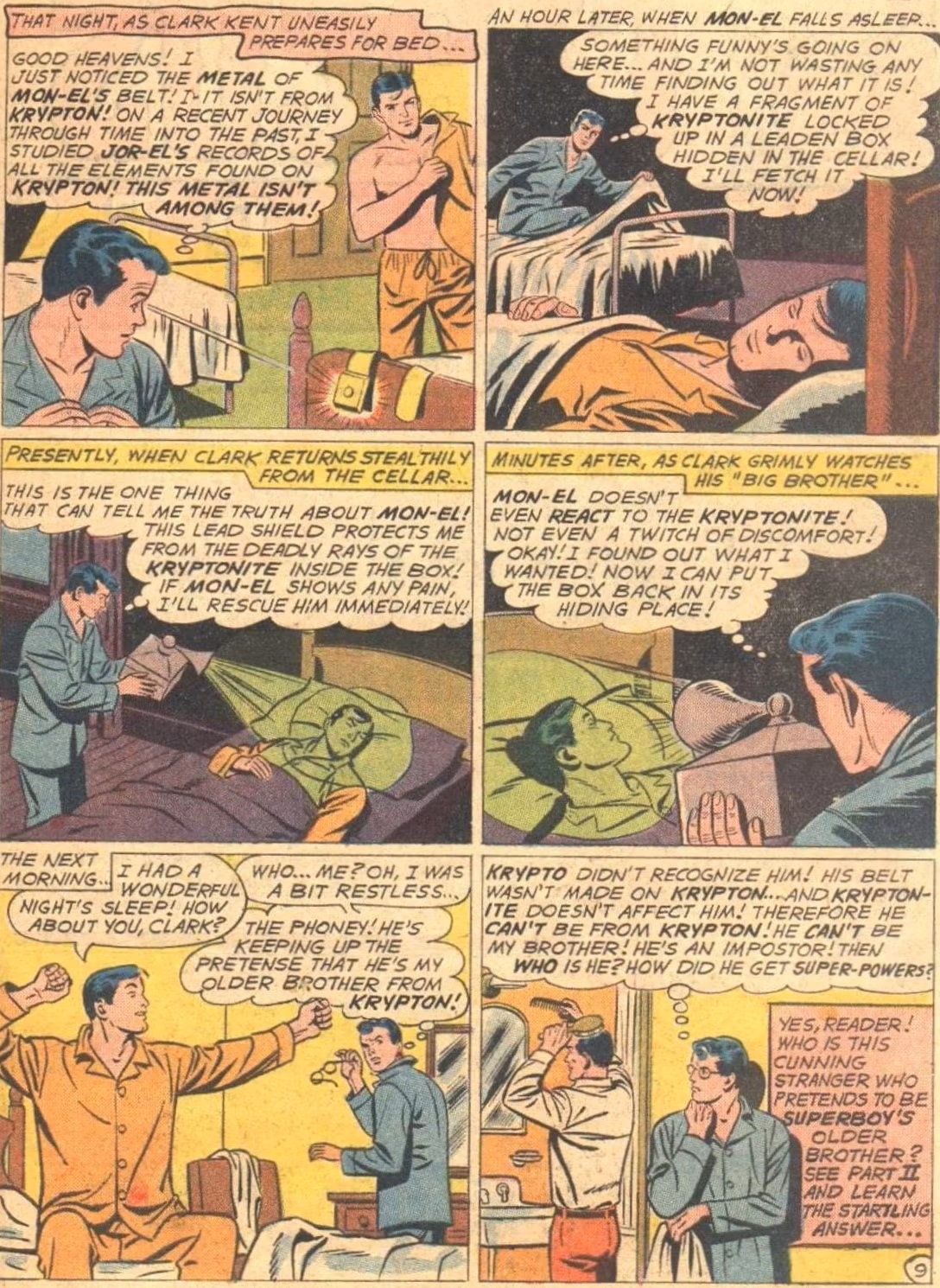 Clark keeps getting madder and madder, especially when his big bro seems to hit on Lana Lang. So Superboy did what all Silver Age heroes when they even slightly suspect someone of wrongdoing, they set a deadly trap for them! So Superboy seemingly expose himself and Mon-El to Kryptonite but when Mon-El reacts to it, Superboy tries to call him out, only to learn that the meteors ARE deadly!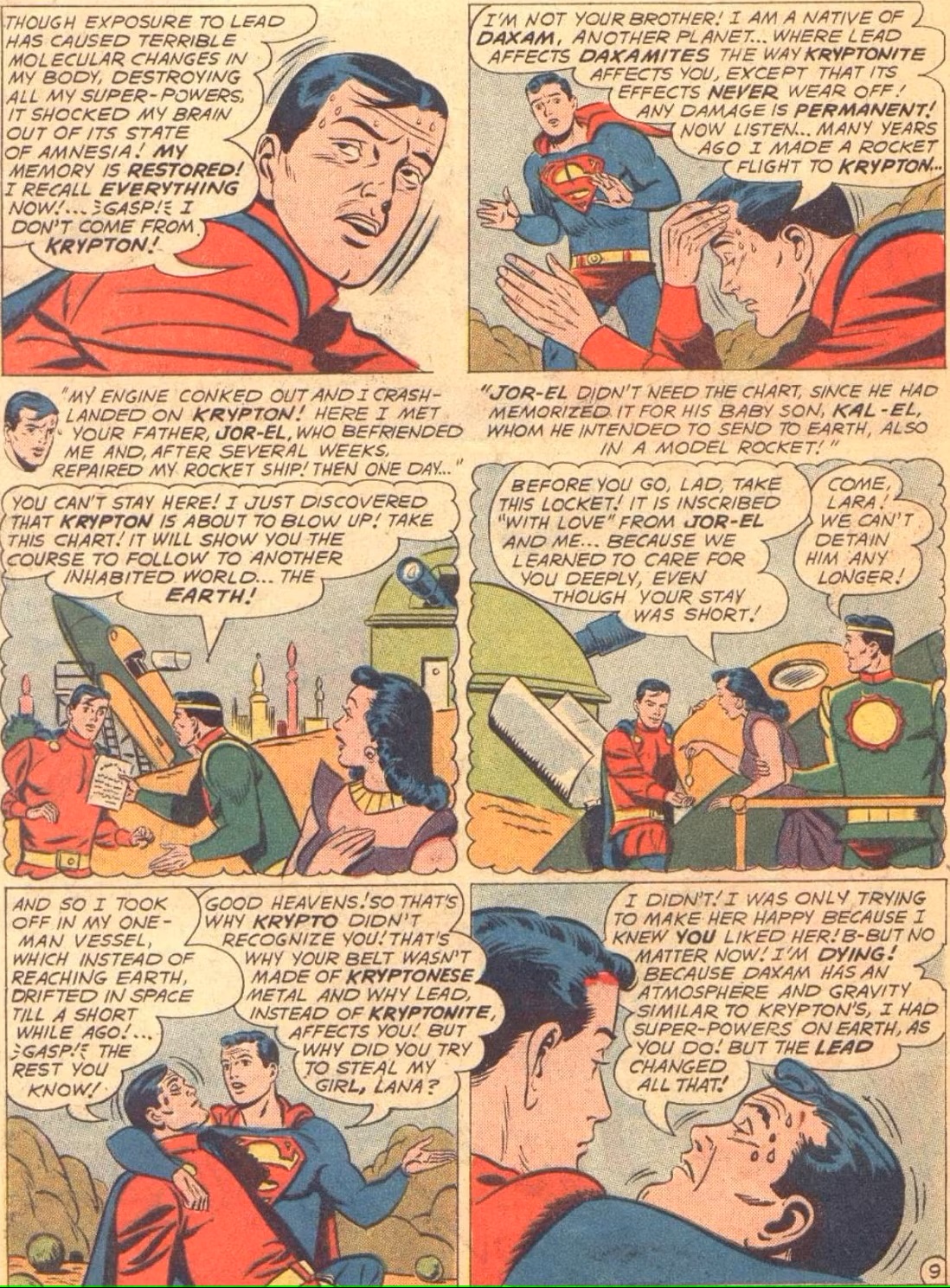 Superboy's only solution is to put Mon-El into the Phantom Zone while working on a cure…
Superbody doesn't actually get Mon-El out of there for a thousand years. Which is kind of nuts, right? "Oops, sorry I poisoned you. Don't worry, I'll put you into the prison we keep the worst prisoners. You should only be there for a thousand years or so."
Brainiac-Five of the Legion of Super-Heroes eventually find a cure and Mon-El is released and becomes a member of the Legion.
Okay, so that's basically the plot of every episode of Three's Company, which was about a man, Jack Tripper, living with two female roommates (Janet Wood and three different women as the third roommate. Most famously Chrissy Snow, but also her cousin, Cindy Snow, and then Terri Alden). In every other episode, someone will hear only part of a conversation, and then come to the worst possible conclusion that they can come up with, and then never talk to each other and just act on the thing they think they overheard.
These people are ostensibly good friends, but they will assume the worst of each other at the drop of a hat. "Jack's helping his boss' wife? He must be having sex with her!" "I guess Chrissy just decided to become a prostitute." "I guess Janet is having sex with a teenager."
Their landlords (first Stanley Roper and later Ralph Furley) were also involved in the nonsense, but at least Roper didn't really like them all that much, so him assuming the worst of them was fair enough, but Furley was friends with the roommates, so HIM always assuming the worst was more annoying, especially since his leaps of logic were always so, so stupid.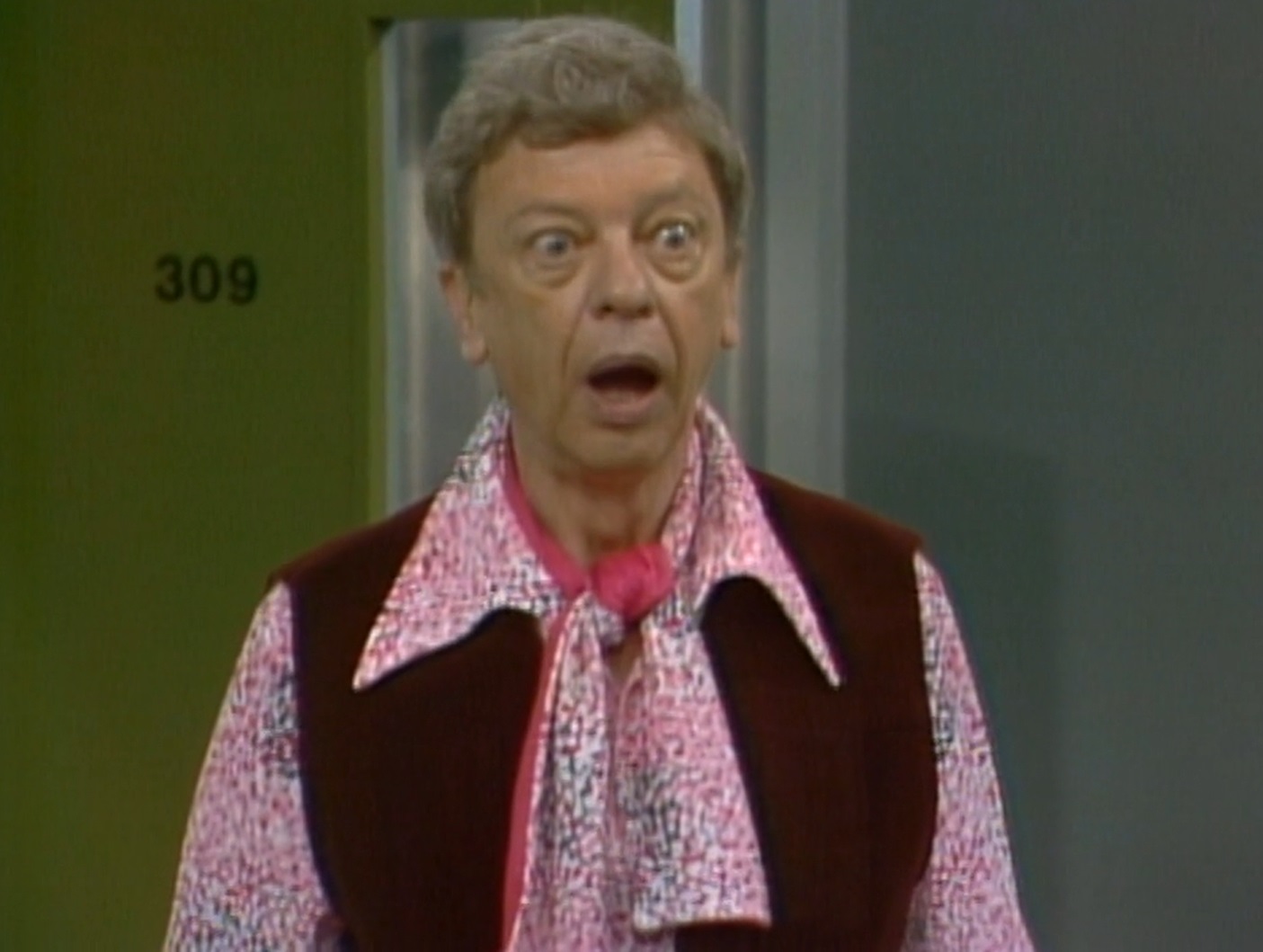 "Jack just gave birth!??!"
That's legit what he is reacting to in that image.
Of course, Silver Age comic books were written for children, and Three's Company was written for…I dunno, but either way, their approach was very similar.
Drop me a line at brian@popculturereferences.com if you have any other interesting bit about pop culture that you'd like me to discuss!