Jane Fonda, Sally Field, Lily Tomlin and Rita Moreno Have 'Never Been Better' Than 80 For Brady?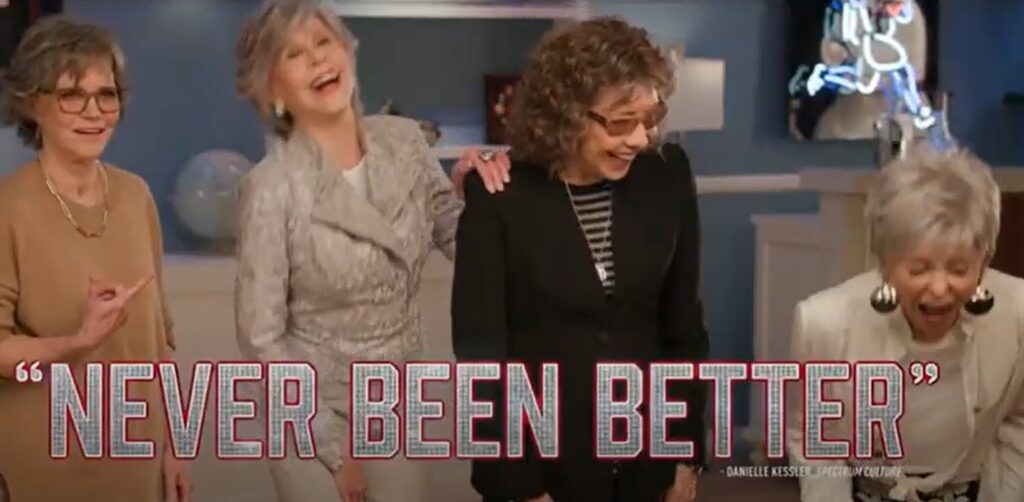 Today, we look at one of the funnier weird movie claims in a commercial in a new 80 For Brady TV spot.
Knowledge Waits is a feature where I just share some bit of pop culture history that interests me that doesn't quite fit into the other features.
Over the years, something that movie studios get into trouble with is the claims made in the ads for its films that make some rather outlandish review claims. Sony even literally invented a fake reviewer, David Manning, for its TV ad spots in the early 21st Century.
Studios don't do that anymore, but they aren't a WHOLE lot better than that nowadays in terms of how they "paraphrase" reviewers to end up with much better reviews than they actually got, which leads to some outlandish claims.
The latest is in a TV spot for the new comedy, 80 For Brady, starring Jane Fonda, Sally Field, Lily Tomlin and Rita Moreno. Jane Fonda has won two Best Actress Academy Awards. Sally Field has ALSO won two Best Actress Academy Awards. Rita Moreno won an Academy Award for Best Supporting Actress. Lily Tomlin is one of the more acclaimed comedic actors of the past 50 years.
And yet the ad has a quote from a review stating that the cast has "never been better" than this film, where they play a group of Tom Brady fans who try to get tickets to see Brady's Patriots defeat the Atlanta Falcons in 2017.
The ad cites Danielle Kessler of Spectrum Culture. Here is Kessler's review of the movie on Spectrum Culture. As you can see from the review, she is not AGAINST the film. She gives it a moderately positive review, three stars on the five star standard and 62% on a 100% standard. This end bit sums up her review well:
The topic of aging for women is always a sensitive one, but portrayals of genuine female friendship like in 80 for Brady will always offer an alternative narrative to the typical menopause-fearing propaganda we've been fed for far too long. The cool part about this is we're able to see older women embrace vulgarity, become feared by men and also make a killing writing Rob Gronkowski fan fiction.
So yeah, positive enough review, but that the cast has never been better?!?
I messaged Kessler about it, and she explained that when she saw the film at a screening, they were asked to do brief reviews there, and it's that brief quote at the screening, and then the studio's marketing just "sort of shortened it" a bit. Suffice it to say that she did not actually say that the cast had "never been better" than 80 For Brady.
Funny stuff.
Thanks to Danielle Kessler for the information!
Feel free to e-mail me at my all-new, much shorter e-mail address, brian@poprefs.com, for suggestions for shows for us to do in future installments!