Kelly Clarkson's Performance of 'Piece by Piece' on American Idol is Now Sadly Ironic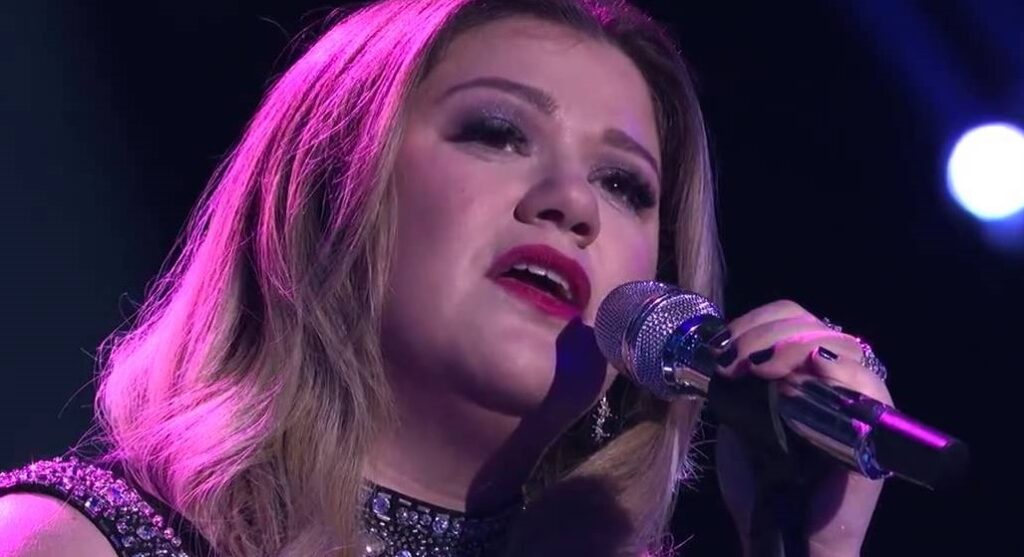 Today, we look at how Kelly Clarkson's emotional performance of "Piece by Piece" during the final season of the FOX version of American Idol is now sadly ironic.
This is "The Past Was Close Behind," a feature that spotlights moments, exchanges, etc. from older pop culture works that take on a brand new light when viewed in concert with later pop culture works or events. Basically, stuff that looks hilarious (or interesting) in hindsight.
In early 2016, on the final season of the original version of American Idol, a very pregnant Kelly Clarkson appeared to give an emotional performance of her song, "Piece by Piece," a song she wrote while pregnant with her first child and was now performing while pregnant with her second kid.
It's a song about her father abandoning her, and how she is realizing how great it is to be loved by someone else (Brandon, her husband at the time). She explained the song, "A lot of the reason why I wrote 'Piece by Piece' was I guess I didn't realize the gravity of the situation until I had a child of my own, and until I experienced love like I do with Brandon on the daily. I guess you don't realize something is missing until you feel it. I can't imagine walking away from my little girl. I can't imagine not having that love anymore. I didn't know it was missing because I never had it. It was a revelation and that's why I wrote that song. I think a lot of people go through that."
The lyrics (which made Clarkson break up a number of times during her performance, and also made American Idol judge Keith Urban bawl during the performance) include:
And all I remember is your back
Walking towards the airport, leaving us all in your past
I traveled fifteen hundred miles to see you
Begged you to want me, but you didn't want to
But piece by piece, he collected me up
Off the ground, where you abandoned things, yeah
Piece by piece, he filled the holes that you burned in me
At six years old and you know
He never walks away
He never asks for money
He takes care of me
He loves me
Piece by piece, he restored my faith
That a man can be kind and a father could stay
And…well…Clarkson is now divorced for her husband, and had a big divorce settlement with her ex, according to CNN:
Their divorce agreement, obtained by CNN, states that Clarkson will pay a monthly child support payment to Blackstock of $45,601. The couple have two children together and will share custody.

The singer and talk show host must also make a one-time payment of $1.3 million and $115,000 in monthly spousal support until January 31, 2024.
Without going directly into the various rumors about Clarkson's ex, suffice it to say that Clarkson is clearly dealing with some rough stuff with her divorce, while also having to navigate writing songs about the divorce while having young children she doesn't want to mess with (she noted in an interview a few months back, "There's a lot of hearts involved here. And you know, that's the thing that's been kind of hard to navigate is I am an open book, but at some point I'm a mama bear more than I am a person in the public eye. So, I care one hundred percent more about my children than I do anything else on this planet. So, that's been the hard thing of, like, yes, I'm willing to share my experience and yes, it is the worst. I mean, the past few months have been horribly sad. But at the same time, I have to think, 'Hmmm, like, what I say has a domino effect in other people's lives.'"). It is important to note, though, that her ex has joint custody of their children, so that part of "Piece by Piece" still works. He's clearly a father who "can stay."
Okay, folks, if you have any suggestions for a future The Past Was Close Behind, drop me a line at brian@popculturereferences.com!