Say 'Yes' To These 'Trying On Dresses' Movie Montages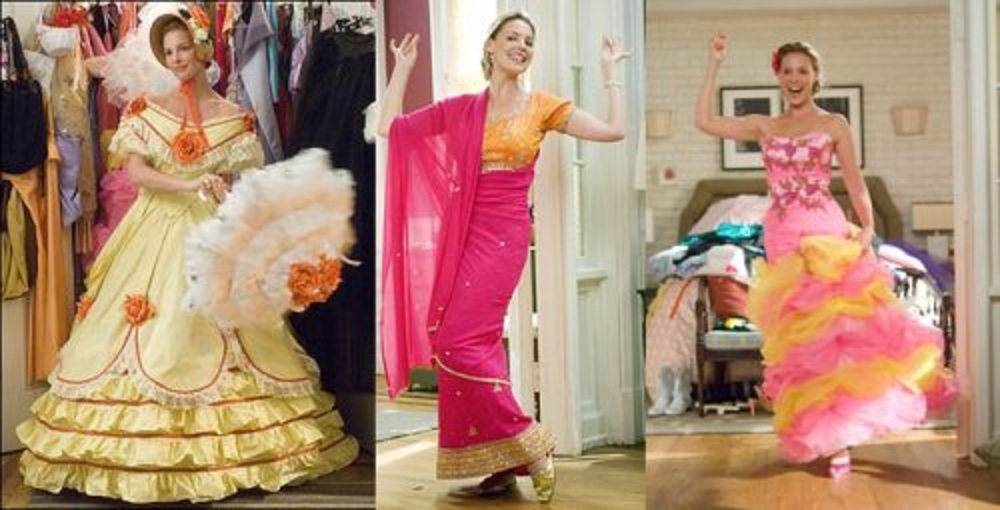 Today, we look at a few notable "trying on dresses" movie montages.
This is "Moves Too Fast," a new feature requested by my friend Lisa of spotlighting notable montages (it doesn't have to be from movies, but I assume it'll mostly be movies) based on themes.
We'll kick things off with some classic "trying on dresses" movie montages.
These are distinct from two other types of montages that I'm sure I'll spotlight later on, which is namely "shopping montages" and "makeover montages." Here, the focus is purely on trying on dresses, not doing a makeover or going on a shopping spree.
FOUR WEDDINGS AND A FUNERAL
One of the weddings in Four Weddings and a Funeral is that of the Carrie, the love interest of the main character in the film, Charles, and he actually has to help her look for wedding dresses for her wedding while he is madly in love with her!
Rough!
THE SWEETEST THING
The Sweetest Thing is not a good movie, but there are some cute scenes in it, including this one, where Cameron Diaz and Christina Applegate's characters break the fourth wall and decide to do a dress montage…
27 DRESSES
This film's whole title, 27 Dresses, is a reference to how many bridesmaid dresses that lead character, played by Katherine Heigl, has worn in her life. So, of course, get a classic montage of her wearing them all!
SEX AND THE CITY: THE MOVIE
Carrie is moving in with Big in Sex and the City: The Movie, and so she has to go through her dresses and decide which ones to keep and which ones to toss, and so, of course, she makes her decision by doing a fashion show montage with her friends…
ABOUT TIME
This clever scene in About Time sort of speaks to the film's central lesson…
The main character uses time travel to try to constantly redo his life when he realizes that the first go at things was the right one all along (he met the love of his life naturally, but then lost that first meeting when he traveled in time to help a friend, and then he had to use time travel repeatedly to get back with his future wife).
That's it for this inaugural installment! If you have a suggestion for a future montage theme, drop me a line at brian@popculturereferences.com!