Take a Study Break With These Movie Studying Montages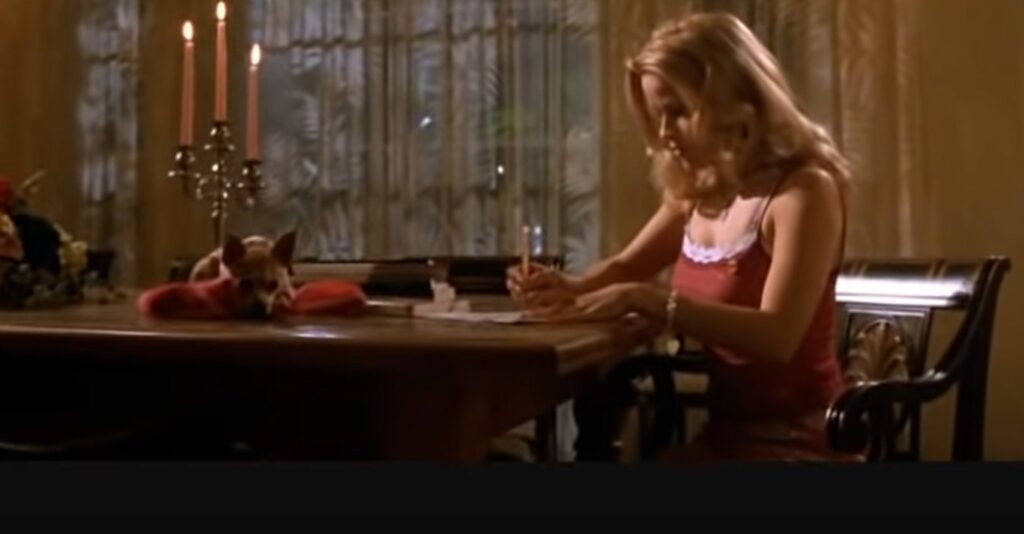 Today, we study up with some notable movie studying montages.
This is "Moves Too Fast," a feature requested by my friend Lisa that spotlights notable montages (it doesn't have to be from movies, but I assume it'll mostly be movies) based on themes.
The theme for this installment is studying montages.
BACK TO SCHOOL
The Rodney Dangerfield vehicle, Back to School, featured Dangerfield as a bored rich guy, Thornton Melon, who follows his son to college and decides to enroll himself. He mostly parties and bribes his way through his classes until a dean threatens him with expulsion if he cannot pass an oral examination in all of the subjects that he is taking (and allegedly passing). Thornton plans to just give up and leave, but his son (and Thornton's professor girlfriend) convince him to stay and just study hard enough to pass the exam…
He does so, with Ds in almost all of the subjects. He later gives an awesome commencement speech when he recommends to the graduates that the move back in with their parents.
SUMMER SCHOOL
In the hit comedy, Summer School, Mark Harmon plays a Phys Ed teacher who is blackmailed into teaching Remedial English during Summer School. He basically doesn't care and blow off teaching (just goofing off every day), until he learns that his tenure status depends on the kids (as a whole) passing the class. He then goes out of his way to basically be a servant to the kids to give them everything they want in return for getting them to actually study. They, of course, being teenagers, take advantage of him to the point where he just decides to give up and quit. Two of the kids were horror movie nuts and so they use horror special effects to scare off his replacement and then they apologize to their teacher and get him to come back and promise that they'll really study now, cue the montage!
In the end, they actually still fail as a class, but the improvement was so vast that their parents insist that Harmon's character be kept on and so he gets his tenure.
BILLY MADISON
The Adam Sandler vehicle, Billy Madison, is based on the absurd premise that Sandler's Billy must complete every grade through high school in two weeks to prove that he has what it takes to take over his father's company instead of his father's sniveling executive vice president, Eric (played so well by Bradley Whitford. You love to hate this guy). Eric bribes Billy's principal to say that Billy cheated and so Eric is named the new head of the company, but then the principal relents and admits that Billy did not cheat. However, Billy now has taken longer than the allotted two weeks. Eric threatens to sue if Billy is given a second chance. Billy instead threatens him to an academic decathlon based on all of the knowledge you'd learn during grade school and high school. Eric agrees to this absurd idea and then Billy starts to cram…
Luckily for Billy, in the end, Eric breaks down when given a business ethics question. Billy, however, realizes he is not fit to run his father's company and lets his father's trusted right hand man, Carl, take over. Billy then decides to go to school to become a teacher.
LEGALLY BLONDE
This is a fun one, because there are TWO studying montages! In Legally Blonde, Reese Witherspoon's Elle Woods is in her senior year of college and waiting to be proposed to by her longtime boyfriend. He instead breaks up with her and tells her he needs to be more serious if he will become a Senator like his family wants, so he is breaking up with her before he goes to Harvard Law School in the fall. Elle then decides that SHE'LL go to Harvard Law School, as well, but first must study really hard to get a high score on the LSAT…
Once she's at Harvard Law School, though, she mostly blows it off just to try to win her ex-boyfriend back. He again tells her that she isn't serious enough for him to, well, take seriously. So she finally decides that fine, she'll actually take Law School seriously, cue the study montage!
In the end, she excels as a student and eventually becomes the Valedictorian. He tries to get her back, but she turns him down (gently, as she actually thanks him for inadvertently pushing for her to succeed on her own).
MONSTERS UNIVERSITY
In the prequel film, Monsters University, we see how Mike and Sully first met and became friends. As it turns out, Sully just glided by in college through natural scary ability while Mike had to study like crazy to learn how to scare people, as he just isn't all that scary…
In the end, they somehow both end up expelled, but grow to become great scarers anyways, which is an odd result, really, for a prequel about their time at Monsters University.
If you have a suggestion for a future montage theme, drop me a line at brian@popculturereferences.com!