That Time Leverage Asked, 'What if Werner Herzog Directed The Office?'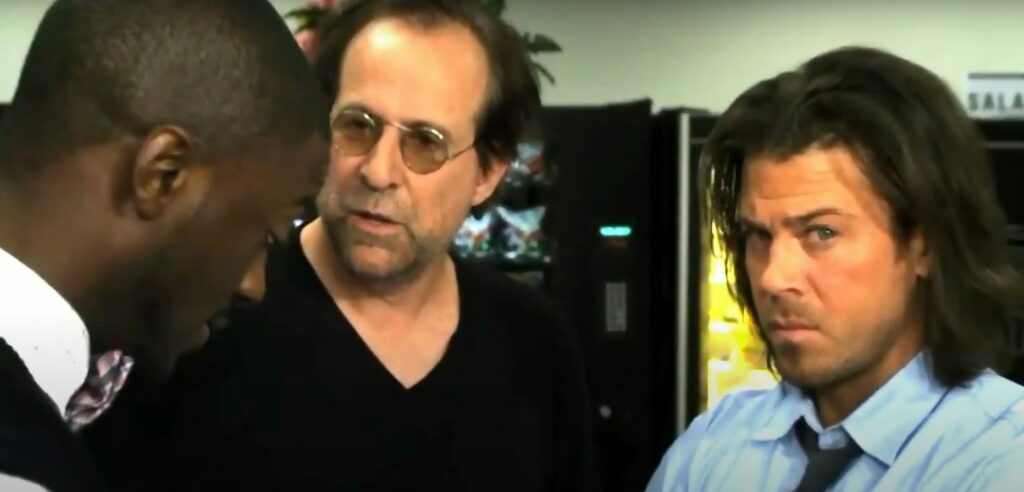 Today, we look at the episode of Leverage that essentially asked, "What if Werner Herzog was the director of The Office?"
This is "My Name It is Nothin'," a look at when movies and TV shows feature celebrities, characters and/or famous people without featuring the actual celebrity/famous people. You know, changing the names so that you can tell the story without legal issues.
May is a Month of My Name it is Nothin' (or perhaps May Name it is Nothin')!
Leverage was about a team of expert criminals who used their skills to take down the rich and powerful (the title references the fact that they give the common person "leverage" that they wouldn't normally have). Created by John Rogers and Chris Downey, the show was charming and clever, and one of the best examples of the humor of the series came in Season 4's "The Office Job."
The gang are trying to take down an embezzler at a greeting card company, and go undercover as a team of efficiency experts (as the company is about to be bought by a larger greeting card company). However, what they weren't anticipating was the fact that the company had previously agreed to let a German documentary film maker do a documentary about their company.
So the episode finds the team essentially stuck in an episode of The Office (lots of glances at the camera, as you might imagine), but added twist is that the director of the documentary, Gunter Hanzig (played by the great Peter Stormare), is basically the great German film maker, Werner Herzog. Hanzig falls for Parker (Beth Riesgraf), and his attempts at wooing her involve using Herzog-eque language (Herzog is known for his unusual way of talking, which is so perfect for satire. Here's Paul F. Tompkins' doing a Yelp review as Herzog).
Very cute.
If anyone else has a suggestion for a future My Name It Ain't Nuthin', drop me a line at brian@poprefs.com!