That Time Murphy Brown Met…Murphy Brown?!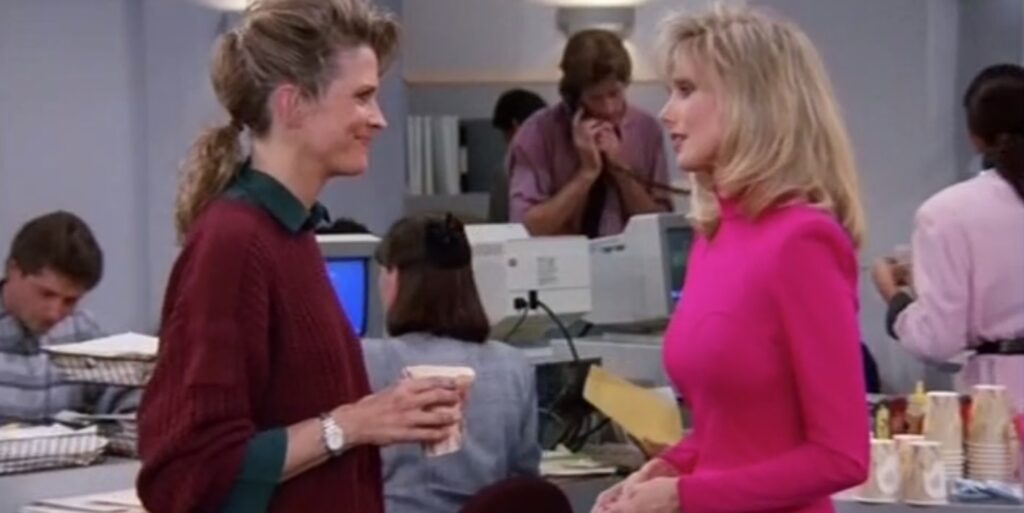 Today, see how an episode of Murphy Brown saw Murphy Brown meet…Murphy Brown?!
This is "My Name It is Nothin'," a look at when movies and TV shows feature celebrities, characters and/or famous people without featuring the actual celebrity/famous people. You know, changing the names so that you can tell the story without legal issues.
May is a Month of My Name it is Nothin' (or perhaps May Name it is Nothin')!
Murphy Brown was a long-running sitcom that starred Candice Bergen as Murphy Brown, a famous TV journalist who was just returning to her popular TV news magazine series, FYI, after a stint at the Betty Ford rehab center for a drinking problem. She was met with a new executive producer, Miles Silverberg (Grant Shaud), who was over a decade younger than Murphy, who added a perky former Miss America, Corky Sherwood (Faith Ford) to the show, much to Murphy's disdain. Of course, over time, Murphy grew to care for both Miles and Corky (heck, forget "over time," they were one big happy work family before Season 1 was in the books).
Here's an interesting thing about Murphy Brown, it was a good show and was very critically acclaimed, but I don't think people quite recall just how much hype it got when it debuted. A modern, well-made and bold sitcom starring a woman with a woman creator/showrunner (the great Diane English)? It was a BIG deal. But as a result, the show seemed to sort of buy into its own hype. Again, it WAS a good show, so it wasn't a big deal, but boy, few shows have celebrated their own success as much as early Murphy Brown did (Glee, at least, made Murphy Brown look practically demure).
Case in point, they did a parody of themselves in the fourth episode…of Season 2!! That's extremely early to be doing a self-parody episode.
In "TV or Not TV," Morgan Fairchild plays Julia St. Martin, star of a new TV sitcom called Kelly Green that is clearly based on Murphy Brown (Kelly bed, like Murphy bed, and Green like Brown). St. Martin, obviously, is supposed to be Candice Bergen, so we have Fairchild as St. Martin as Bergen playing Murphy Brown. Layers upon layers (I have another good example of that sort of thing coming up later this month, as suggested by my pal, Garth)!
While Murphy is initially wary about a show being based on her, she quickly gets caught up in the attention, and she ignores Miles when he tells her she shouldn't agree to do a cameo on the show when St. Martin asks her (a riff on the real life journalists who had done guest spots on Murphy Brown in Season 1).
Murphy ends up being a terrible actor, and the show is a bomb. At the end of the episode, Connie Chung guest stars as herself, admonishing Murphy for doing the cameo, saying respectable journalists should not be doing cameos on sitcoms (wocka wocka), while also revealing that the Kelly Green people had asked her to do that same cameo and she had turned it down.
If anyone else has a suggestion for a future My Name It Ain't Nuthin', drop me a line at brian@poprefs.com!