The Time Willis Reed Fought the Entire Lakers Bench…and Won!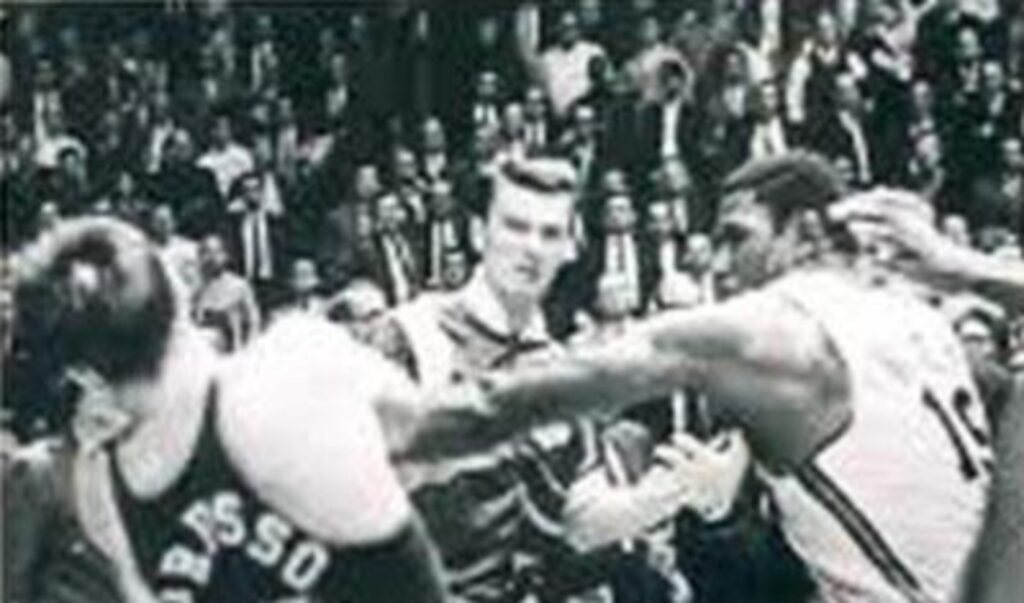 Willis Reed, the legendary Knick star, has died, at the age of 80. I thought I'd honor his death by revisiting a legendary incident involving Reed from over 50 years ago.
The Knicks' home opener of the 1966-67 season between the Knicks and the Lakers was so heated that itresulted in second-year Knick power forward Willis Reed essentially fighting the entire Los Angeles Lakers' bench…and winning!
Willis Reed was in his third season as a Knick when the 1966-67 season kicked off in October 1966 with a loss to the Philadelphia 76ers on the road. The Knicks' home opener was on Tuesday, October 18, 1966 against the Los Angeles Lakers, who were the defending Western Conference Champions (falling to the Boston Celtics in a hard-fought seven-game NBA Finals earlier in 1966) and Reed was the starting power forward. Drafted in the second round of the 1964 NBA Draft as a center, Reed ended up splitting time at center and power forward along with the Knicks' first round draft pick, Jim "Bad News" Barnes, as the pair were used similarly to how Patrick Ewing and Bill Cartwright were deployed decades later. Early in the 1965-66 season, Barnes was packaged in a deal for star center Walt Bellamy, who became the Knicks primary center with Reed as the primary power forward. At the start of the 1966-67 season, Reed and Bellamy were now beginning their first full season playing together.
During the game against the Lakers at Madison Square Garden, Reed was matched up against veteran forward/center Rudy LaRusso, in his eighth season out of Dartmouth. Throughout the game, Reed took exception to what he felt were an inordinate amount of elbows thrown his way by LaRusso as the pair jockeyed for position in the low blocks. LaRusso, I am sure, felt that Reed was giving just as good as he was getting. Reed complained to the referees, who he later noted looked at him as though he was nuts, so Reed determined that if they were not going to take care of things, he would.
During the third quarter, a Knick was shooting two foul shots. After the second shot went up, naturally, LaRusso and Reed began jockeying for position and Reed felt that LaRusso hit him with one elbow too many, so after LaRusso turned to head up court, Reed tangled up with him a bit. LaRusso responded by throwing a haymaker at Reed. The problem for Reed was that this was taking place directly in front of the Lakers' bench, so quickly a bunch of Lakers race on to the court.
When Reed turned to respond to LaRusso's missed haymaker, Laker center Darren Imhoff (a former Knick #1 draft pick) grabbed Reed from behind, ostensibly to break up the fight. Well, LaRusso took this opportunity to tag Reed with a punch. This enraged Reed. He slugged Imhoff, dropping the big man to the ground. He then chased LaRusso to the Lakers bench and got in two mighty shots in LaRusso's face. At this point, Laker rookie forward John Block ran up, also ostensibly to play peacemaker. Well, Reed responded with a left hook that broke Block's nose. Imhoff came up again and Reed punched him in the eye, sending a bleeding Imhoff into a bunch of Lakers. By this time, Reed's Knick teammates had arrived, as well, and it was a full-fledged brawl (Knick guard Em Bryant, in particular, was jumping all over Lakers). Reed caught LaRusso one more time, knocking him to the ground. Reed was also throwing any other Laker who came at him to the ground, including Laker center Hank Finkel.
Both Reed and LaRusso were ejected, and were each fined $50. Head of the NBA referees Dolph Schayes debated suspending Reed, but luckily for Reed, the Knicks had footage of the encounter and it was clear that LaRusso had started it, so Reed was cleared.
Reed later told his teammates that they should never try to restrain him in a fight, and his reasoning would explain why he became so enraged when Imhoff restrained him while LaRusso took a shot at him (well, a reason beyond the straightforward "it is not cool to be restrained by a guy while his teammates hits you") and that was that he was restrained once during a fight when he was in college and someone in the crowd took the chance to throw a bottle at him. So Reed warned his teammates that if they ever tried to restrain him, well, they could expect a little of what he gave to the Lakers.
In 1977, Reed reflected on the event to Sports Illustrated's John Papanek, noting, "They said I should be banned. All I got was an ejection and a small fine, nothing like what they give out now. You know what would happen if someone did all that today?" Papanek posited, "Would a full $10,000 be a good guess?" Well, if that's what they figured would happen if Reed's fight had taken place in 1977, can you imagine if it took place in 2023?! It's funny that when you think of the Knicks and brawls, it is the 1990s Knicks that comes to mind, but the Knicks were doing this stuff decades earlier!
In his biography, Phil Jackson tells the story of Red Holzman coming out to North Dakota for Jackson (a second round draft pick of the Knicks in 1967) to sign his rookie contract. After signing, Holzman left him with a game film to watch. Jackson viewed it with his friends. The game? None other than the Reed fight game. Jackson recalled watching it with his friends many times, amazed that this would be the guy Jackson would soon have to be guarding in practice.
Of course, after the 1967-68 season, Walt Bellamy was traded in a deal for Dave DeBusschere and Reed was now the Knicks' official man in the middle, where he would remain for many years, including two NBA championships.
I wonder what he would have done if someone put his hand around his throat?
Thanks to Bill Gutman, John Papanek, Willis Reed, Knick point guard at the time Howie Komives and Phil Jackson for all of their insights and quotes on the 1966 brawl.
RIP, Captain