Today's Heardle Answer Speaks to How Messed Up the Current Singles Market Is in the U.S.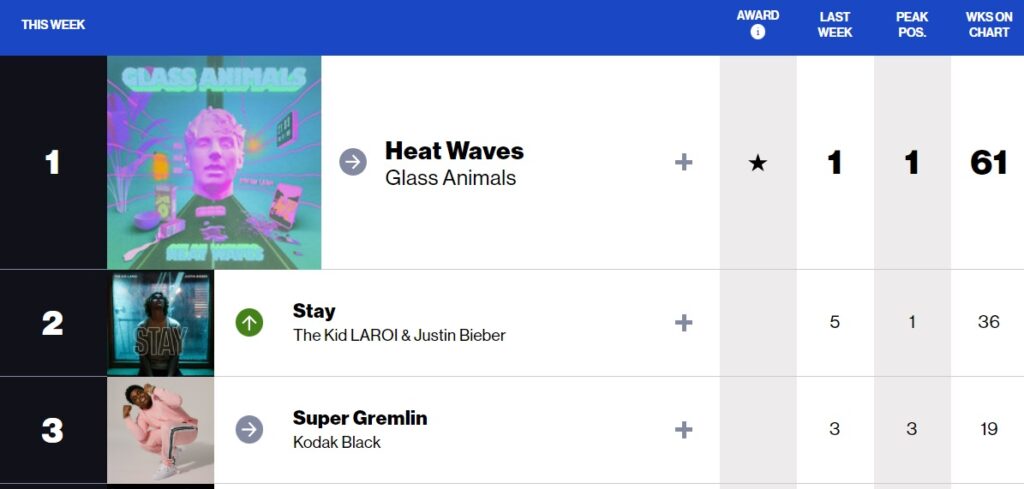 Today, I use the latest Heardle answer to examine the messed up state of the singles market in the United States (this will spoil the Heardle answer for March 23rd. Don't read further if you don't want to be spoiled or I guess remember to come back on March 24th…or after you played Heardle).
Knowledge Waits is a feature where I just share some bit of pop culture history that interests me that doesn't quite fit into the other features.
The fun online "Name That Tune" game, Heardle, had as its answer for March 23rd, 2002, "Stay" by The Kid LAROI & Justin Bieber
The song is a strong tune, and was #1 on the Billboard Hot 100 charts seven non-consecutive weeks in 2021, which is a fine result, but what's funny, though, is how its current status on the charts demonstrates just how messed up the singles market is right now in the United States.
In the second half of 2021, there were three dominant pop songs, "Butter" by BTS, "Stay" by The Kid LAROI & Justin Bieber and "Easy on Me" by Adele. There were a few one-week wonders mixed in there, like Taylor Swift's 10-minute version of "All Too Well," but for the most part, those three songs dominated from June through the end of December, hitting #1 for 24 of the last 30 weeks of the year (and that's including the final week of the year, which is now pretty much guaranteed to be "All I Want for Christmas Is You" by Mariah Carey every year, so it's really more like 24 out of 29).
That's all very normal stuff.
Here's the problem, though, 2022 hit and there was just…NO NEW HIT SINGLES!!
Earlier this year, I noted this issue when I pointed out that "All I Want For Christmas Is You" somehow remained #1 for the first TWO weeks of the year, which makes very little sense.
Then Adele's "Easy on Me" RETOOK the top spot after a month! It remained #1 for THREE weeks based on what I can only think of as inertia. With things so moribund, it was the perfect opportunity for a fluke and thus we saw that when "We Don't Talk About Bruno" from Encanto become a shockingly popular tune, holding on to the top spot for FIVE weeks. Five weeks for such an offbeat song as "We Don't Talk About Bruno" is, on the one hand, something nice to see, but on the other hand, it's also sort of a sad statement about how poor the singles market is right now that it could hold the top spot for so long. Note that while "Stay" went quadruple Platinum and "Easy on Me" and "Butter" both went double Platinum, "We Don't Talk About Bruno" has only just gone Platinum.
Then, "Heat Waves" from Glass Animals took over the top spot. "Heat Waves" is a popular tune and has gone triple-Platinum, but it's also been on the charts for OVER A YEAR. It hit #1 in its 58th week on the charts!
That's very unusual and it's all because there just isn't a more traditional hit single out there right now, so "Heat Waves" has been #1 for three weeks now, and hilariously enough, "Stay" has now started to go BACK UP the charts and hit #2 this week! The market is so desperate for a hit song that hits from last year are starting to go BACK UP the charts! It's really crazy.
Drop me a line at brian@popculturereferences.com if you have any other interesting bit about pop culture that you'd like me to discuss!