What's a Non-Scary Moment in a Film or TV Show That Scared You as a Little Kid?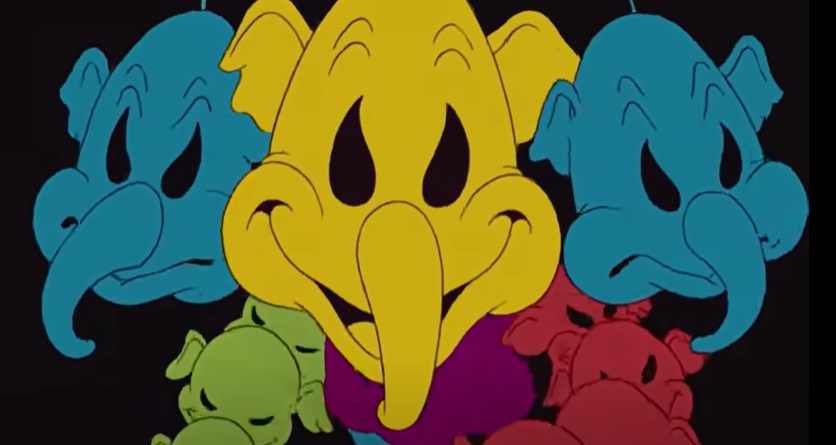 Today, I'm asking you what is a non-scary moment in a film or TV show that scared you as a little kid.
Pop Culture Theme Time is a feature where I put a question to you to see what you think about a particular theme. I might later revisit the theme for a future Drawing Crazy Patterns or Top Five.
The other day, I was discussing The Electric Company with my wife, and she mentioned that there was a segment on the show that barely remembered except that it scared her as a little kid. It was a detective parody, and there was a sequence showing houses or something like that, and whatever it was, it seemed really eerie to her as a kid.
So that leads me to my current topic for you all – name a non-scary moment in a film or TV show that scared you as a little kid. And I mean a scene that was legit NOT meant to be scary, not even little kid scary. For instance, lots of people have memories about being scared about many scenes in The Scretss of NIMH, but The Secrets of NIMH was obviously SUPPOSED to scare you! The boat ride in Willy Wonka and the Chocolate Factory when Wonka gets all creepy as heck is MEANT to be scary. So those don't count. I mean scenes that are not intended to be scary, but might appear that way to a little kid.
I'm going with the freaky multi-colored elephants in the Pink Elephants On Parade sequence in Dumbo. My wife argued that this scene was MEANT to be scary, but after rewatching it, nah, this is meant to be offbeat, not scary. It just seemed that way to many little kids who watched it, me included. So it's my pick…
Okay, so that's my pick. What's yours?
Also, feel free to suggest future Pop Culture Theme Time topics to me at my new, much shorter e-mail, brian@poprefs.com!