When Did Happy Days Jump the Shark?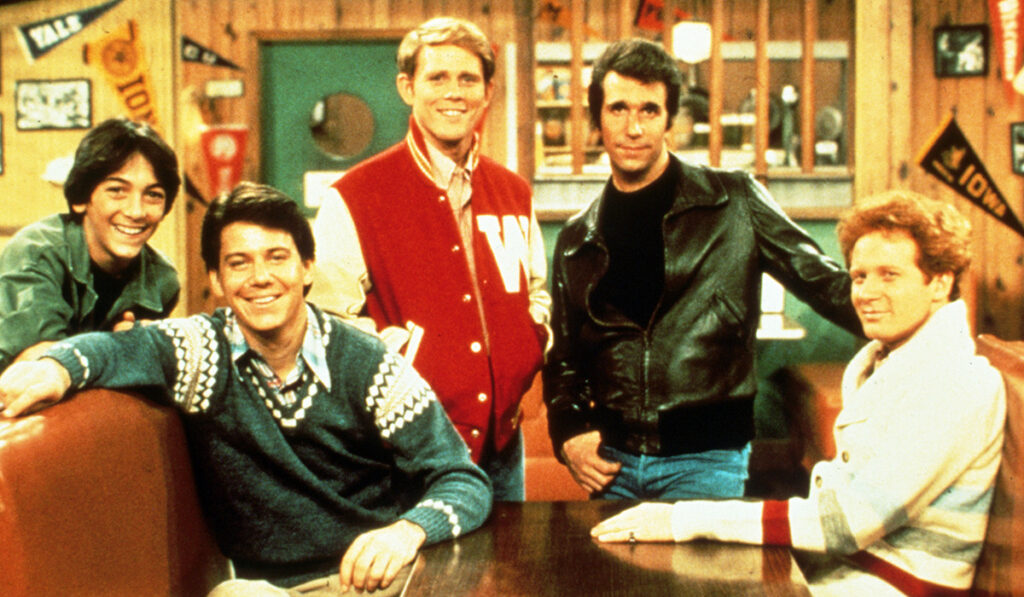 Today, we look at when (or if) you folks believe that Happy Days "jumped the shark."
This is "Just Can't Jump It," a feature where we examine shows and whether they "jumped the shark." Jumped the shark means that the show had a specific point in time where, in retrospect, you realize that show was going downhill from there. Not every show DOES jump the shark. Some shows just remain good all the way through. And some shows are terrible all the way through. What we're looking for are moments where a show that you otherwise enjoyed hit a point where it took a noticeable nose dive after that time and if so, what moment was that?
Since I launched this feature, I had been doing just shows since Jon Hein sold off the original Jump the Shark website, but it occurred to me recently, "Why am I doing that? That website is long gone, so people CAN'T actually easily check older shows, so why are you limiting it to recent shows?" So, well, now I'm opening it up to all shows. Since that means we have a LOT more options, I'll do more of them (figure two a week, Tuesdays and Thursdays). I'll do two today to start.
The natural starting spot for an older show is, of course, Happy Days, which inspired Hein to come up with the term "jumping the shark" in the first place.
Happy Days, of course, was a show about teenagers in the 1950s which soon became a starring vehicle for Henry Winkler as Arthur "Fonzie" Fonzarelli, a reformed gang member who served as a mentor to the original lead of the series, Ron Howard's Richie Cunningham. Fonzie eventually moved into the garage apartment in the Cunningham home and essentially became an extended member of the Cunningham family. Richie would still be involved in the stories every episode, but now rather than be the driving force of the story, he'd be there as a side character to Fonzie, as Fonzie resolved whatever problem Richie had that episode. Eventually, Howard left the series, and Erin Moran (as Richie's younger sister, Joanie) and her boyfriend, Chachi (Fonzie's younger cousin, played by Scott Baio) became the new co-leads as the teenagers that Fonzie gives advice to. Then Joanie and Chachi got their own show and disaster struck for a year, but Joanie and Chachi came back and the show had one more season before ending.
So first…DID IT JUMP THE SHARK? It definitely did, yes.
WHEN DID IT JUMP THE SHARK This is one of the most fascinating deals, because I think the one thing most people will agree on is that Happy Days did not actually "jump the shark" when Fonzie literally jumped over a shark on water skis in the three-part Season 5 premiere. Simply put, Happy Days Season 5 really isn't that different from Happy Days Season 4. No, there are three MAJOR points in the history of Happy Days where the show was clearly changed. The first was Season 3, when it fully converted to filming in front of a live audience. This, naturally, led to a broadening of the comedy of the series. It is clear that the quality took a dip when the change happened, since the show began to be written AROUND the reaction from the studio audience (in other words, Fonzie took over, as the studio audience freaked out whenever he entered a scene. They'd have to literally write in applause beats into scenes to give the audience time to finish screaming before Winkler said his lines, or else his lines would be drowned out by the audience). However, I still think Happy Days in Season 3 was a fine show. Not as good as Season 1-2, but it was still a fine show. The next major turning point was when Howard left the series after Season 7. However, to be frank, Seasons 8-9 of the show are basically the same, quality-wise, as Season 7. So that shouldn't be the moment. Finally, when Joanie and Chachi left after Season 9, the show obviously became utter garbage in Season 10, before they returned at the end of Season 10, leading to the final season.
So "When Joanie and Chachi" leaving is an easy answer, but frankly, I think the drop-off occurred a bit earlier. Like I said, Season 8-9 were roughly as good as Season 7, but Season 7 was a big drop-off from Season 5. Essentially, the older Richie got, the more ridiculous the show got, as it no longer made sense as a show about teens when Richie and his friends are well into their college years. The stories got more and more absurd throughout Season 6, as the actors were just going through the motions, and the ratings reflected this, as well, as things began to really taper off (which is why Howard's departure didn't even really change the ratings that much). So I would say sometime in Season 6 is probably fair to pick as the "jump the shark" moment, and since it is particularly infamous, let me go with the Season 6 finale, "Potsie Quits School," a terrible, terrible episode that somehow chose to give POTSIE a spotlight for the season finale. The idea is that Richie's friend, Potsie (Anson Williams) is about to quit school due to a bullying teacher, but he proves that he CAN learn, he just needs to use music to do so, and when the professor is dubious, they prove it through the insipid performance of "Pumps Your Blood."
Great balls of fire, that is trash. So Season 6 in general, and that song in specific, is my pick for when Happy Days jumped the shark.
Let me know what you think in the comments or on social media!
Feel free to e-mail me at brian@popculturereferences.com for suggestions for shows for us to do in future installments!