When Did Maude Jump the Shark?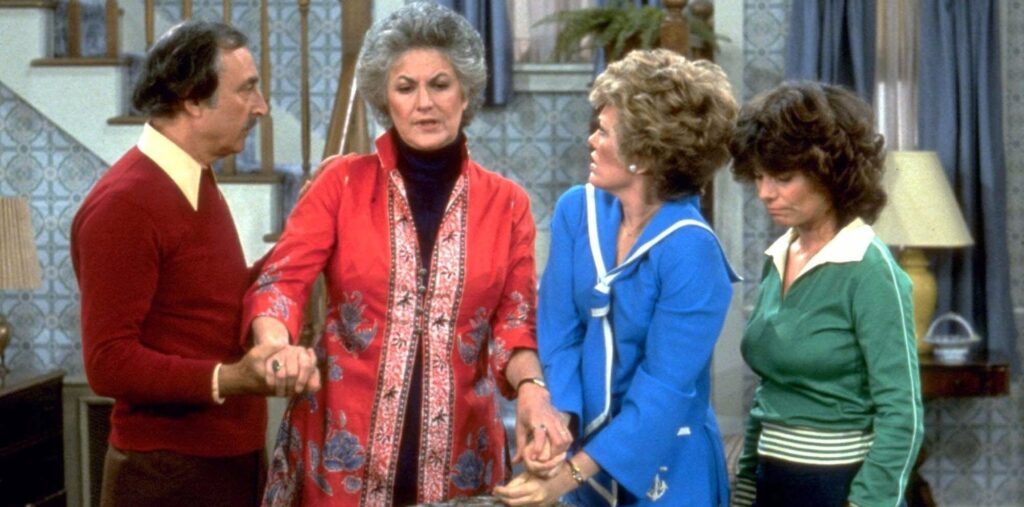 Today, we look at when (or if) you folks believe that Maude "jumped the shark."
This is "Just Can't Jump It," a feature where we examine shows and whether they "jumped the shark." Jumped the shark (coined by Jon Hein) means that the show had a specific point in time where, in retrospect, you realize that show was going downhill from there (even if, in some rare occasions, the show later course-corrected). Not every show DOES jump the shark. Some shows just remain good all the way through. And some shows are terrible all the way through. What we're looking for are moments where a show that you otherwise enjoyed hit a point where it took a noticeable nose dive after that time and if so, what moment was that?
All in the Family has some of the most famous spinoffs in TV history, and its first one was spinning off Bea Arthur's Maude, who showed up in a Season 2 episode, "Cousin Maude's Visit," when the whole family gets sick and Edith needs help. Maude was cut from the same personality type as Archie Bunker, only where he was conservative, she was liberal. They were both stubborn and extremely opinionated (and not afraid to share their opinions). Arthur was so good, it was clear that she needed her own show (note, though, that the episode was initially just a guest spot, it wasn't intended to spin her off into her own show).
Maude starred Arthur and Bill Macy as Maude and Walter Findlay. Walter was Maude's fourth husband. Maude's daughter, Carol (Adrienne Barbeau), a divorcee herself, lived with her mother and step-father with her young son. The Findlays' neighbors were Dr. Arthur Harmon (Conrad Bain) and his second wife Vivian (Rue McClanahan). Arthur and Walter were lifelong friends, as were Maude and Vivian. Arthur was the resident conservative for Maude to clash with (but Maude actually respected Arthur, unlike her cousin Edith's husband, Archie). Maude's multiple housekeepers were also fixtures on the show (the most famous, Florida Evans, played by Esther Rolle, received her own spin-off, Good Times).
So first…DID IT JUMP THE SHARK? I am going to say no.
WHEN DID IT JUMP THE SHARK Like a lot of shows, Maude was definitely not as good in its final season (Season 6) than its early seasons, but it was still a good show, so I don't think it ever jumped.
Let me know what you think in the comments or on social media!
Feel free to e-mail me at brian@popculturereferences.com for suggestions for shows for us to do in future installments!