When Did We Learn What Chandler Bing's Job Was?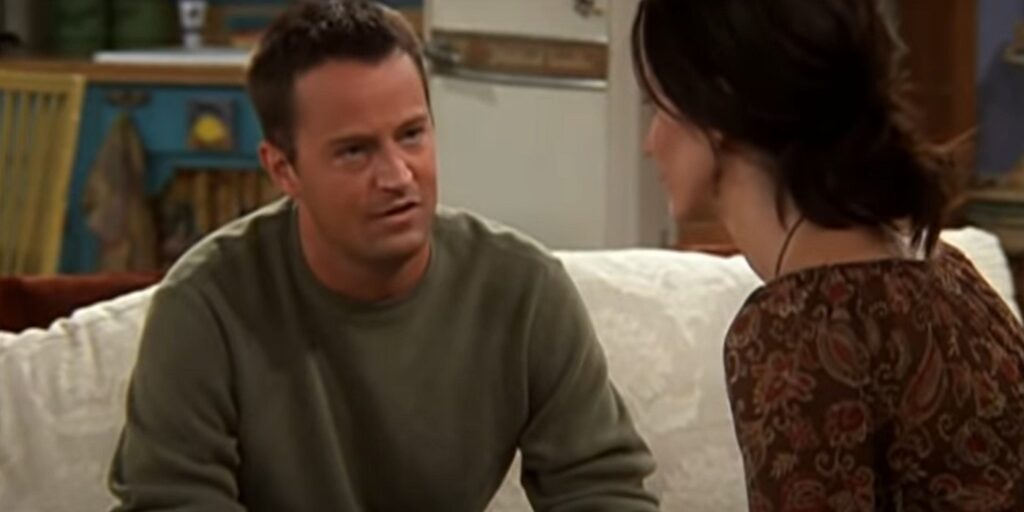 Today, we look at when was it that we finally learned what Chandler Bing's job was.
In Pop Culture Questions Answered, I answer whatever questions you folks might have about movies, TV, music or whatever (feel free to e-mail questions to me at brian@pop culture references.com).
One of the most famous episodes of Friends (and, let's face it, quite likely the best episode of the entire series) was Season 4's "The One With the Embryos," where Joey (Matt LeBlanc) and Chandler (Matthew Perry) bet Monica (Courteney Cox) and Rachel (Jennifer Aniston) that they know more about them than Monica and Rachel know about them. The bet is decided via a game show created and hosted by Ross (David Schwimmer).
After the tie in the initial round of questions (the game is formulated really poorly, as it is the first team to get ten questions correct, but, like, doesn't the team that goes first have an absurdly unfair advantage there?), they do a lightning round. The guys get four correct, but after the girls get three right, they are stumped by a seemingly simple question, "What is Chandler's Bing job?"
So, of course, what Chandler Bing's job WAS became a big ol' part of the series' lore. So when did we find out what Chandler's job was? That's what reader Dana G. wanted to know.
As it turns out, it wasn't officially until Season 8's "The One With the Cooking Class," when Chandler is going to interview for a new job where he would be doing data reconfiguration and statistical factoring, and when he says that, Phoebe notes that she knows someone who does that, and Chandler replies that yes, she does, HIM.
There ya go, Dana! Thanks to Mike Walker for tipping me off about the episode!
Mike noted that all the way back in Season 1's "The One With the Stoned Guy," if you worked as a data scientist, you could figure out that Chandler worked in that field based on some dialogue he had with Rachel:
Chandler : I just don't want to be one of those guys that's in his office until twelve o'clock at night worrying about the WENUS.

Rachel : The… the WENUS?

Chandler : Weekly Estimated Net Usage Systems. It's a processing term.

Rachel : Oh, that WENUS.
But I think the Season 8 one is a lot clearer.
Thanks for the question, Dana! If anyone else has a pop culture question, drop me a line at my new and much shorter e-mail, brian@poprefs.com!