When Dr. Geiger Returned to Complain About How Bad Chicago Hope Got After He Left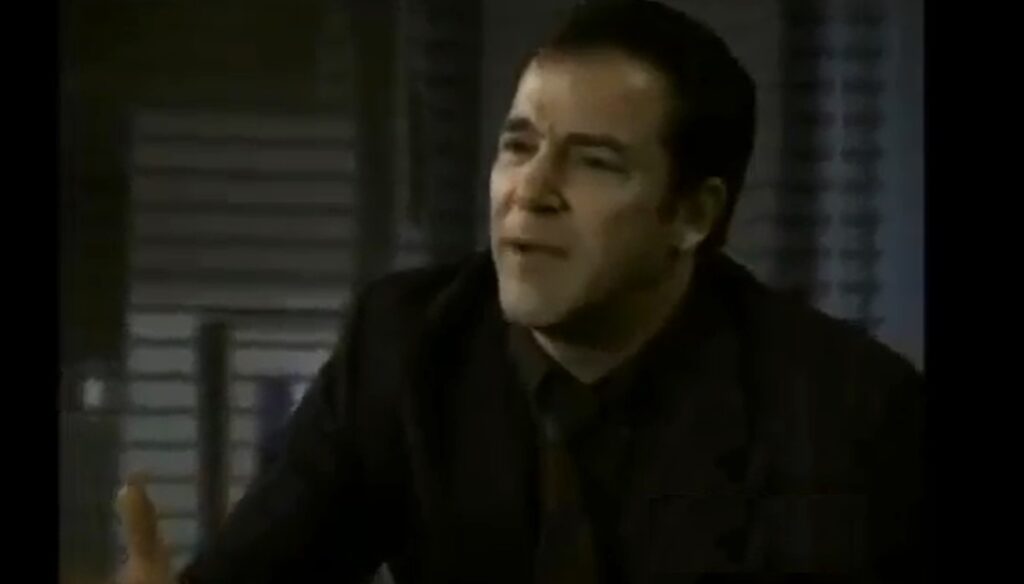 Today, we look at when Dr. Jeffrey Geiger (and David E. Kelley) returned to Chicago Hope to talk about how bad Chicago Hope got after they both left.
In Meta-Messages, I explore the context behind (using reader danjack's term) "meta-messages." A meta-message is where a creator comments on/references the work of another creator (or sometimes even themselves) in their work. Each time around, I'll give you the context behind one such "meta-message."
As I've said before, it is not all together unusual for a show to fall apart when it loses its showrunner, but when you have a showrunner with a voice as distinctive as David E. Kelley and an ability to control the scripts as much as Kelley (the guy sometimes would write almost every episode of the season of his shows) it is VERY difficult to keep up with the quality when he leaves. As I featured in a recent Meta-Messages, Kelley's collaborator, William Finklestein, ended up doing an L.A. Law episode about how bad the show had gotten since Kelley had left it.
Well, in 1999, Kelley himself did the same basic thing for another one of his shows, Chicago Hope.
Chicago Hope famously launched in 1994 alongside another Chicago hospital series, ER. ER became the fan-favorite, but Chicago Hope was likely the more acclaimed show early on. Mandy Patinkin's eccentric but brilliant heart surgeon, Dr. Jeffrey Geiger, was a brilliant portrayal of a fascinating character, and won Patinkin an Emmy for Best Actor in a Drama (something ER never won). However, Patinkin grew tired of being away from his family, so left the show in the middle of Season 2. Kelley was also pulling away from the show around that time, too. John Tinker, the very same guy who Finklestein did an episode of L.A. Law knocking him for "ruining" L.A. Law after Kelley left that show, took over Chicago Hope (Tinker HAD famously co-showrun the acclaimed medical drama, St. Elsewhere, so it made a lot of sense, and certainly more than on a legal drama).
Well, the ratings were down a lot by Season 5 and the show was only renewed due to Kelley agreeing to come back to right the ship, as it were, and so in the Season 5 finale, "Curing Cancer," both Patinkin AND Kelley return, with Patinkin's Jeffrey Geiger becoming the chariman of the board at Chicago Hope and, in a very early scene in the episode, fired nearly the entire cast save for Mark Harmon's Jack McNeil and Alan Arkin's Aaron Shutt (one of the only remaining characters from Season 1). Gone were Peter Berg's Billy Kronk, Vondie Curtis-Hall's Dennis Hancock and Christine Lahti's Kate Austin (all on the show from Season 2-5), Stacy Edwards's Lisa Catera (Season 4-5) and Eric Stoltz's Robert Yeats (just Season 5). Jayne Brook's Diane Grad left the show, as well, because her character was married to Berg's character. Rocky Carroll, who played ER doctor Keith Wilkes, remained on the show, as well, since he wasn't a surgeon, so he wasn't fired with the others.
Carla Gugino and Natasha Gregson Wagner joined the cast in the Season 5 finale.
Geiger also brought back Hector Elizondo's Dr. Phillip Watters as the Chief of Staff again. Throughout the episode, Geiger ripped into how bad the hospital had gotten since he left, which was, of course, Kelley talking about how bad the SHOW had gotten since he left, as well.
In the quick trial after all of the doctors sue over their firing (Kelley regular Denis Arndt plays Geiger's lawyer), it continues to mock the characters and plotlines in the recent years/seasons of the hospital/show (later, Geiger gets a good bit in where he reveals that he isn't actually dismissive of Austin's work like he always said he did. He fired her because she didn't deserve to be working in his shadow here).
So everything was clear for the sixth season, which still ended up being the show's final season.
It was quite a bold move by Kelley. Maybe not the most polite thing, but certainly fascinating.
Okay, folks, if you have suggestions for a future Meta-Messages, drop me a line at my brand-new, much easier to type out, e-mail address of brian@poprefs.com!