Who Was the 'Girl' Being Patronized to in 'Wild World'?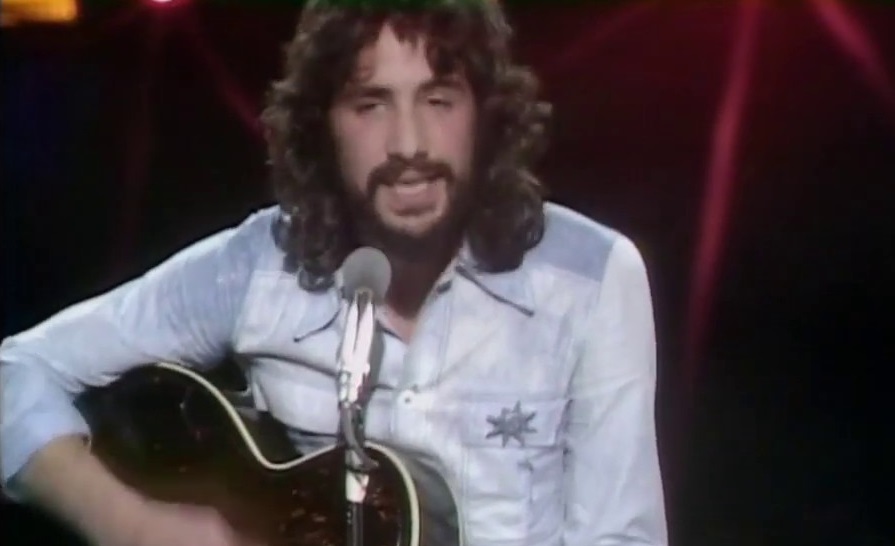 Today, we look at the "girl" who was patronized to in Cat Stevens' "Wild World."
This is "What It's All About," a new feature that explains what certain notable songs were written about, provided that the song wasn't written about the work of another famous person (in which case that'd be a Meta-Message).
Cat Stevens was only a teenager when his debut studio album, Matthew and Son, became an unexpected hit in 1967 (some of the songs on the album were recorded even earlier). He was quickly rushed back to the studio to release a follow-up, which came out in the same year, 1967, New Masters, which was a commercial failure (despite having a song on it, "First Cut is the Deepest," that later became a hit song when it was covered by Rod Stewart). After dealing with an illness that delayed the release of his third album, Stevens began a relationship with actor/model Patti D'Arbanville. The relationship lasted two years, during which time D'Arbanville often traveled between London and New York City (and other major cities). The separation drove Stevens a bit mad, and wrote a song, "Lady D'Arbanville," about how upset he was about her traveling. She later recalled, "Stevens wrote that song 'Lady D'Arbanville' when I left for New York. I left for a month, it wasn't the end of the world was it? But he wrote this whole song about 'Lady D'Arbanville, why do you sleep so still.' It's about me dead. So while I was in New York, for him it was like I was lying in a coffin… He wrote that because he missed me, because he was down… It's a sad song."
"Lady D'Arbanville" was included on Stevens' delayed third album in 1970, Mona Bone Jakon, which was also a commercial failure at the time. For whatever reason, the two broke up in 1970 (could it have been the weird song he wrote about her? I dunno. I wouldn't be surprised, but I have no idea why they specifically broke up).
With the relationship over, Stevens then wrote ANOTHER song about her traveling, only this time, it's this super-patronizing tune that just happened to have a good melody behind it, so it became a hit single for Stevesn, called "Wild World." It led to his hit album, released later in 1970, Tea for the Tillerman.
Now that I've lost everything to you
You say you wanna start something new
And it's breakin' my heart you're leavin'
Baby, I'm grievin'
But if you wanna leave, take good care
Hope you have a lot of nice things to wear
But then a lot of nice things turn bad out there

[Chorus]
Oh, baby, baby, it's a wild world
It's hard to get by just upon a smile
Oh, baby, baby, it's a wild world
I'll always remember you like a child, girl

You know I've seen a lot of what the world can do
And it's breakin' my heart in two
Because I never wanna see you sad, girl
Don't be a bad girl
But if you wanna leave, take good care
Hope you make a lot of nice friends out there
But just remember there's a lot of bad and beware
Years later, in 2009, Stevens had the gall to claim that the song was actually about him adjusting to returning to playing music after his illness, telling Chris Isaak:
"I was trying to relate to my life. I was at the point where it was beginning to happen and I was myself going into the world. I'd done my career before, and I was sort of warning myself to be careful this time around, because it was happening. It was not me writing about somebody specific, although other people may have informed the song, but it was more about me. It's talking about losing touch with home and reality – home especially."
Suuuuure it is.
In 2019, he was more open about the song's influence (and D'Arbanville's role in it), although still a bit disingenuous, if you ask me:
"Wild World" was really my parting song with my girlfriend Patti D'Arbanville. We'd had some great times together, but I started recording and she was doing her modeling and it just became like two different worlds. And because I'd had such an experience of almost falling off the planet, I knew there were a lot of dangers out there so it was kind of me talking to myself about the second career I was about to embark on and also talking to her about her career. We'd basically split at that point, and that was the ode to our parting.
Although, of course, Stevens still had to be a BIT disingenuous about it, claiming in 2021, "'Wild World' was a song that I wrote coming out of a relationship with my girlfriend at the time, Patti D'Arbanville. It had ended, and I wished her well, which came out as a kind of nice message… But I always felt the song was a little bit too commercial. So when they were talking about me releasing it, I said no."
Oh yeah, telling a model/actor that it's hard to get by on just a smile, and that you always thought of her as a child is definitely a "nice message" and just you "wishing her well."
Suuuure.
Okay, folks, if you have any suggestions for more What's It All About installments, drop me a line at brian@poprefs.com!