Why Succession Couldn't Have a Godfather Ending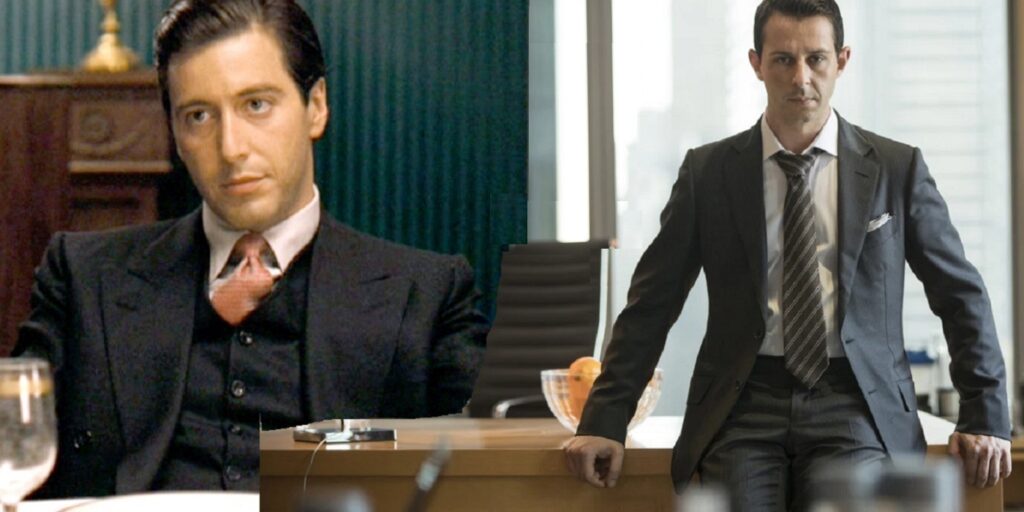 Today, I explain why Succession couldn't have an ending like The Godfather, despite both stories ending in tragedy.
Knowledge Waits is a feature where I just share some bit of pop culture history that interests me that doesn't quite fit into the other features.
SPOILERS FOR SUCCESSION'S SERIES FINALE AHEAD!
I don't have to tell you that many people have made comparisons between Succession and The Godfather. Just Google "Succession Godfather" and you'll find plenty of digital ink used up on the subject. However, what's fascinating to me is that despite both stories ultimately being tragedies, there is a very important reason why Succession creator and showrunner, Jesse Armstrong, was never going to go with an ending like The Godfather and here is why.
Michael Corleone "wins" in The Godfather.
It's absolutely a tragedy that Michael, the "good son" that was supposed to not be part of the Corleone crime family, was forced to first avenge his father's attempted murder and save the family from attack, only to later come back to the United States and save the family AGAIN by taking over as the head of the family business, and, as they say, "settled all family business" by the end of the film, having his brother-in-law murdered, and lying to his wife so obviously that she knows he is lying, as the door to his office closes on her, seeing him become the undisputed Godfather.
Then The Godfather, Part II doubles down on the tragedy of Michael Corleone, with him losing his family, having his own BROTHER murdered, his parents are dead, only his broken-down sister remains with him. It's a dark, tragic ending.
But, again, he "wins." The other organized crime guys tried to take him down, and he took THEM down instead.
And that's what Jesse Armstrong absolutely did NOT want for the ending of Succession.
Had Kendall or Shiv ended up as the head of Waystar Royco, no matter how dark and tragic their path was to that point was, it would still be seen by many fans as a "win." Again, Michael Corleone's story is a tragic one, but do you think casual fans give a hoot about that? No sir, those fans CELEBRATE Michael's victories over the other crime families who try to take him down. That's the thing, as messed up as the movies are, if you give people a victory at the end, they'll still find a way to celebrate the winner, and be happy with it.
Armstrong knows that, and that's why he clearly could not have anyone "win" in Succession. Even Tom is not a winner. He's a front in a company owned by another person. There are no winners, because Armstrong's central position on the people in the show was spelled out by Roman in the finale, "We are bullshit. … It's all fucking nothing, and I'm telling you this because I know it, okay? We're nothing."
That's the central message about the characters on Succession, and it is why the show had to have a "deflating" ending, devoid of any victories.
If anyone has any pop culture bit that you'd like me to discuss, drop me a line at brian@popculturereferences.com.