Why Were the Star Trek: The Next Generation Uniforms So Uncomfortable?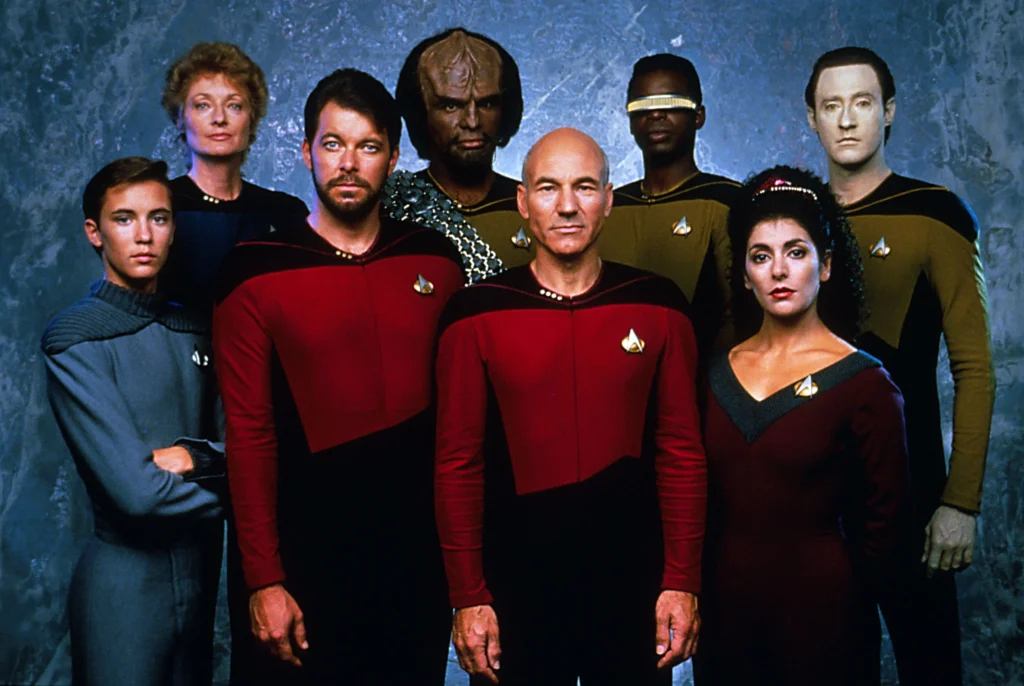 Today, we try to figure out what the problem was with the Star Trek: The Next Generation uniforms that made them so uncomfortable.
In Pop Culture Questions Answered, I answer whatever questions you folks might have about movies, TV, music or whatever (feel free to e-mail questions to me at brian@pop culture references.com).
As I noted last week, reader Ralph F. had a few questions regarding Star Trek: The Next Generation. Last time, I answered when the show "got good." Now, I'm explaining why the uniforms on the show were so uncomfortable.
In a 2002 BBC interview, Bob Blackman, who became the costume designer on Star Trek: The Next Generation starting with Season 3, explained what the problems were with the uniforms in the series at the start.
Jumbo, or Super Spandex, whatever you want to call that heavier weight stretch, will stretch from side to side or top to bottom, depending on how you cut the garment.

The costume would dig into their shoulders, wearing them twelve hours or fifteen hours a day, it really just digs in and Patrick was having a lot of back problems at that point. The second thing is that Spandex is unforgiving, so if you have any sort of body issues, they are there. Thirdly, Spandex retains odour. So there is a certain part where if you're wearing them for a long period of time, you can't really clean all the smell out, and it becomes a little bit annoying. And it also retains the odour of the dry cleaning fluid. So, it's a little bit, on a day-to-day basis, unpleasant.
Yikes.
Also, the uniform would bunch up, leading to the infamous "Picard Maneuver," where Patrick Stewart would constantly pull on his uniform to straighten it out…
Starting with Season 3, Blackmon changed the material, "We moved on to wool gabardine. Any uniform is going to have something, and when you're doing heroes, when you want the characters to look heroic, there are certain things that you must do to make them seem that way – Broader shoulder, narrow of hip, as vertical as possible, chest out, ready to go after evil."
So there ya go, Ralph! I'll answer your last question soon!
If anyone ELSE has a question, drop me a line at brian@popculturereferences.com!