Yes Dear Kept Telling Us That Certain Relationships Were a 'Hard Habit to Break'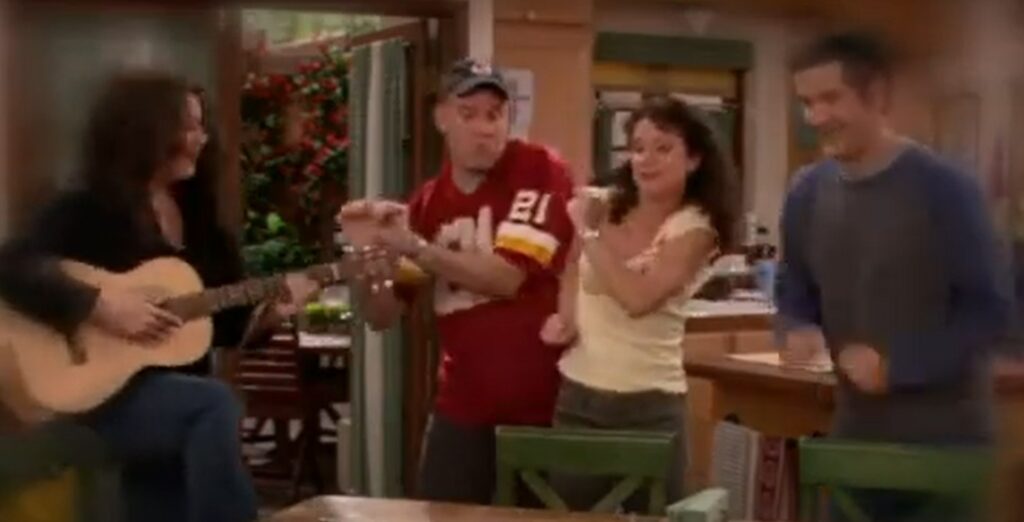 Today, we look at Yes, Dear's recurring gag involving Chicago's hit song, "Hard Habit to Break."
This is the debut of "All A Big Joke," a feature where I spotlight notable recurring gags on shows that are not quite as famous as, say, Tim Taylor's neighbor Wilson's face always being obscured or Murphy Brown constantly having to fire her crazy secretaries.
Yes, Dear was a sitcom about a young married couple where the husband was a fast-rising studio executive when suddenly the wife's sister needed to move into their guest house with her family, including her working class husband. The show was about the clashing lives of the two couples, one yuppie and the other working class, but still one big family.
Like other shows created by Greg Garcia, though, it often had very offbeat moments like breaking the fourth wall and stuff like that. However, one of the oddest bits was a recurring gag that started in Season 2's "You're Out… of Dreams." An elderly neighbor who missed having someone to take care of was coming over and taking care of Greg (Anthony Clark) until his wife, Kim (Jean Louisa Kelly) objected. At the end of the episode, while eating a sandwich his wife made for him, Greg reminisces about the time he spent with the neighbor in a montage set to the tune of Chicago's "Hard Habit To Break." She makes him something to eat, they play checkers (and she triple-jumps his pieces), they brush each other's hair, they do a Cat's Cradle together, Greg plays the guitar for her as she dances and they ride around the house on scooters together.
Okay, funny enough bit, but then three episodes later, in "Greg's New Friend," Greg is forced to become friends with a husband of a woman who Kim became friends with, but when things don't work out between Kim and the wife, Greg and the husband have to stop being friends, as well, and by that point, they had actually become real friends. As Kim introduces Greg to another husband of another woman she befriended, Greg reminisces about his friendship with the other man, and they do all of the same stuff that Greg did with the elderly neighbor, with the same song used.
That was it for Season 2, but it then appeared once (typically right in the middle of the season) in each of the next three seasons of the show. In Season 3's "Space Jam," Greg is forced to put his stuff into storage but then ends up spending all of his time at the storage unit playing with his old games. He befriends a guy who has to keep all of his Star Was memorabilia in storage. At the end, Kim allows Greg to bring his stuff back home and then Greg reminisces about his Star Wars friend, who would often wear a Chewbacca costume and so the scenes are all done with the other guy in the costume.
Season 4's "Pimpin' Ain't Easy" sees Greg let his boss (played by Brian Doyle-Murray) borrow his wife for an art exhibit opening, since she was an art history major. Kim does such a good job that the boss keeps wanting her to go to various other parties, until things get too weird and the arrangement ends. At the end of the episode, the boss tells someone over the phone that he will attend a museum function that night, but by himself. He then reminisces about Kim and the stuff is all the same (since he is bald, instead of brushing his hair, she uses a towel on his head). A sub-plot in the episode is one of the kid's, Logan, objecting to having to wear hand-me-downs, so he walks around in his underwear all episode and during the scooter scene in the flashback, Logan is on the scooter, too, in his underwear.
Finally, in Season 5's finale, "Broken by the Mold," Greg has lost his job and discovers that his house is infested with termite and so that he and Kim and their children will probably have to move in temporarily with Jimmy and Christine (Mike O'Malley and Liza Snyder), who had eventually moved out and gotten their own home. The four of them then reminisce about the home they all shared for a number of seasons, with the four of them doing all of the standard montage activities.
Here are all of the montages…
Cute stuff.
Okay, folks, if you have suggestion for lesser-known recurring gags that you'd like to see be spotlighted, drop me a line at brian@popculturereferences.com