Classic 1950s Christmas #2 – The Honeymooners "'Twas the Night Before Christmas"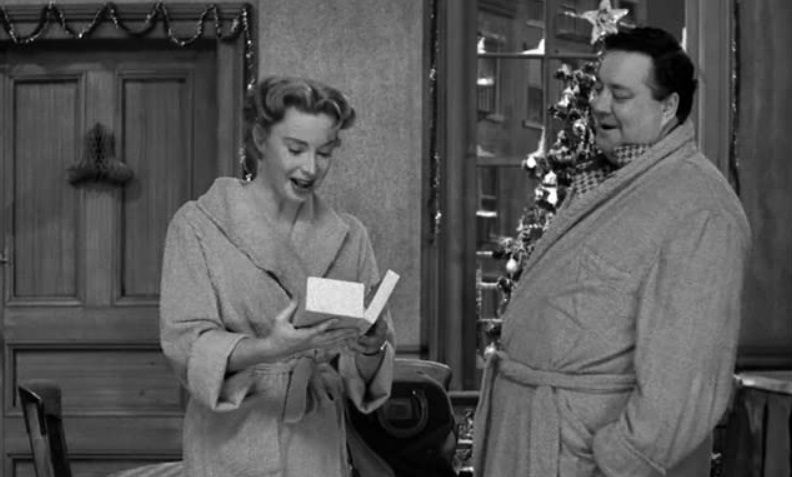 We continue our countdown of my favorite 1950s Christmas TV episodes with 1955's "'Twas the Night Before Christmas" from The Honeymooners.
The Honeymooners is one of the most unusual hit TV series of all-time, because they technically only made a single season of it (those 39 episodes have long since become iconic, as even the way they are typically referred to, "The Classic 39 Episodes" has become a "thing" of its own), but, of course, the show had long existed as a recurring live sketch on Gleason's hit variety series, The Jackie Gleason Show.
Gleason then decided to do the sketch as its own show and he ended up just not feeling that there was enough there for a regular series, so he ended it after that one season, not wanting to tarnish the already beloved characters by doing more regular episodes. He revived the original variety series and then continued to do occasional Honeymooners sketches on various series over the years, including the last few sketches, done in a series of specials in the mid-1970s (when Gleason and his co-star, Art Carney, were both going through surprising career resurgences, with Gleason starring in the Smokey and the Bandit movies and Carney winning a Best Actor oscar for Harry and Tonto).
Anyhow, in the Christmas special of the first season, the episode opens with Trixie (Joyce Randolph), the wife of Ed Norton (Carney), asking her good friend, Alice Kramden (played by Audrey Meadows, the wife of the main character, bus driver Ralph Kramden, played, of course, by Gleason) if she had any oranges, since Norton had just bought her an orange juice squeezer for Christmas (the two women commiserate in the odd choice of present).
Ralph is proud of himself for the jewelry box he bought Alice until a friend of Alice gives her the same jewelry box and when Alice is impressed, the woman tells her not to worry about it, they're selling them cheap at a local store. Ralph, of course, paid more thinking it was a unique item.
He is now kicking himself, since he had $20 that he could have used to get Alice something nice, but he instead used it to buy a new bowling ball. He feels so rotten that he ends up hocking the ball to buy Alice a nicer present.
On Christmas Day, Alice and Ralph exchange presents. Her present for him is a nice bag to carry his new bowling ball! She wants to see the ball in the bag and he has to come clean with what he did. She appreciates the gesture and she loves the fancy gift he got her with the money…an orange juice squeezer.
Classic comedy, but what makes the episode stand out is that Ralph then goes on a monologue about how great the Christmas season and how it means all the more to you when you have someone you love to come home to and he has that and it's so freakin' sweet. You don't expect to hear a heartfelt monologue like that on The Honeymooners, so it really stood out.
And that's why it is the runner-up on my list of top 1950s Christmas TV episodes.