Classic 1950s TV Christmas #3 – Have Gun – Will Travel "The Hanging Cross"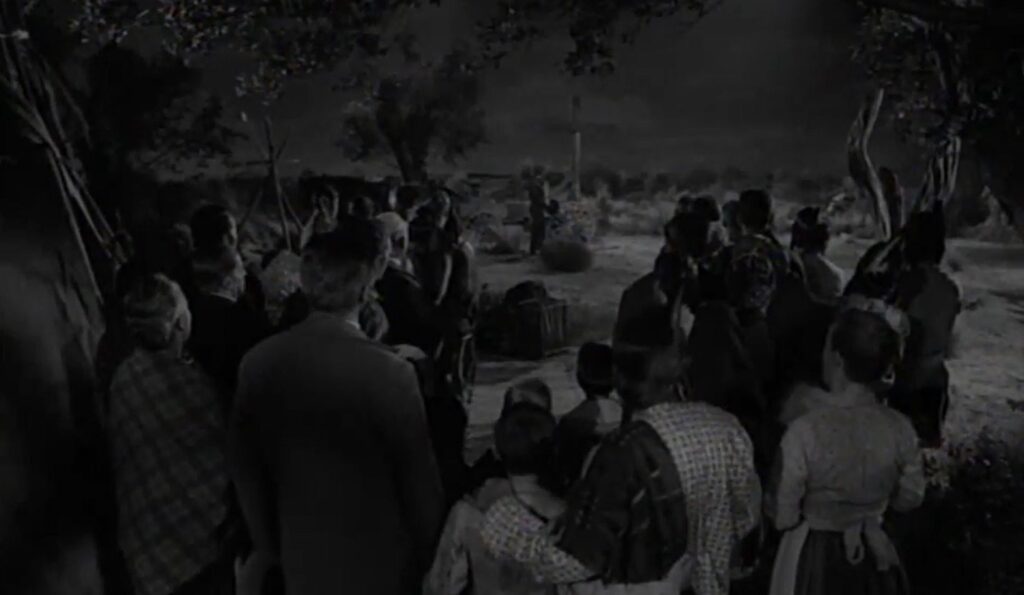 We continue our countdown of my favorite 1950s Christmas TV episodes with 1957's "The Hanging Cross" from Have Gun – Will Travel.
Have Gun – Will Travel starred Richard Boone as the mysterious mercenary known as Paladin, who would travel the west, offering his services to settle various disputes, preferably without violence, but almost always involving violence.
One of those rare exceptions was in the Season 1 episode, "The Hanging Cross," written by Gene Roddenberry, who later tried to see if the approach of western shows like Wagon Train would work in outer space. I don't know whether that worked out for him or not.
This episode opens with Boone (in character) speaking to the audience directly, "With this gun, I could have stopped murder tonight. But I've taken it off. That's my present to you. In all my life I've only seen a dozen real killers, but I've seen ten thousand people that would stand by and let it happen. Which is the greater evil?" Awesome intro, right?
Paladin comes to an area where a rancher is a jerk to his people, but had recently taken a young White boy from a local Pawnee tribe that Beecher says is his son, taken from him from the Apache when he was just three years old. The boy's adopted Shoshoni father, Cah-la-te, is prepared to fight to get his son back. The boy appears to fully immersed in Shoshoni culture and Paladin (who had been initially hired to get the boy back, but arrived right after Beecher's men had gotten the boy) gets a job translating for the rancher, Beecher. The problem is that A. there is no real way to tell if this actually is Beecher's son (because, you know, the whole "taken at three, missing for five years" deal and that he was taken by the Apache and now lives with the Pawnee) and B. the Pawnee show up and are prepared to fight to get back the boy, even though they know they will be wiped out by Beecher's men. Paladin keeps arguing for a peaceful resolution and he has enough support from the workers on the ranch and the Pawnee (who respect him) that things miiiiiiiiight be working out.
However, on Christmas Eve, the Pawnee steal the boy back and gather together on the outskirts of Beecher's property, Beecher interrupts Christmas mass to put together a group to attack the Pawnee and get his son back. Paladin continues to argue for negotiations, but Beecher tells him to go ahead and tell the men not to fight, he then threatens to fire them, and so a goodly amount of them comply (Beecher derisively notes, "The belly always wins out"). His longtime foreman has been disapproving of Beecher's attitude for some time now (when his wife was killed and son taken, Beecher became a cold, angry man) and refuses to help Beecher attack the Shoshoni on Christmas Eve. So Beecher fires him.
Beecher's men put together a hanging cross to hang the Pawnee. Things look bleak, and Paladin puts on his gun to defend the Pawnee, but one of the workers' wife tells Paladin that how would it make sense for Paladin to kill on tonight, of all nights, even to defend others? Paladin visits the Pawnee and talking to Cah-la-te, he learns that the chief's plan is to get slaughtered, knowing that the mans his adopted son would never forgive Beecher (dark stuff, huh?).
Beecher arrives with his men, but then the foreman shows up with the workers' wives and children and they basically make it impossible for Beecher and his men to attack the Pawnee while they are there. They then celebrate the holiday with the Pawnee. While celebrating, the boy recognizes the celebration as "Christmas," leading Paladin to figure out that the kid really IS the stolen Beecher child, which Cah-la-te confirms by showing him a ring that the baby had when the Pawnee had traded for him years earlier. Cah-la-te is willing to give up the child, but prepares to die anyways, with the future of the tribe seemingly desolute (and with him no longer having an heir). Paladin, instead, works out a deal where Beecher will trade them land that they can farm in exchange for the boy. Beecher also rehires the foreman, respecting the guts of his protest (and saving him from slaughtering a bunch of defenseless Native Americans).
A deal is struck and everyone celebrates. Paladin takes down the nooses from the hanging cross and the lights cast a big shadow of the cross on the ground as Paladin looks up, and sort of tips his hat to god.
It's a really well told tale by a master storyteller like Roddenberry and Boone is as good as always.