Classic 1950s TV Christmas #19 – Dragnet "The Big Little Jesus"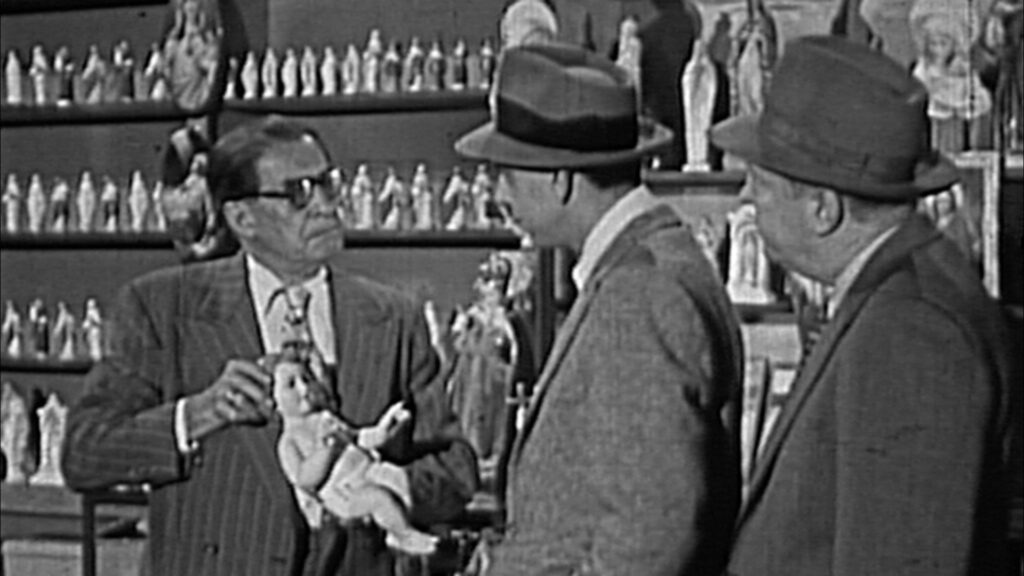 We continue our countdown of my favorite 1950s Christmas TV episodes with 1953's "The Big Little Jesus" from Dragnet.
As you may or may not know, what made Dragnet stand out is that creator and star Jack Webb decided to try to do a more realistic take on police work than other police TV shows.
The show is really almost a victim of its own success, as its "realistic" dialogue meant to evoke actual exchanges that cops went through back in the day was so stylized that now anyone who tries to repeat it makes it sound like they're just trying to do Jack Webb's Sergeant Joe Friday character.
In this episode, Webb's Sergeant Joe Friday and his partner, Frank Smith, investigate a stolen Baby Jesus from a local church's manger scene. This is not a huge crime, of course, but it is a poor parish, so the $70 they raised for the manger scene was still a major expenditure.
The detectives follow up as many leads as they can but end up nowhere. There's a few interesting set pieces, like when they visit a store that sells religious items and he explains to them that no one would ever try to sell him a stolen statue and that if someone actually stole the statue, they should be looking for a crazy person, as only a crazy person would ever steal a religious statue. At the end of the episode, Friday and Smith are telling the priest that they can't solve the case before Christmas and while they're in the middle of doing so, a young parishioner walks in with a refurbished red wagon. He explains that he prayed for a red wagon and he said he would give the Baby Jesus a ride if he ever got one.
The priest mentioned that a local merchant had been refurbishing wagons for the local poor families and explains to Friday that the boy's family is very poor. Friday wryly responds, "ARE they, Father?" as Friday, of course, is suggesting that they may be poor in money but they are apparently rich in spirit. It's an interesting final line.
Overall, it's certainly interesting to see the show do a sweet ending, but it's also not a particularly clever ending, really. It only stands out in context of what people had already come to understand about the show's cliches. However, people really DID know the show's beats by now, so it DID stand out.