Classic 1960s Christmas #24 – Rawhide "Twenty-Five Santa Clauses"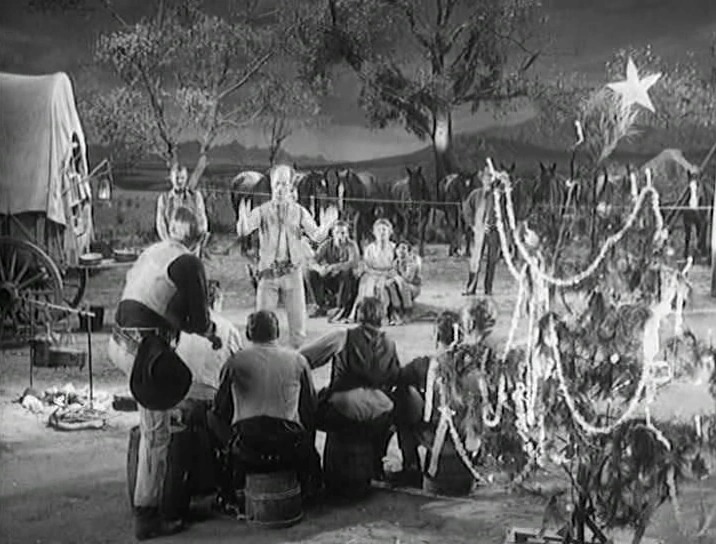 We begin our countdown of my favorite 1960s Christmas TV episodes with 1961's "Twenty-Five Santa Clauses" from Rawhide.
As I'm sure you're aware, the way that most TV westerns worked throughout the 1950s and 1960s is that they were extremely guest-star driven. The main cast members were obviously important, but with so many episodes, the main cast often took a bit of a backseat to the guest star of the episode. This was in the glory years of TV guest stars, where actors would have good careers solely out of doing regular guest work. This, though, would often lead to some rather dramatic shifts in quality from episode to episode based on how good the guest stars were. When the guest stars are great, everything clicks beautifully, and that was the case in this episode of Rawhide, as the legendary Ed Wynn and the excellent Anne Seymour are wonderful in this Christmas episode.
Rawhide, of course, was about cattle drovers, and the various misadventures that they got into as they drove the cattle across the country to market. Eric Fleming starred as the hard-nosed trail boss, Ed Favor, with Clint Eastwood as his second-in-command, Rowdy Yates, and Sheb Wooley as Pete Nolan, the scout for the cattle drive.
In this Season 4 episode, the cattle drive's cook and his assistant came across a man dressed as Santa Claus, who had gotten lost trying to get back to his wife and his adopted Mexican son. As it turns out, he was dressed as Santa Claus in August because his son won't live to see Christmas, and so he wanted to celebrate it now.
Naturally, the cattle drovers all feel sorry for the family, and insist that they come to their camp and have a Christmas party, and the twenty-five men plan to each give one head of cattle to the family to help pay for the boy's medical care.
Of course, it's all a scam. Ed Wynn, famous for his performance as the wacky Uncle Albert in Mary Poppins and for playing the Mad Hatter in Disney's Alice in Wonderland, played the guy in charge of the scam, with veteran character actor, Anne Seymour, as his wife. The thing is, they really HAVE adopted the boy, who the man sees as his successor, and the boy idolizes his adoptive father. The wife, though, questions whether she wants their son to live a life of conning people like them, especially with a con involving Christmas, of all things.
Anyhow, the con is working perfectly until Favor (who had gone away on an errand) returns and instantly figures the scam out. He has a doctor check out the boy and, obviously, he isn't sick. The thing is, the wife faints during the examination, and it turns out that she actually legit IS very sick, and she actually WON'T live until Christmas. Favor agrees to still have the party, and even allows the boy to keep the smaller presents that the men have given him (just not the cattle). They all celebrate Christmas, with the wife not knowing that this is likely her last one. Her husband promises her that he'll retire and get a regular job, and enroll the boy in school. She's so happy, but of course, it is all tinged with the knowledge that she has little time left to live.
Ed Wynn is an amazing actor, and he dominated this episode. He was so charming, and as a result, when he gets the terrible news, you really feel for him. Seymour is also so heartfelt and loving that her impending death is rough.
It's a strong episode built around a fairly standard trope of "Western folk run into someone who is dying at Christmastime." But even cliches can be good if handled well!