What Was the First Released Cover Version of a Bob Dylan Song?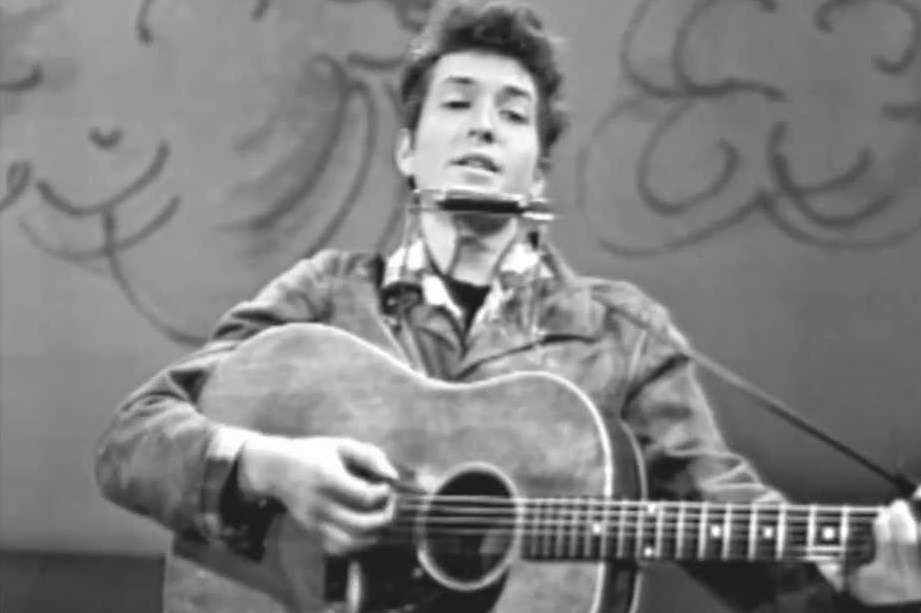 Today, we look at the first time that a Bob Dylan cover song was released by another artist.
In "When We First Met", we spotlight the various characters, phrases, objects or events that eventually became notable parts of pop culture lore, like the first time that JJ said "Dy-no-MITE" or the first time that Fonzie made the jukebox at Arnold's turn on and off by hitting it.
Bob Dylan's first album, Bob Dylan, was released in March of 1962 when Dylan was still just 20 years old. There were only two original songs on the album and oddly enough, most of the traditional songs on the album weren't even songs that were in Dylan's regular repertoire. It seems like he did the classic, "Change everything when I get my big break" deal that you actually see VERY frequently in pop culture.
Amusingly enough, like, RIGHT AFTER the album was finished in late 1961, Dylan suddenly went on a writing spree (I guess you could make the argument that all of the extensive album listening that he did to get song ideas for the first album helped him develop new songs of his own) and just a month after his first album came out (and flopped) in the Spring of 1962, Dylan first performed a new song, "Blowin' in the Wind."
Dylan first published the song (which, by this point, had added an extra verse that wasn't initially present) in May of 1962 in Pete Seeger's Broadside (this was still when it was common for people to publish songs in songbook magazines for people to then sing on their own).
Then, in June of 1962, Dylan published the song in Sing Out, along with the following comments:
There ain't too much I can say about this song except that the answer is blowing in the wind. It ain't in no book or movie or TV show or discussion group. Man, it's in the wind — and it's blowing in the wind. Too many of these hip people are telling me where the answer is but oh I won't believe that. I still say it's in the wind and just like a restless piece of paper it's got to come down some … But the only trouble is that no one picks up the answer when it comes down so not too many people get to see and know … and then it flies away. I still say that some of the biggest criminals are those that turn their heads away when they see wrong and know it's wrong. I'm only 21 years old and I know that there's been too many wars … You people over 21, you're older and smarter.
In July 1962, Dylan recorded the song himself for inclusion on his second album, The Freewheelin' Bob Dylan.
Amusingly, I believe the first artist to RECORD a version of "Blowin' in the Wind" was none other than Bobby Darin, who recorded it the same month as Dylan, for Darin's 1963 release, Golden Folk Hits.
The first musicians to release a version of the song was the Chad Mitchell Trio, who included it in their album, Chad Mitchell Trio in Action, which was came out in early 1963 (sources dispute precisely when, but it was before April either way).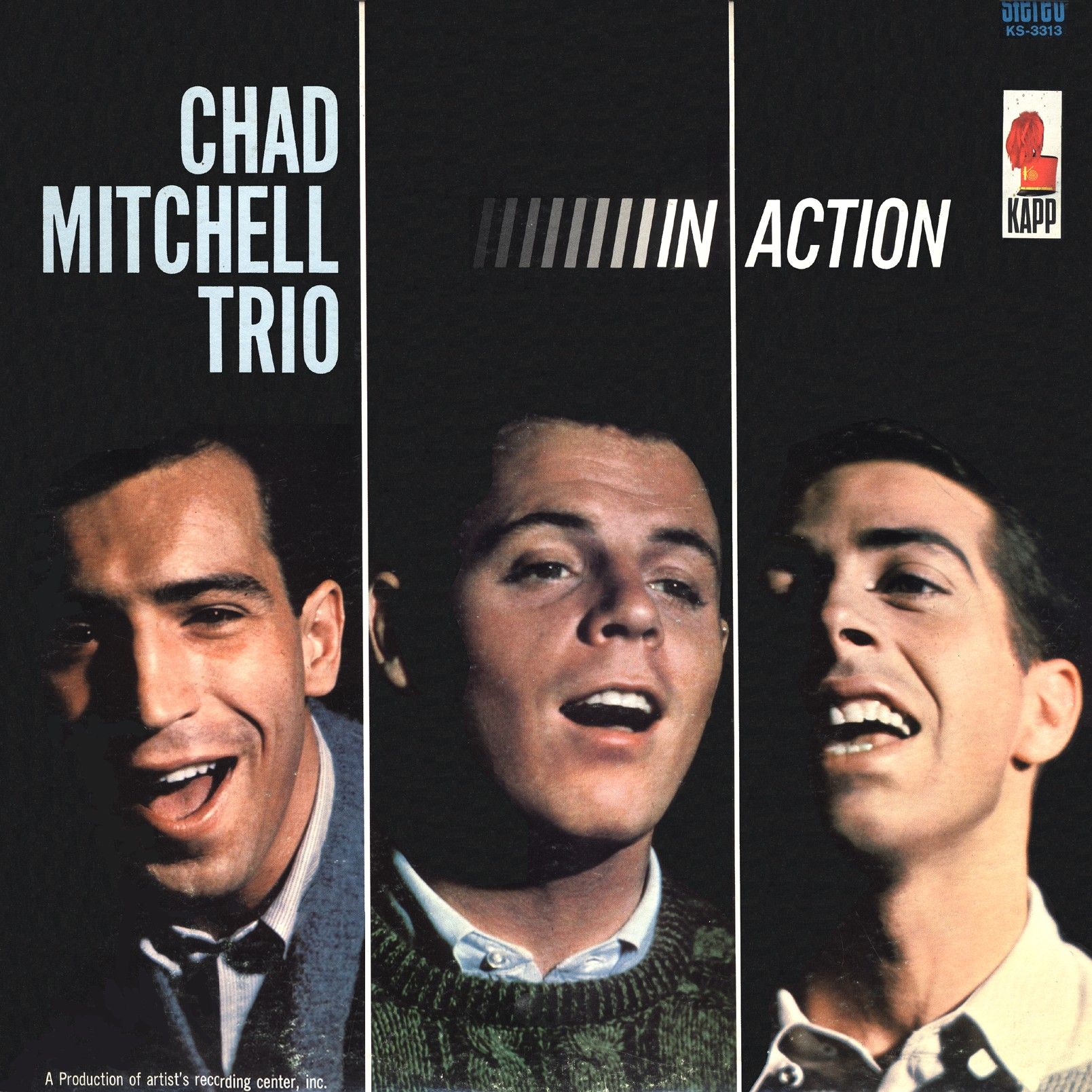 The problem they encountered was that they were very confident in "Blowin' in the Wind," and they wanted to release their version of "Blowin in the Wind" as a single and then also name the album Blowin' in the Wind, but a record producer overruled them, stating that no song with "death" in its lyrics ever became a hit…
Because of this, while Chad Mitchell Trio released it first (and Bob Dylan himself released it second, in the May 27 1963 release of The Freewheelin' Bob Dylan), it would be Peter, Paul and Mary who first released their version of "Blowin' in the Wind" as a single on June 10, 1963…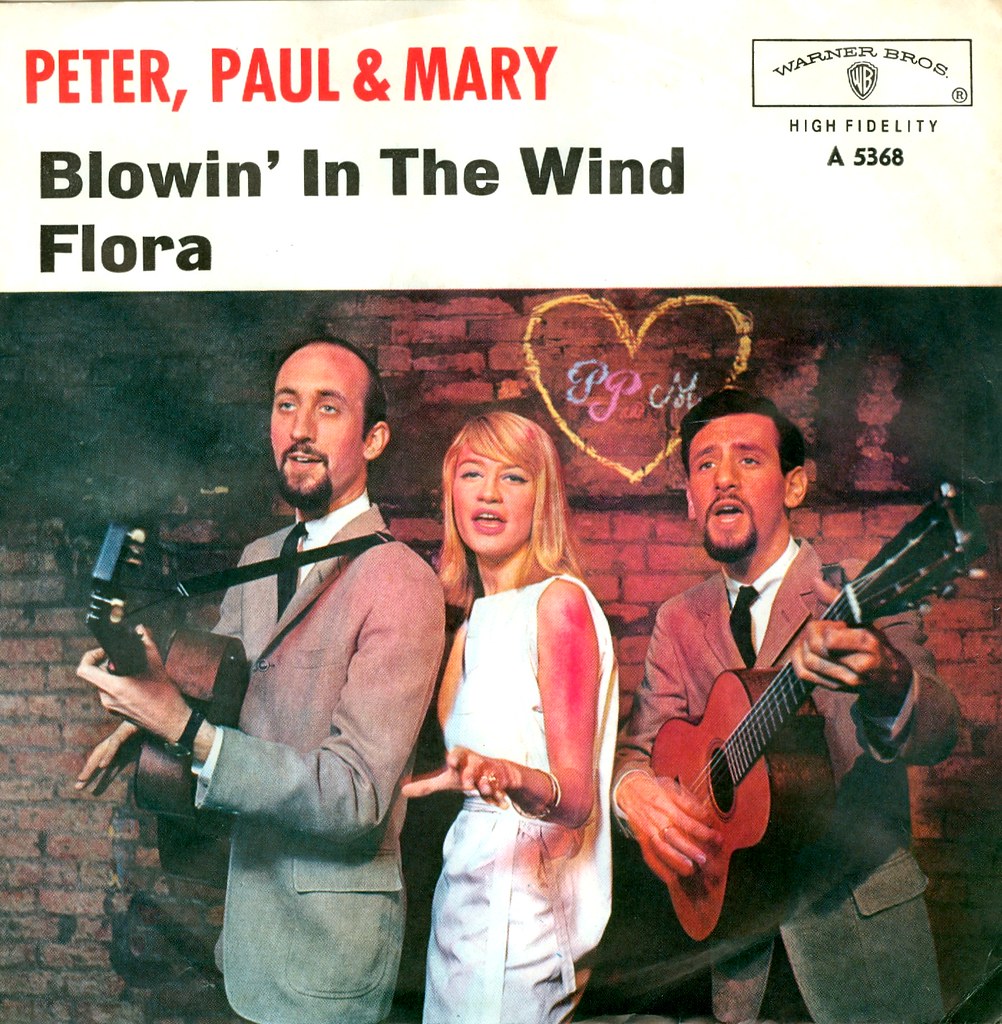 It was a MONSTER hit…
It's kind of amusing, in retrospect, to see that even Dylan didn't release "Blowin' in the Wind" as the first single off of his second album (in December of 1962, he released "Mixed Up Confusion"/"Corrina, Corrina" as his first single. "Blowin' in the Wind"/"Don't Think Twice, It's All Right" was released in July 1963).
Dylan, though, at least performed the song on TV before anyone else, in March of 1963…
So there ya go, Chad Mitchell Trio released the first Bob Dylan cover and Peter, Paul and Mary released the first Bob Dylan cover single.
By the way, amusingly (although likely less so to the Chad Mitchell Trio), Chad Mitchell Trio – In Action was later re-released under a new title…Blowin' in the Wind, by which point the song had already become a blockbuster hit for Peter, Paul and Mary and…so…yeah.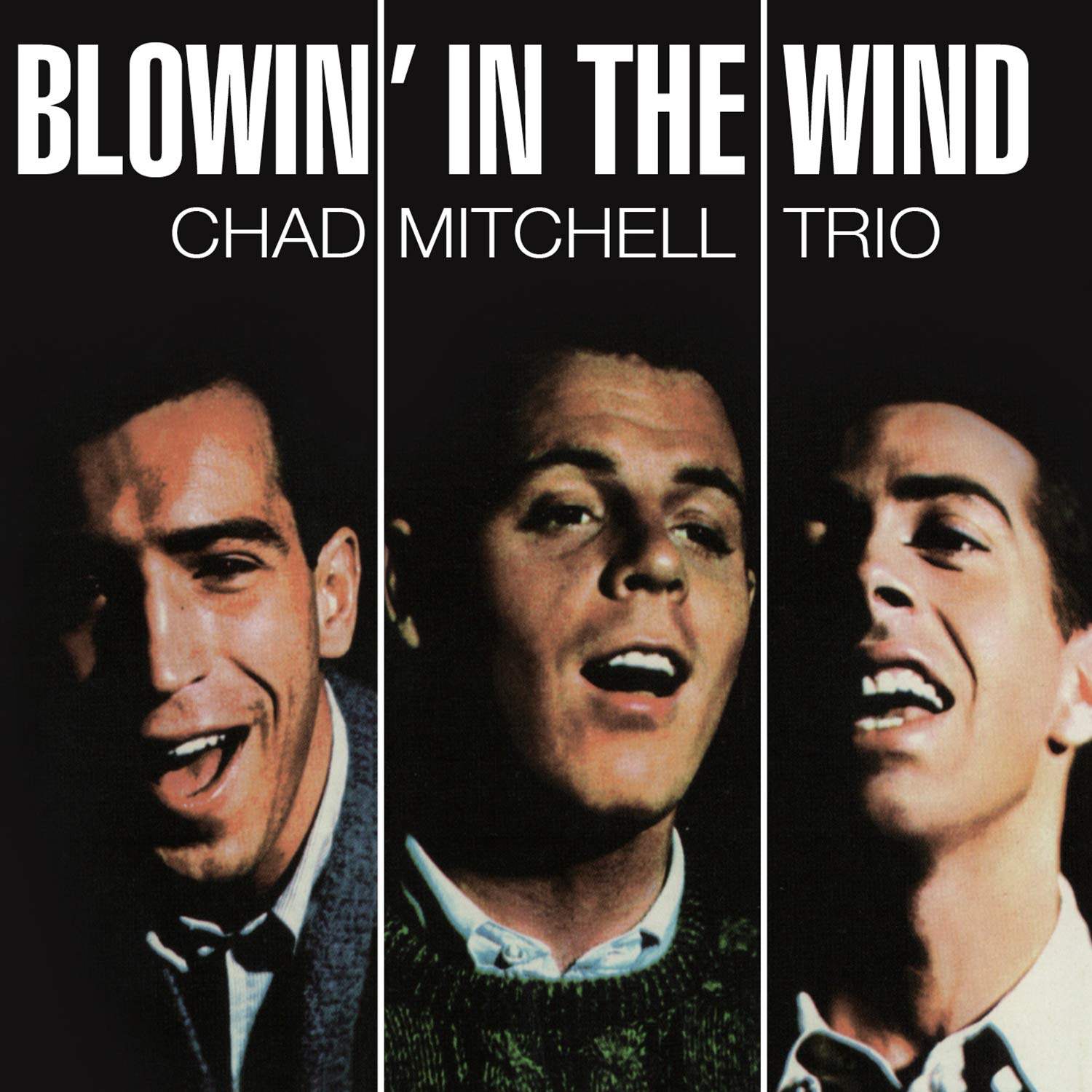 If anyone else has a suggestion for a future When We First Met, drop me a line at brian@popculturereferences.com.