For a Man Who Wanted to Believe, Scully Was The One Thing Mulder Could Always Believe In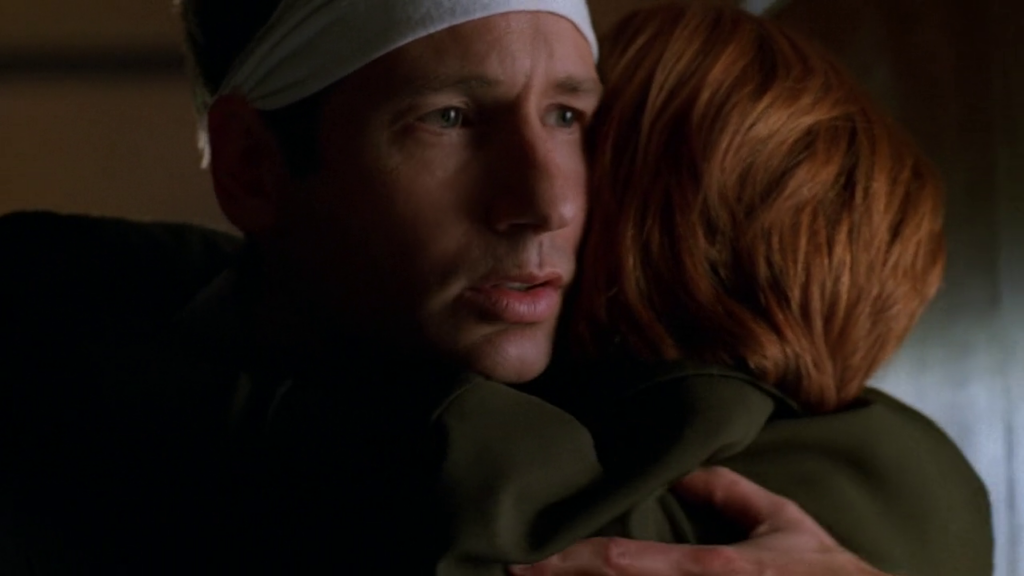 Today, we look at a great quote by Fox Mulder on The X-Files about what Dana Scully meant to him.
This is To Quote a Phrase, a spotlight on notable pop culture quotes.
October is a Month of To Quote a Phrase, both here and at Comics Should Be Good!
The long-running hit TV series, The X-Files, was about two FBI agents, Fox Mulder (David Duchovny) and Dana Scully (Gillian Anderson), who work on "The X-Files," cases that skewed towards the paranormal and thus the FBI can't exactly make a big to-do about, but still want to see investigated nonetheless. The original setup of the series was that Mulder wanted to believe in these things, while Scully was the skeptic of the duo.
By the end of the sixth season, however, it was pretty clear that plenty of paranormal things DID exist, and Scully couldn't deny it. The seventh season opened with the second and third parts of a three-part story that began with the sixth season finale. In the final part of the story, "The Sixth Extinction II: Amor Fati," (written by the show's creator, Chris Carter, as well as its star, David Duchovny), Mulder has a dream of an entire life while in a sort of coma in a government facility, placed there by The Cigarette Smoking Man. Mulder's former flame, Diane Fowley (Mimi Rogers), who was working with the Cigarette Smoking Man, helped Scully free Mulder, who was also confronted by Scully in his dreamlike state, and she helped him break free from it all.
In the end, while Mulder is recovering, Scully comes to visit them, and they have a heart-to-heart talk about their relationship with each other:
Scully: I don't know what to believe any more. Mulder, I was so determined to find a cure to save you that I could deny what it was that I saw and now I don't even know… I don't know… I don't know what the truth is… I don't know who to listen to. I don't know who to trust. Diana Fowley was found murdered this morning. I never trusted her… but she helped save your life just as much as I did. She gave me that book. It was her key that led me to you. I'm sorry… I'm so sorry. I know she was your friend.

Mulder: Scully, I was like you once – I didn't know who to trust. Then I… I chose another path… another life, another fate, where I found my sister. The end of my world was unrecognisable and upside down. There was one thing that remained the same. You… were my friend, and you told me the truth. Even when the world was falling apart, you were my constant… my touchstone.

Scully: And you are mine.
As I saw someone once note, it's practically like these were their wedding vows, right? Really well done for the arc of Scully and Mulder's relationship.
Okay, folks, if you have notable quotes from TV, movie or music that you'd like to see me spotlight this month, drop me a line at brian@poprefs.com!