Grand Crew Should Get a Third Season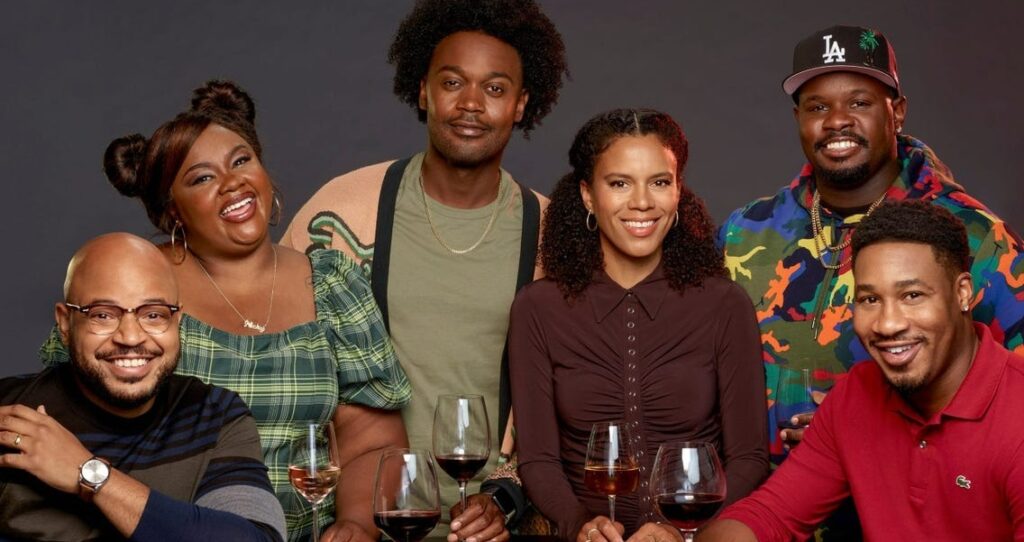 Today, I explain why the Grand Crew really should be given another chance.
Knowledge Waits is a feature where I just share some bit of pop culture history that interests me that doesn't quite fit into the other features.
As you may or may not have heard, NBC recently made some decisions on some of their "on the fence" shows, canceling the sitcom, Grand Crew, after two seasons.
The series, from Phil Augusta Jackson and Dan Goor (as part of an overall deal with Goor, who is most famous for co-creating Brooklyn Nine-Nine with Michael Scur), starred Echo Kellum, Justin Cunningham, Grasie Mercedes, Carl Tart, Aaron Jennings and Nicole Byer (Mercedes appeared to have left the series before the end of Season 2, however), and was about a group of Black friends in Los Angeles who start hanging out at a wine bar (after they keep losing their favorite bars because hopeless romantic, Noah, played by Kellum, keeps falling in love with bartenders at their old bars, and when the relationship ends, they lose their hang-out spot).
The producers must have known that they were not in great shape for renewal, because the Season 2 finale was very much written as a SERIES finale, but one of those finales where the story could easily just be picked up again if the series was renewed. No one died or got married or whatever. It's still a group of mostly single folk (plus one married couple, but only the husband, played by Cunningham, is a regular cast member. His high-powered lawyer wife is often busy at work).
Now look, I'm not here to tell you that Grand Crew is the greatest show ever or anything like that, but what it IS is a fun, engaging show with a lot of likable characters. In other words, it is the PERFECT binging show. It is PRECISELY the type of show that will become a fan favorite when people start binging it.
Therefore, I think NBC really jumped the gun by canceling it after two seasons. With modern TV shows, you're talking about such minor ratings for most of these shows, that there really isn't a huge difference between canceling Grand Crew and renewing it. It's not like a situation where every other show is being watched by twenty million people and this one is watched by five million. It's a case of Night Court being watched by 3 million people live and Grand Crew watched by 1.2 million live, and that's with Night Court being based on a hit sitcom of the past! So yes, don't get me wrong, its numbers are bad, but EVERYONE's numbers are bad, so you might as well stick with a show that has a chance to be a hit in streaming.
Most shows that have bad ratings are unlikely to be popular in streaming, but Grand Crew is one of the rare exceptions, I think, as it has precisely the type of show setup that does well in streaming. A relationship comedy with a likeable group of friends. I mean, you know, sound like any super famous sitcom that dominates streaming? Hint – it's Friends. I'm talking about Friends.
I think NBC gave up a chance at having the next Friends-type series, and I think another network or streaming service would be smart to give Grand Crew another shot.
If anyone has any pop culture bit that you'd like me to discuss, drop me a line at brian@popculturereferences.com.