It's About Time Literally Just Flipped Its Original Premise Around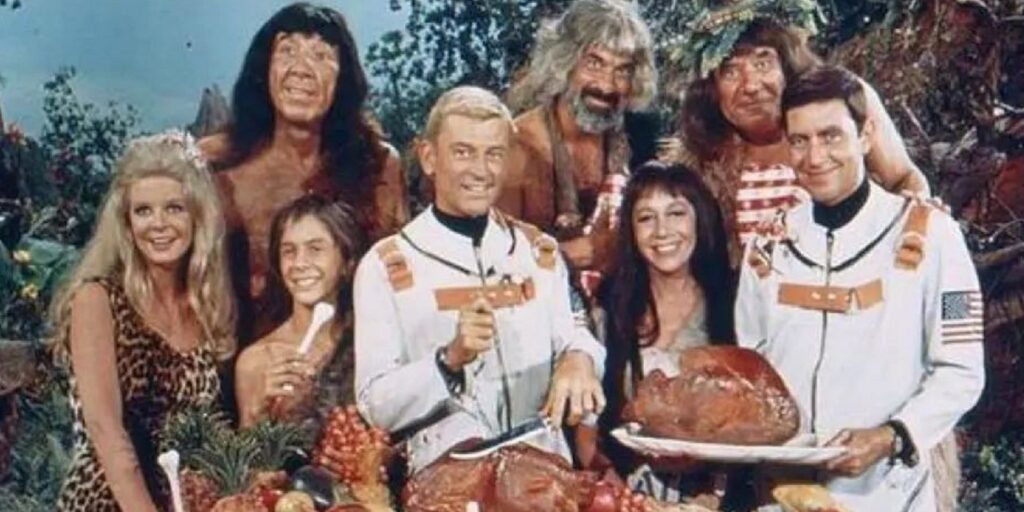 Today, we look at how It's About Time swapped its premise around midway through the first season.
This is "Gonna Make a Change," a feature where I spotlight shows that underwent major revamps during their runs to avoid cancellation. Note that I mean MAJOR revamps, not, like, M*A*S*H getting more serious as it went on or Cheers becoming more of an ensemble comedy once Shelley Long left.
April is a month of Gonna Make A Change!
One of the odder thing to be known for as a TV producer is to have a distinctive type of theme song for your shows, but that's just what Sherwood Schwartz was known for back in the day. His shows all had themes that explained the story to you. His biggest hits include Gilligan's Island and its famous "Just sit right back and you'll hear a tale" opening…
and The Brady Bunch, with its similarly famous, "Here's the story of a man named Brady…" opening…
Well, in 1965, his short-lived sitcom, It's About Time, had one of those themes, as well, only the story of the show was reversed midway through the first season, leading to a new theme song that took the original theme song and sort of reversed!
Original Concept: Frank Aletter and Jack Mullaney play Mac and Hec, two astronauts who accidentally crash land in the prehistoric past after breaking through the time barrier. They befriend a caveman couple named Gronk and Shad (played by Joe E. Ross and Imogene Coca). The astronauts gets into wacky hijinks in the distant path while trying to fix their ship and get off of the islan…oh, wait, sorry, that's another show. Fix their ship and get back to their time period!
The first episode was directed by Richard Donner! The theme song was by Gerald Fried, George Wyle and Sherwood Schwartz. It explains the premise…
Revamped Concept: The ratings weren't great, so midway through the season, Schwartz reversed the premise of the series. The astronauts fixed their ship, and went back to the present day, but Gronk and Shad (and their kids) joined the astronauts, so now the show was about cavemen fitting in in modern times.
The theme song was reworked to go in reverse now (the same animation was used, of course, because it was expensive, so it was just reversed)…
Did it get the show more than one last season?: Nope. However, apparently, the show did well in summer reruns, so it COULD have seen its cancellation reversed, but Ross and Coca had already moved on to new projects, so that was it. It has since done quite well in syndication, like most of Schwartz's shows. People love this dumb stuff.
Okay, that's it for this installment of "Gonna Make a Change," please send in suggestions for other good revamps to my e-mail address of brian@poprefs.com!