Kate and Allie Let Andrea Martin Sort of Bring SCTV to Sitcoms for a Spinoff Idea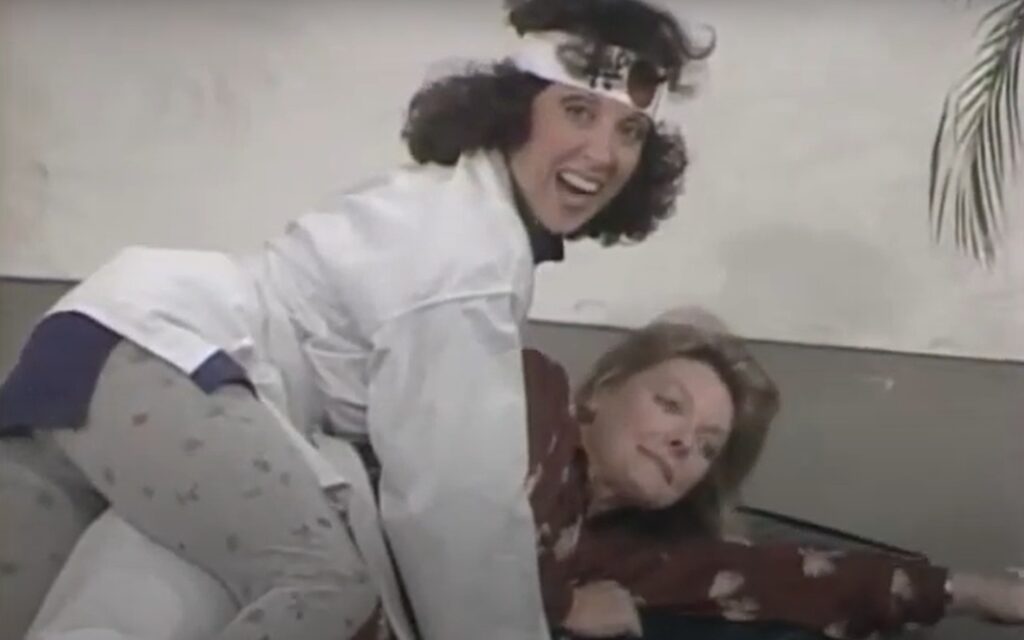 Today, we look at how Kate & Allie tried to spin off a sitcom starring Andrea Martin as the station manager of a public-access cable station.
This is Back Door Blues, a feature about "backdoor pilots." Backdoor pilots are episodes of regular TV series that are intended to also work as pilots for a new series. Sometimes these pilots get picked up, but a lot of times they did not get picked up. I'll spotlight examples of both successful and failed backdoor pilots.
CONCEPT: Untitled Andrea Martin vehicle, about a station manager of an offbeat public access cable station in New York City.
SERIES IT AIRED ON Kate & Allie
Kate & Allie was a long-running sitcom in the 1980s starring Susan St. James and Jane Curtin as Kate and, well, you know, Allie, two longtime friends who both found themselves divorced at the same time, so they decide to save money by moving in together along with their respective children (Kate had one and Allie had two. Kate and Allie's oldest girls were also best friends).
Recently, I wrote about how Kate & Allie tried to spin off a Lindsay Wagner sitcom in Season 3 of Kate & Allie. Now, in Season 4, writer/producer Bob Randall was back with another spinoff attempt. This time, the star of the show was going to be Andrea Martin, and Randall gave this new show idea a MAJOR press. Very rarely do you see a show give TWO episodes to a backdoor pilot, but that's what Randall did with this idea, and the result actually did work (in that the show was picked up for a series).
Allie's daughter on the series, Jennie, was played by Allison Smith, who was the third Annie in the original Broadway production of Annie. So when Allie meets the station manager of a local cable public access channel, who is desperate to fill up eight hours of programming each day, Allie gets the idea to have Jennie perform on the channel, which Martin's character, Eddie, is thrilled to do (and, of course, Smith is REALLY REALLY good at singing).
Allie takes a job working for Eddie. Martin, of course, was famous for her work on the Canadian sketch comedy series, SCTV. Therefore, the public access concept allows Martin to occasionally do sketches, as she has to fill in programming, so she pretends to be different people for different segments.
This is taken to an absurd degree in the second of two episodes (the first episode is called "Stage Mother," and it deals with Allie becoming an overbearing stage mother to Jennie, and the second is called "The Goodbye Girl"), when there is a blizzard, so all of Eddie's usual performers are unavailable, and on that same day, Eddie learns that she is 14 hours shy of hitting the amount of programming she needs to keep her franchise license from the government, so she and Allie have to fill those hours, and this, of course, just leads to Martin doing all sorts of wacky sketches (including more than one racist ones, as Martin seemed to love doing Asian caricatures).
Eddie's support staff on the station were played by two excellent character actors, the veteran Bill Cobbs, as well as up-and-coming actor, Grant Shaud (soon before he became Miles on Murphy Brown). Dan Region, known to many as the announcer on As The World Turns, played Eddie's on-again-off-again fiance, Phil.
DID THE PILOT GO TO SERIES? Yes, but only after a drastic revamp. All of the supporting cast were replaced and Eddie was renamed Roxie (and was now the assistant to the station manager, played by veteran sitcom actor, Jack Riley) and the show was called Roxie.
It was cancelled after two weeks.
SHOULD IT HAVE? The original premise (sans racism) was good, but the version that came out was way too watered down, so… maybe?
Okay, that's it for this installment of Back Door Blues! Thanks to reader Andrew G. for suggesting this one. I KNOW the rest of you have suggestions for other interesting backdoor pilots, so drop me a line at brian@popculturereferences.com (don't suggest in the comments, as this way, it'll be a surprise!).