Married…With Children Tried to Spinoff the Opposite of Friends With 'Enemies'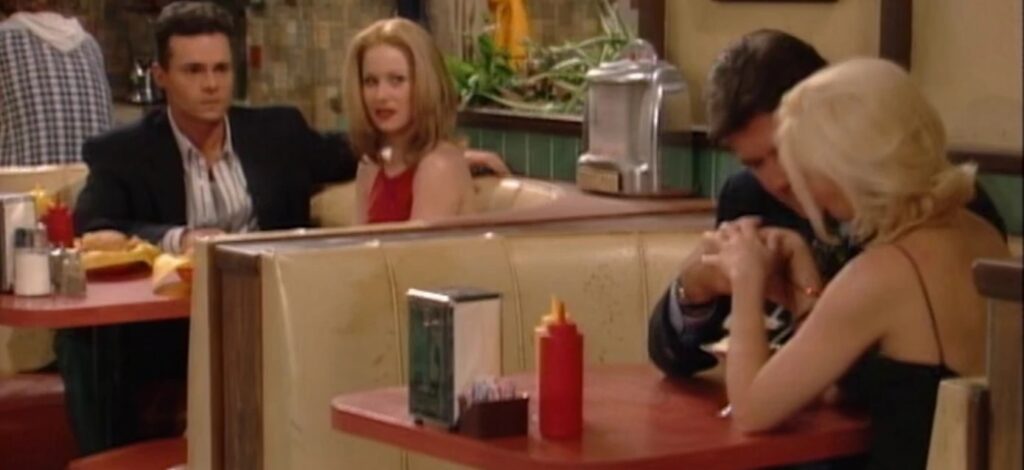 Today, we look at Married…With Children's attempt to do a spinoff that was a reverse take on the NBC hit, Friends.
This is Back Door Blues, a feature about "backdoor pilots." Backdoor pilots are episodes of regular TV series that are intended to also work as pilots for a new series. Sometimes these pilots get picked up, but a lot of times they did not get picked up. I'll spotlight examples of both successful and failed backdoor pilots.
NOTE: I will get to the other Married…With Children backdoor pilots in the future, rest assured. So you don't have to bring them up.
CONCEPT: Enemies, a satire of Friends
SERIES IT AIRED ON Married…With Children
The whole concept of the hit long-running Fox sitcom, Married…With Children, was to satirize the idea of the lovey-dovey sitcom family that was so prevalent in the 1980s with The Cosby Show, Family Ties and many other sitcoms. Therefore, as the series started getting near the end of its run, it only seemed to make sense to take aim at the latest "thing" in the world of TV sitcoms, NBC's big hit sitcom, Friends, about a group of twenty-somethings who hang around together in their apartments and the local coffee shop while having various romantic entanglements. Matt LeBlanc, one of the stars of Friends had actually previously appeared on Married…With Children in one of those aforementioned backdoor pilots that I mentioned I will eventually write about.
So this show was a backdoor pilot for a satire of Friends that would be called Enemies. Kelly gets caught up in the dysfunctional romance of Tom (Matt Borlenghi) and Shannon (Nicole Eggert), who are on a sort of a "break" of their relationship despite still living with each other, so Tom takes Kelly out on a date to the diner he always hangs out at and Shannon takes rich (and married) Henry (Alan Thicke) to the same diner, where Tom and Shannon then try to make the other jealous. Tom also lives with his half-sister, Maria (Terri Ivens), and their mutual friend, Jackson (Chris Young). Melissa Chan plays Keiko, the hapless waitress at the diner.
The Friends comparison was directly referenced, as Kelly opens the episode talking about how much she loves Friends and by the end of the episode, both Al and Henry have bonded over their mutual interest in Jennifer Aniston's braless look as Rachel on Friends.
DID THE PILOT GO TO SERIES? No
SHOULD IT HAVE? I am going to say no, as it was pretty bad.
Okay, that's it for this installment of Back Door Blues! I KNOW you have suggestions for other interesting backdoor pilots, so drop me a line at brian@popculturereferences.com (don't suggest in the comments, as this way, it'll be a surprise!).