Norm Macdonald Makes Fun of Musical Conventions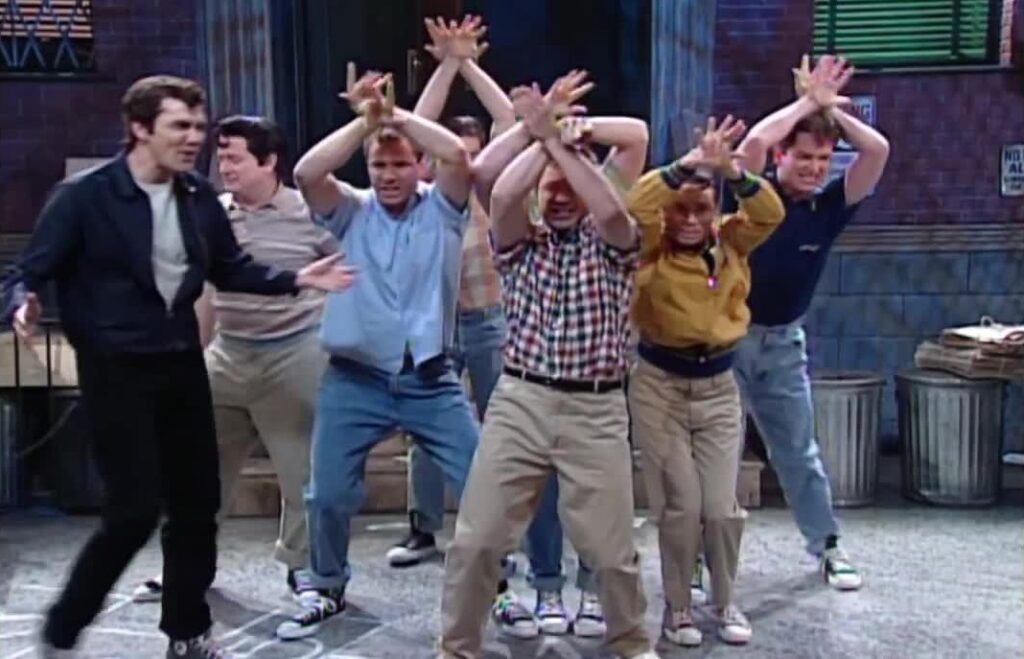 Today, we honor the late Norm Macdonald by looking at a classic Saturday Night Live sketch mocking the conventions of musical theater.
In Meta-Messages, I explore the context behind (using reader danjack's term) "meta-messages." A meta-message is where a creator comments on/references the work of another creator (or sometimes even themselves) in their work. Each time around, I'll give you the context behind one such "meta-message."
I could go on forever with these in honor of the late Norm Macdonald, but I think three probably gets the point across well enough, Norm Macdonald was certainly someone who liked to poke fun at conventions and this classic Saturday Night Live sketch works on a few different levels in that regard.
In the sixth episode of Season 22 of Saturday Night Live in November 1996, Robert Downey Jr. hosted the show and the sketch "The Cobras" has Downey Jr. and Norm both in a gang, but it is a gang like West Side Story, where everyone starts singing and dancing, everyone except Norm, of course…
He's the voice in the room questioning how everyone knows the words to the song and how they have all of the choreography down right away.
While it is a fun satire of the conventions of musical theater, it also works on a secondary meta-level, to demonstrate just how out of place Norm was among the cast members of Saturday Night Live, who generally WERE singers and dancers on top of being comedians, while Norm was a stand-up comedian who was not really built for acting. His best Saturday Night Live performances outside of Weekend Update (which is basically just stand-up comedy) were when he could do impressions of people he admired like David Letterman, Burt Reynolds and Bob Dole.
Otherwise, though, he was not big on acting in sketches and this sketch sort of subtly satirizes just HOW out of place Norm really was on the show.
RIP, Norm.
If anyone else has a suggestion for a good Meta-Messages, drop me a line at brian@popculturereferences.com!