Playing TV Bingo With The Bionic Woman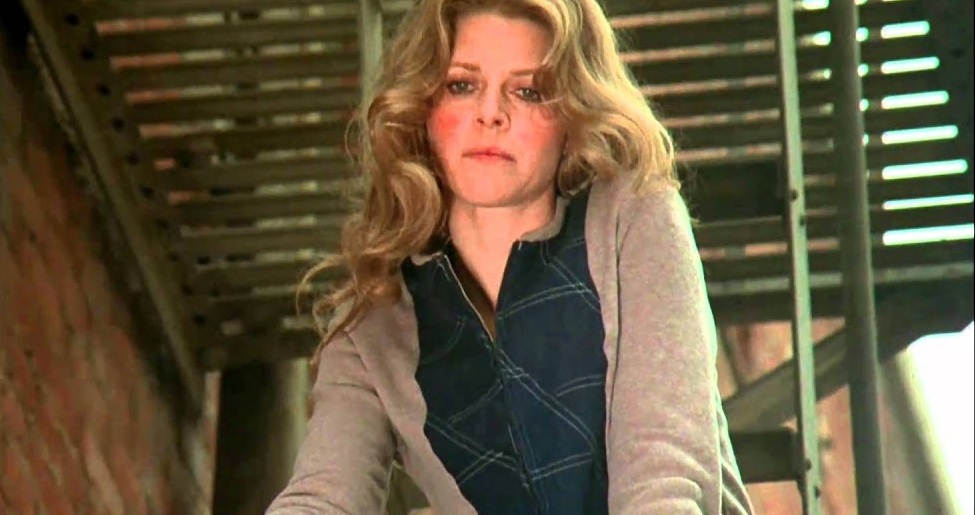 Today, in TV Bingo, we take on The Bionic Woman.
You know the concept, I use a TV Bingo card (one for dramas and one for sitcoms) and I'll go through the episodes in order and see how quickly I hit a bingo. In case you don't know how bingo works, the idea is that you mark off a box (in traditional bingo, someone will draw ping pong balls with numbers and letters on them like a lottery machine) and when you check off five boxes in a row (whether left to right, up and down or diagonal) then that counts as a "bingo." Here, we'll be going episode-by-episode and seeing whether they match any of the boxes on our bingo card. When we hit five in a row, that's a "bingo"!
Here is the 1970s-1990s drama card…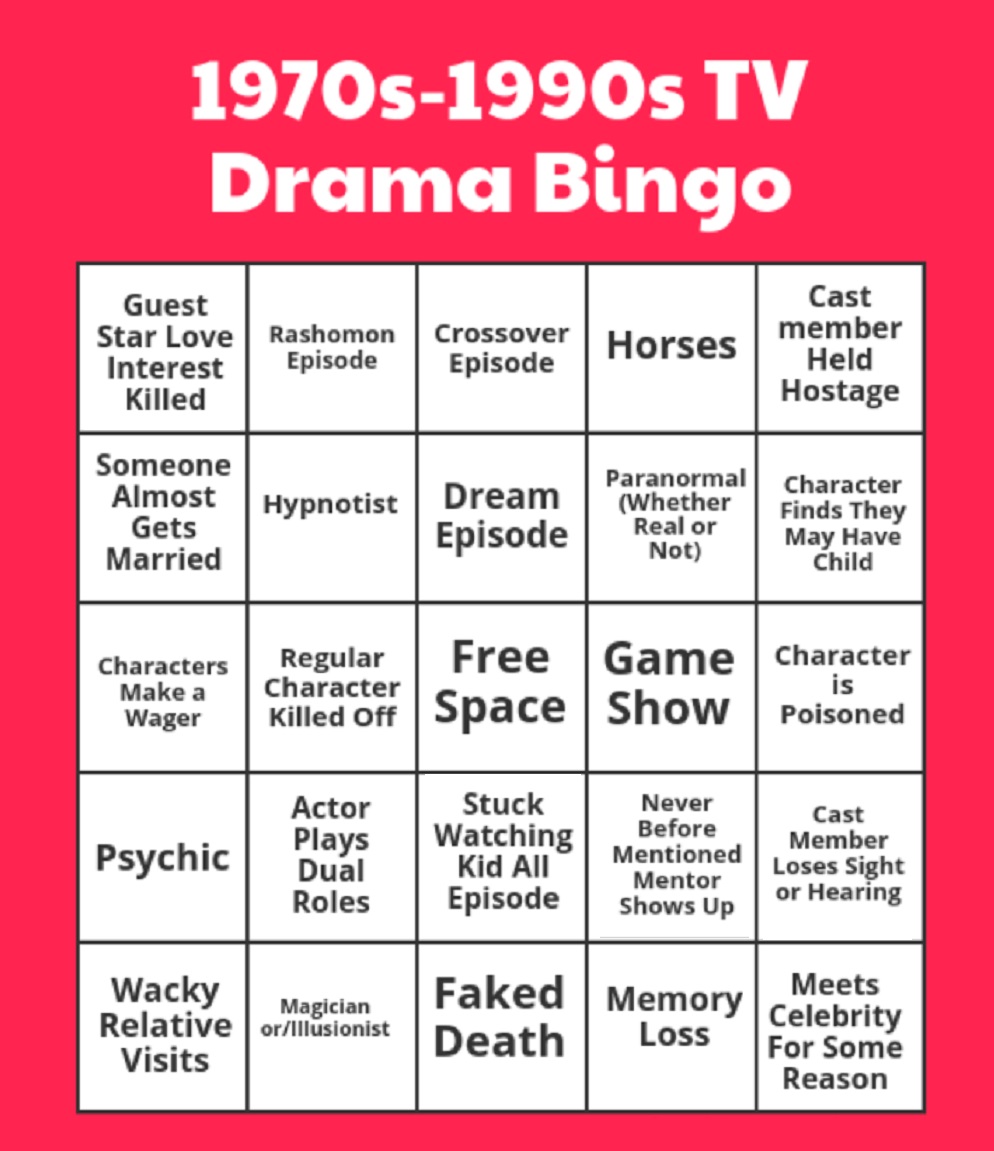 Today, we look at the relatively short-lived spinoff of The Six Million Dollar Man, The Bionic Woman. Lindsay Wagner starred as the title character, who only received three seasons, but were those three seasons enough to make a bingo? Let's find out!
Let's take a look!
The pilot, "Welcome Home, Jaime: Part 1" both had memory loss and faked death as a plot but was also technically a Six Million Dollar Man crossover (there's later an outright crossover, but this still counts, I think).
"Mirror Image" is a classic dual role episode (I was thinking of counting "Jaime's Mother," but this makes it easier).
Season 1's "The Ghosthunter" is a paranormal episode.
Season 2's "The Vega Influence" stretches the "Stuck with a kid" concept, but I think still counts, as only Jaime and a deaf girl are immune to a meteorite's strange powers.
Season 2's "Biofeedback" is basically a psychic episode.
Season 2's finale, "Once a Thief," sees Jaime held hostage.
Season 3's "Rodeo" involves horses.
Season 3's "Motorcycle Boogie" has Evel Knievel guest-star as himself.
Season 3's "Brain Wash" involves hypnotizing people with shampoo.
Season 3's "The Antidote" sees Jaime poisoned.
Wow…it looks like it BARELY misses it! I just don't think there were any "wacky relative visits," but feel free to argue the point, if you'd like! You convinced me to change Deep Space Nine's bingo, after all!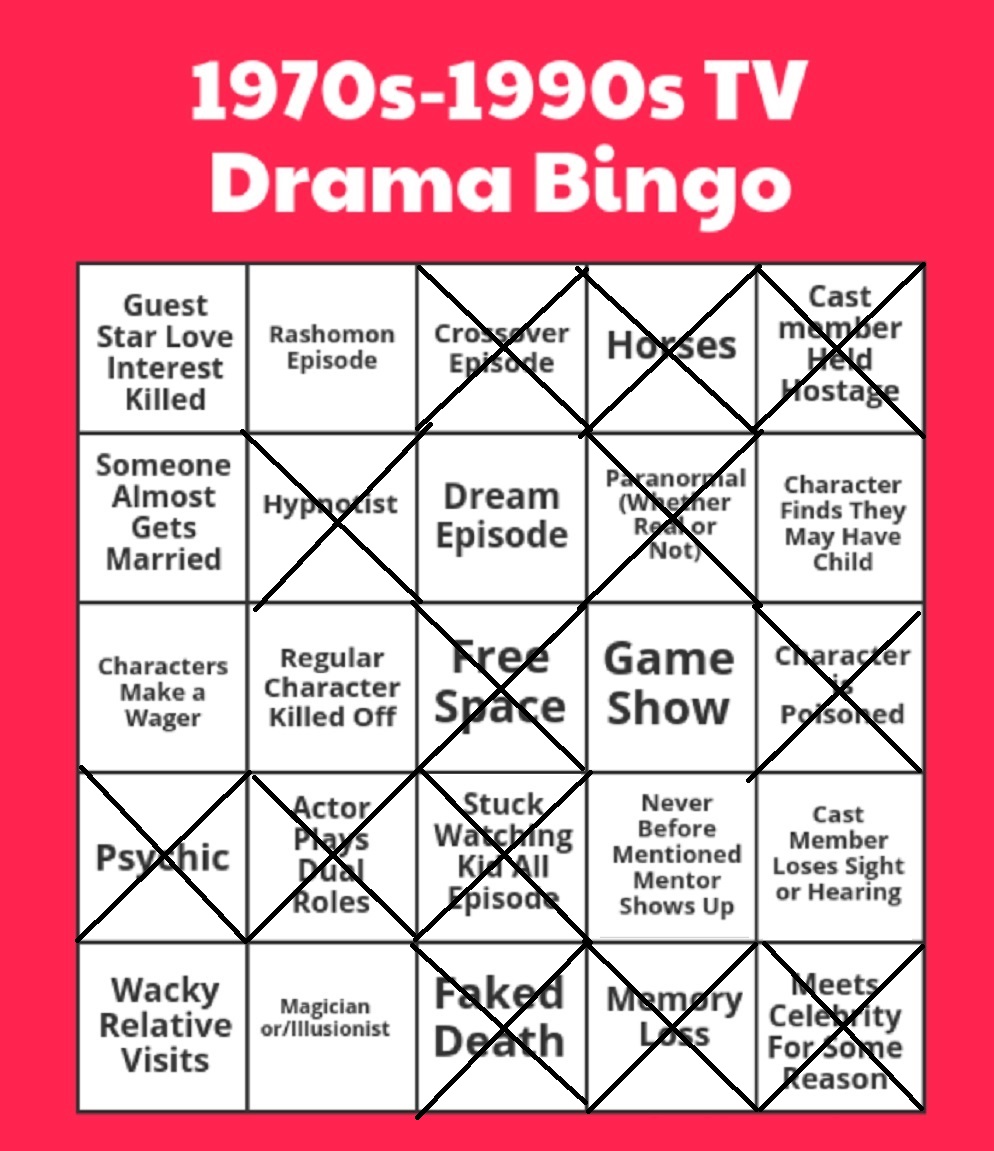 Okay, folks, otherwise, feel free to send in suggestions for future TV Bingos! Just drop me a line at brian@popculturereferences.com