Playing TV Bingo With Star Trek: Deep Space Nine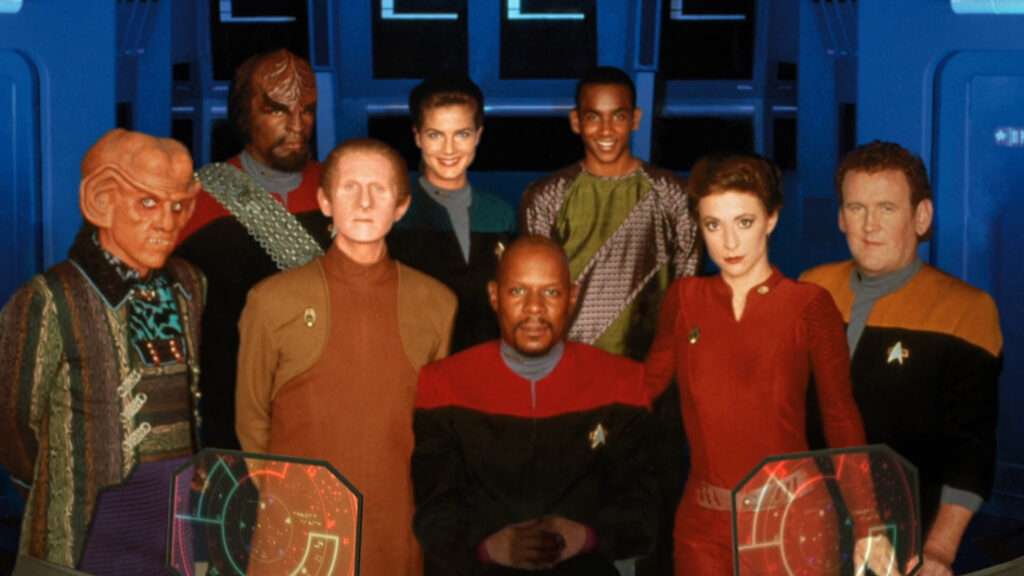 Today, we play TV Bingo with Star Trek: Deep Space Nine!
You know the concept, I use a TV Bingo card (one for dramas and one for sitcoms) and I'll go through the episodes in order and see how quickly I hit a bingo. In case you don't know how bingo works, the idea is that you mark off a box (in traditional bingo, someone will draw ping pong balls with numbers and letters on them like a lottery machine) and when you check off five boxes in a row (whether left to right, up and down or diagonal) then that counts as a "bingo." Here, we'll be going episode-by-episode and seeing whether they match any of the boxes on our bingo card. When we hit five in a row, that's a "bingo"!
Here is the 1970s-1990s drama card…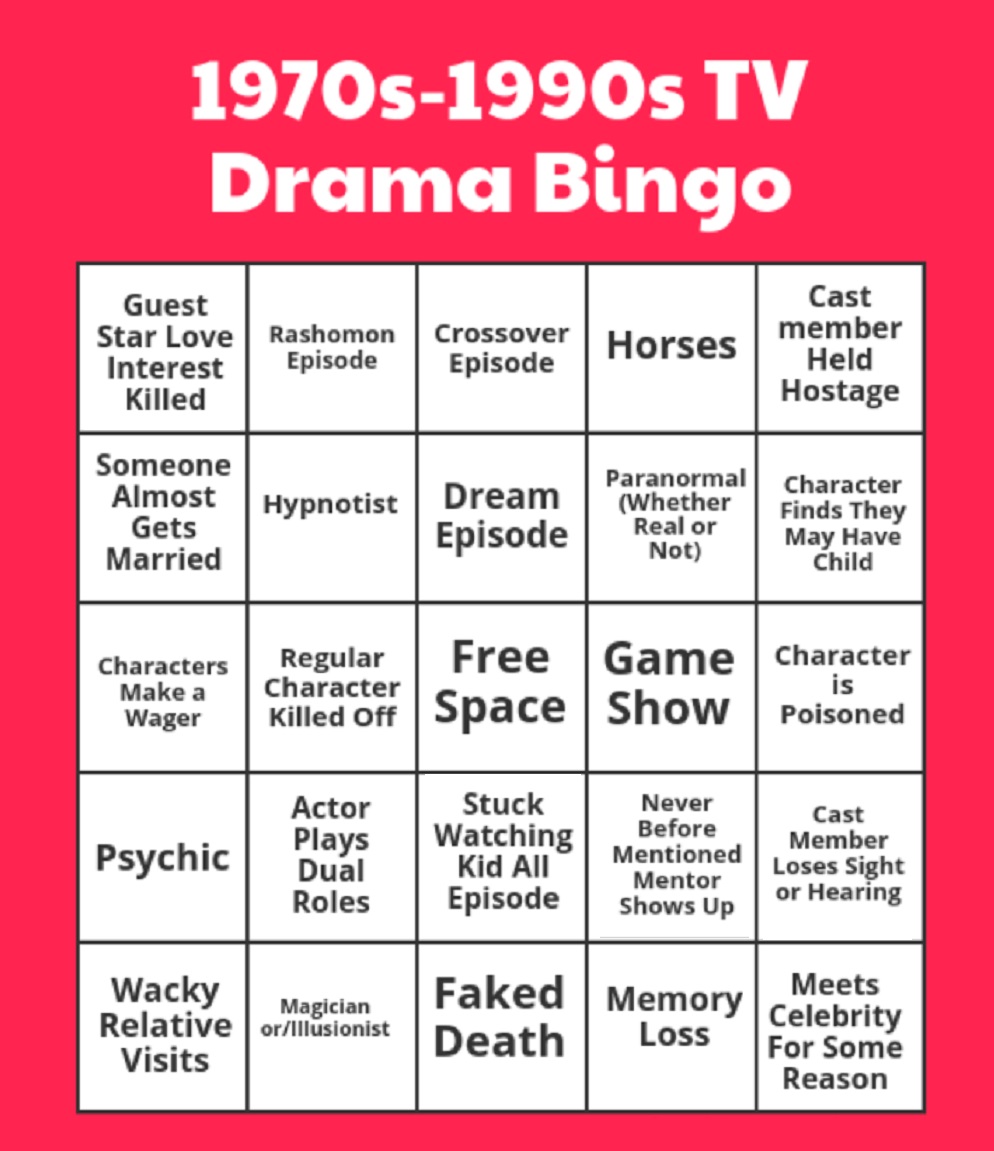 Today, we look at the acclaimed Star Trek spin-off series, Star Trek: Deep Space Nine, about the cast of characters who live and work on a space station orbiting the planet of Bajor, which just had finished a war against the Cardassians.
Let's take a look!
I think the series got paranormal right off the bat, in the pilot, "Emissary," right? I also think Picard's presence in the pilot counts as a crossover.
Season 1's "Move Along Home" is basically a wager episode.
Season 1's "A Man Alone" involves a bad guy faking his death to frame Odo.
Season 1's "Dramatis Personae" involves the crew getting psychically imprinted with other personalities.
Season 2's "Invasive Procedures" saw Kira get taken hostage.
Season 2's "Crossover" is a Mirror Universe episode, so lots of dual roles.
Season 3's The Die Is Cast" has Garek' mentor show up.
Season 4's "Homefront" has a horse in it.
Season 4's "Rules of Engagement" was a Rashomon episode.
In Season 5's "Ties of Blood and Water," a character is poisoned.
Season 6's "Who Mourns for Morn?" saw the death of Morn.
Huh…I don't think they make it.
There really weren't any "wacky relative" visits, were there? And somehow, while there were PLENTY of ill-fated romances with guest stars, none of them died, I don't believe.
Fair enough, you've all convinced me that there is enough for a "Wacky Relative Visit" one and thus, a bingo is made!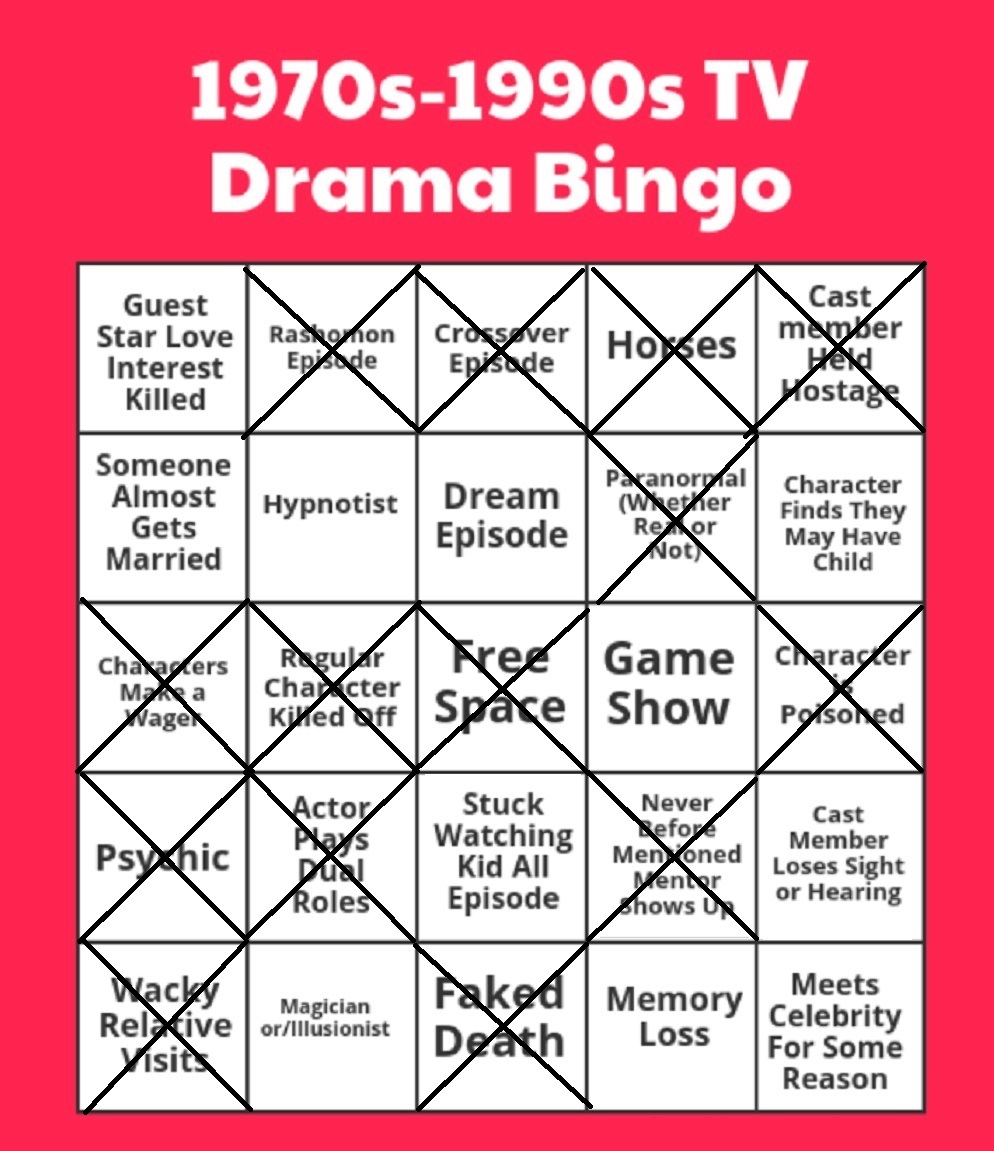 Okay, folks, feel free to send in suggestions for future TV Bingos! Just drop me a line at brian@popculturereferences.com