Please Don't Mention Cancellation to Remington Steele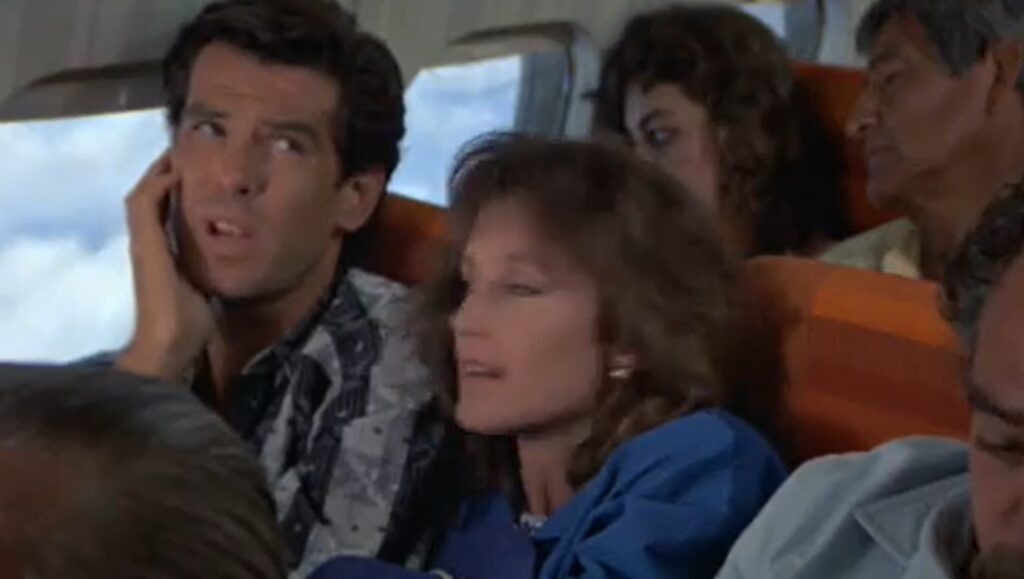 Today, we look at how Remington Steele worked in a reference to its reversed-cancellation into its fifth season premiere.
In Meta-Messages, I explore the context behind (using reader danjack's term) "meta-messages." A meta-message is where a creator comments on/references the work of another creator (or sometimes even themselves) in their work. Each time around, I'll give you the context behind one such "meta-message."
Remington Steele, the series about Laura Holt (Stephanie Zimbalist), a private detective who countered the sexism of her profession by inventing a male boss, Remington Steele, but then had to hire a man (Pierce Brosnan) to play the character of Remington Steele, and, of course, hilarity and drama (and romance?) ensued as they were forced to work together (as everyone wanted THE Remington Steele on their case, even if it was really Laura Holt doing the detecting. However, the former thief and con man playing Remington Steele was helpful, as well), was canceled after four seasons.
After a wave of fan outcry and increased ratings (and before any announcements had been made about Brosnan possibly taking over as James Bond, but obviously, that was in the news as a realistic possibility at the time), NBC reversed its decision, and the show was renewed for a reduced order of episode for Season 5 (done instead as a series of three two-hour TV movies, with the middle one split up over two episodes). In the Season 5 premiere, Steele and Holt are on a crowded plane to Mexico for their honeymoon (they had to get a fake Green Card marriage to keep Steele in the country). Holt asks a flight attendant if there is any availability in first class and the flight attendant says, "I'll check, but I don't believe there have been any cancellations" and Steele visibly groans and says not to say that word. Holt notes that it is a sensitive topic for him.
Wocka wocka.
Thanks to my pal, Bill Walko, for suggesting this one! Okay, folks, if you have suggestions for a future Meta-Messages, drop me a line at my brand-new, much easier to type out, e-mail address of brian@poprefs.com!