That Time a Bunch of Old Stars Half-Assed Their Way Through "Old Friends" at the Emmys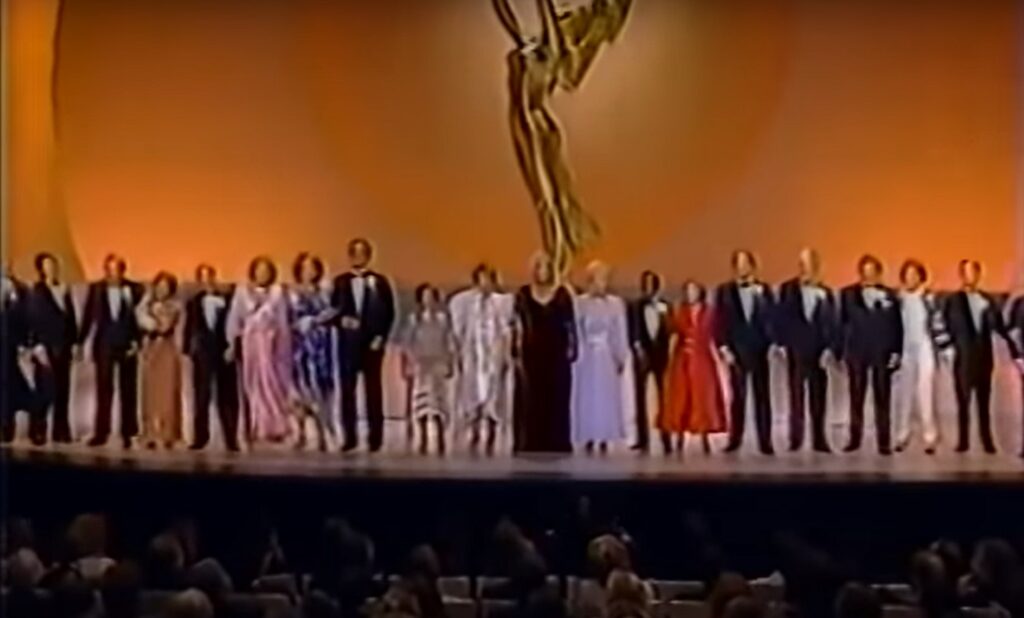 Today, we look at when a bunch of old TV stars got together to sing Sondheim's "Old Friends" at the 1986 Emmy Awards.
This is "Suddenly Sondheim," a feature where we look at seemingly out of nowhere references to Stephen Sondheim in popular culture. You know, unexpected places and not, say, at the Tony Awards or on Glee or something like that.
The 1986 Emmy Awards are famous (infamous?) for being the year that they wanted David Letterman to host the awards, but they came to a bit of an impasse over the fact that Letterman would not do any "numbers" at the ceremony. So it went from being Letterman as the sole host to Letterman now CO-hosting with Shelley Long as Long was willing to do the "numbers" for the show. I'll presumably talk about her infamous production in the future.
Anyhow, since LETTERMAN wasn't involved in singing, the show decided instead to do a closing bit where a bunch of old TV stars got together to sing "Old Friends," which was a relatively recent song at the time, appearing in Sondheim's Merrily We Roll Along five years ago. Merrily We Roll Along (which famously tells the story backwards, so Sondheim famously cast young actors to play older versions of themselves) was a major flop at the time, but in 1985, there was a a reimagined musical of the play in San Diego, so there was new attention paid to the show. That said, while the show itself was a flop, the SONGS were well respected, so it wouldn't be a TOTAL shock to hear "Old Friends" played, but it's still pretty freakin' weird…
It opens up normally enough, with Bea Arthur leading the Golden Girls (The show had just won its first Emmy for Best Comedy Series and Betty White had just won the first Best Actress in a Comedy Series Emmy Award of the Golden Girls' run, which did not please Arthur, but she's not letting it show) in the opening of the song. Arthur, a Broadway musical veteran, was very assured as it began…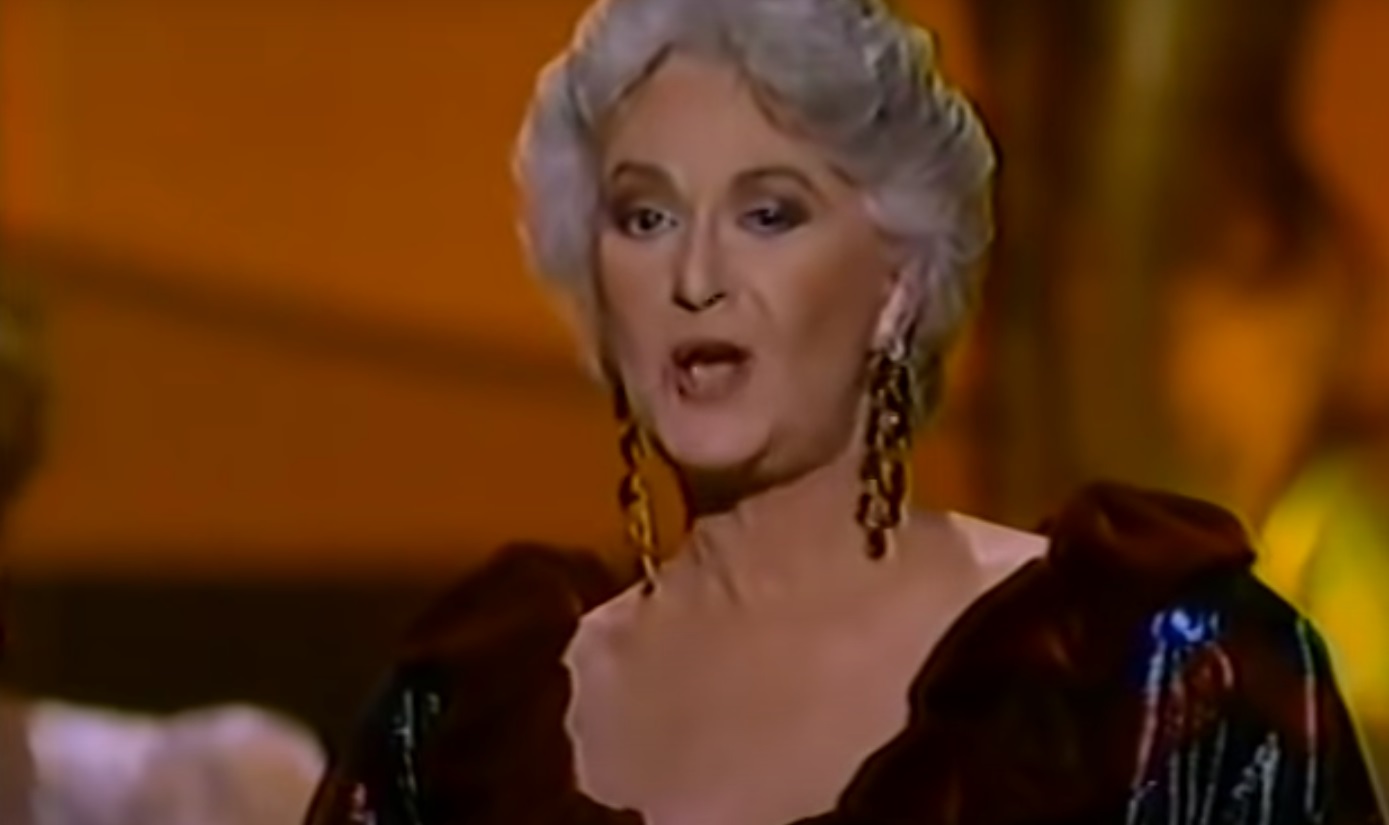 Then Sammy Davis Jr. enters the production and things just start falling apart…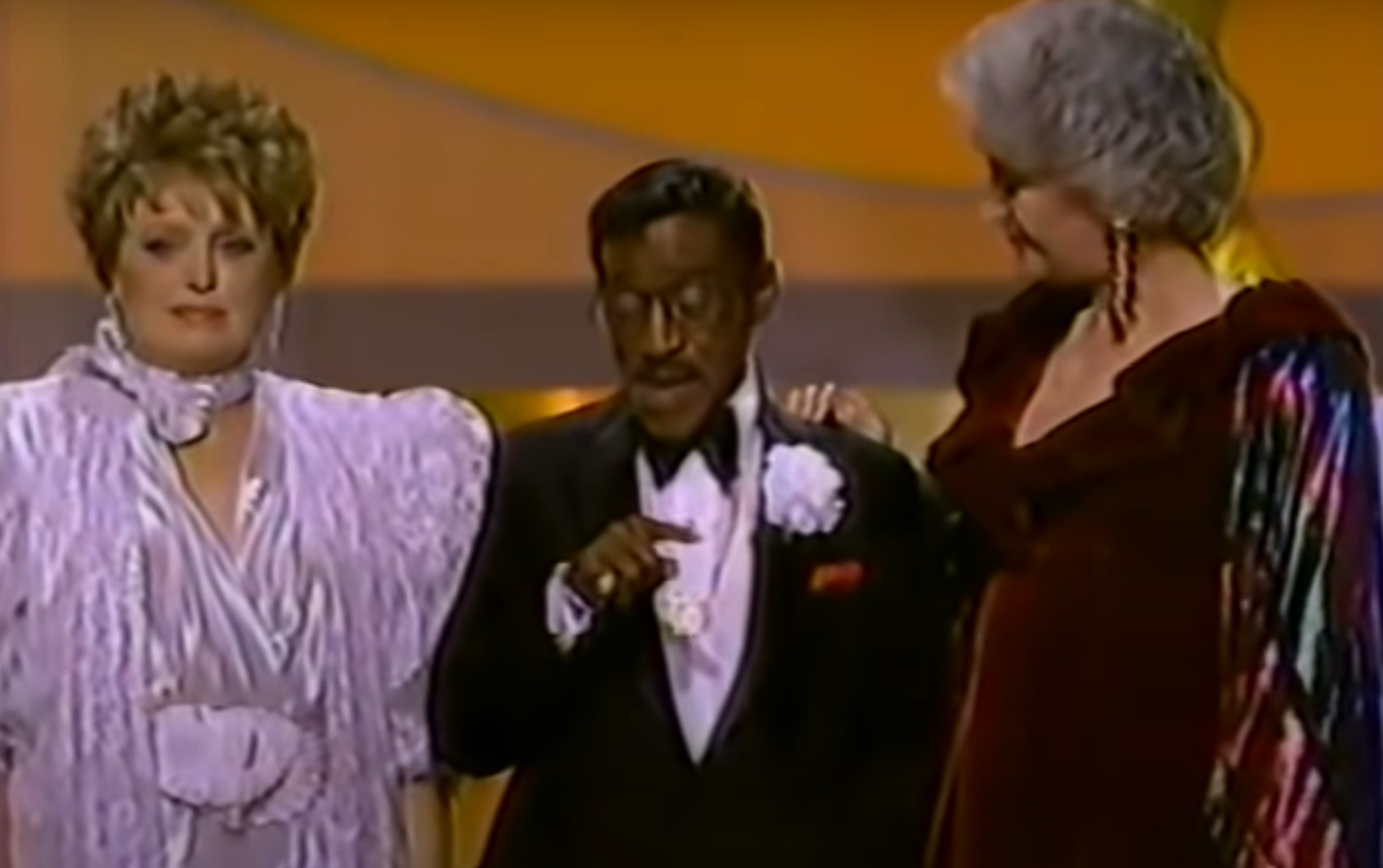 Then the other random older stars chime in and there are some big names (Dick Van Dyke, June Lockhart and Betty White are the only ones still alive as of September 4, 2021), but they're just sort of there (and most of them are probably just lip synching)…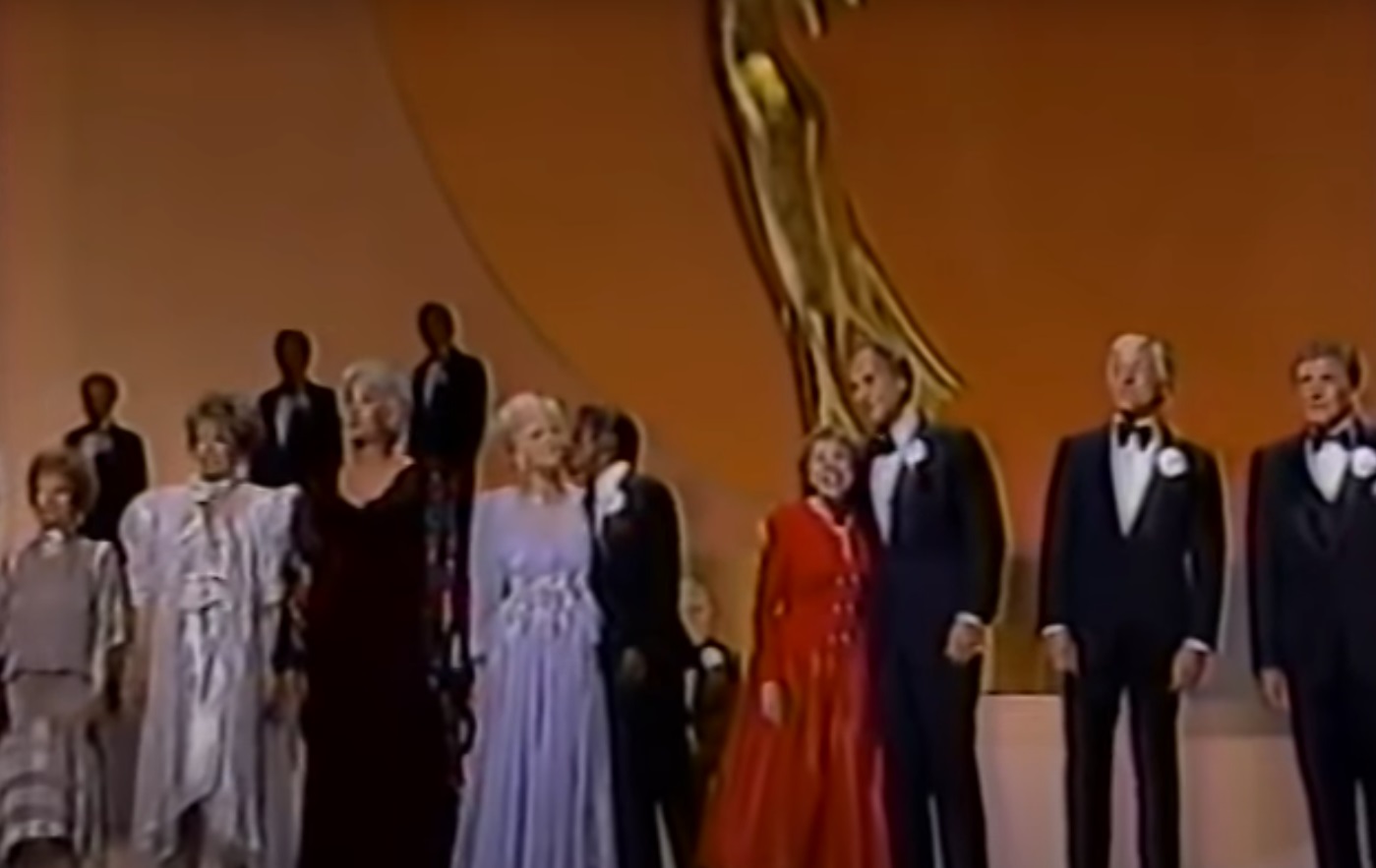 Dennis Weaver, Chester from Gunsmoke, seems thrilled to be there, while Raymond Burr (Perry Mason) seems petrified….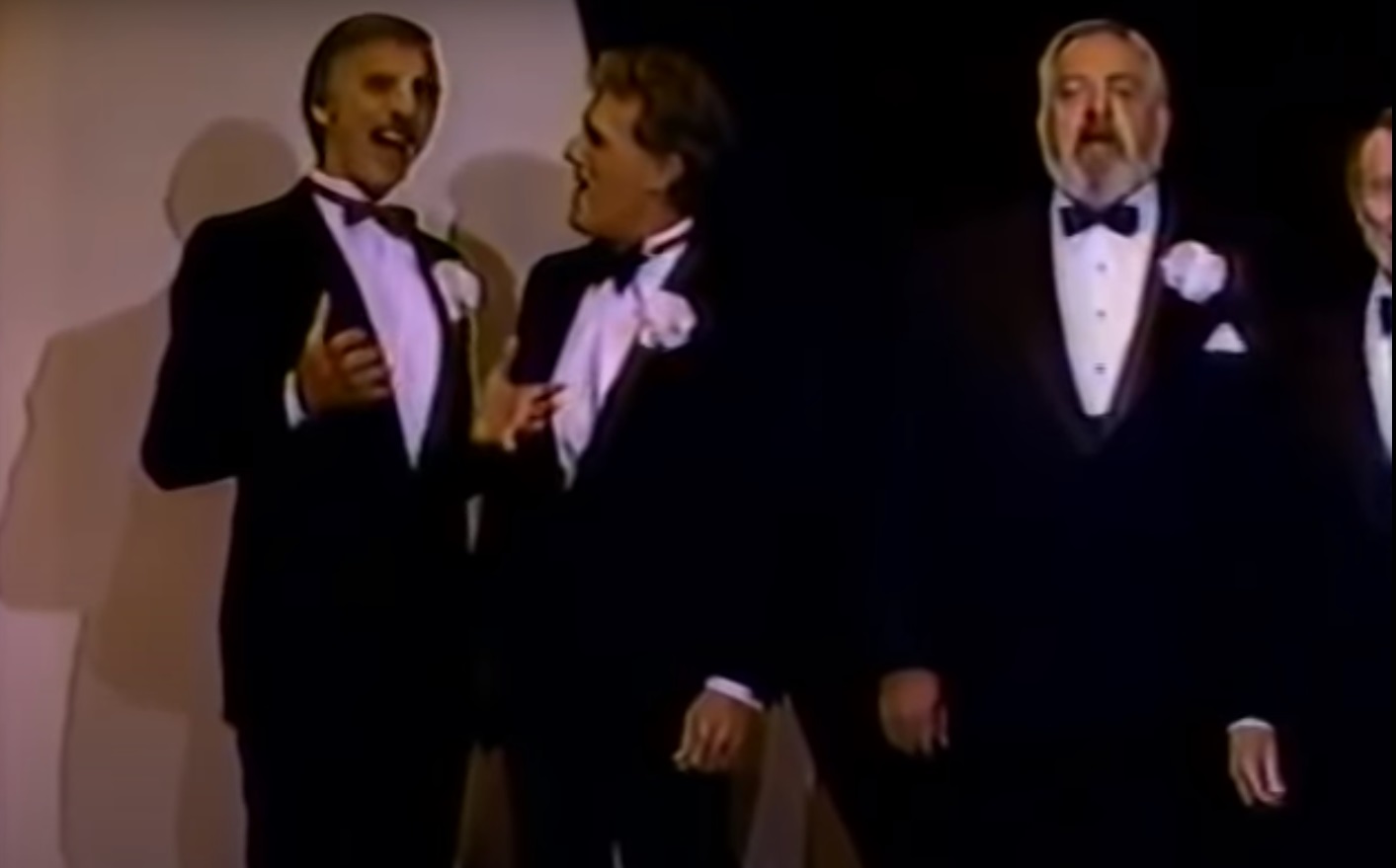 The whole mess ends with George Burns blowing his cue and the song thankfully ending as a bunch of other celebrities pour on to the stage…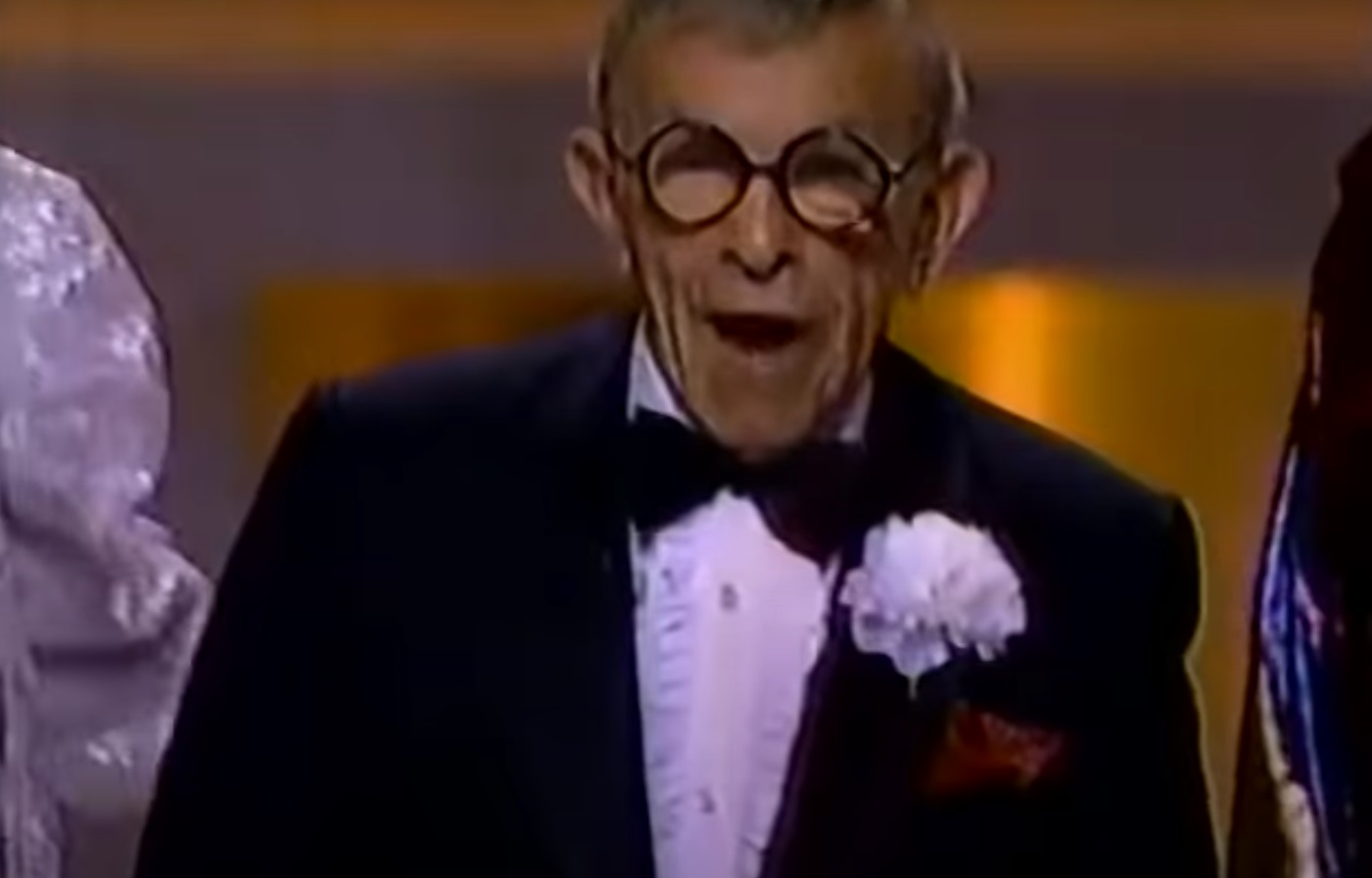 As far as screw-ups go, it's really a fun one.
Okay, folks, if you have a suggestion for a future edition of Suddenly Sondheim, feel free to drop me a line at brian@popculturereferences.com.