The Cookout on Big Brother is Not Racist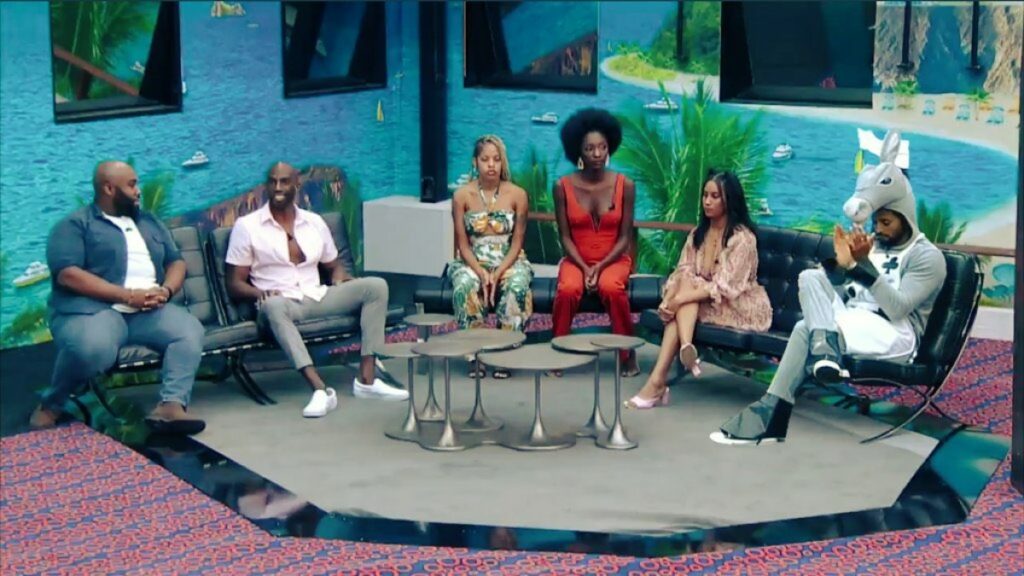 Today, we look at a current controversy in the world of reality television.
This is "Just a Reminder," a feature where I just point out some stuff, typically in relation to a recent controversy in the world of pop culture.
I am not a big watcher of reality television, but one of the only exceptions that I make is Big Brother, CBS' long-running reality competition show, because the very format of the show (the 16 contestants, or "houseguests," appear nearly 24/7 online and then the footage is edited together for three hour-long episodes every week during the Summer, with one of those episodes typically including mostly live footage (a new "Head of Household" is crowned every week and they nominate two people to be removed from the house and then we see the houseguest vote on who to evict between those two live).
I watch it because it's one of the only reality shows were we can see the ACTUAL reality. You can actively see how the broadcast version of the show will try to edit the content to create storylines and narratives. It fascinates me.
Throughout the series, the cast has been predominantly White players. Typically along the lines of 12 White player and 4 non-White players. This year, for the first time, CBS introduced a new approach to their reality show programming where at least half of their casts will now be non-White contestants. So in the current Big Brother 23, eight of the contestants on this season of Big Brother were non-White and six of the eight non-White contestants identify as Black and those six Black contestants formed an alliance early on called "The Cookout." They used a setup that had previously been used in Big Brother 12 by four White guys called "The Brigade," where the four dudes wouldn't be actively seen as being an alliance and in fact, each one of them would get really close with someone ELSE, making people think that that OTHER person was their ACTUAL alliance partner. This allowed the Brigade to avoid being targeted, since no one knew it existed until the end and three of the four members were left standing.
Similarly, the Cookout all had non-Cookout members that they became close to, thus hiding the fact that there was a "secret" alliance this whole time. And now, heading into the end game of the show, the Cookout will be making up six of the last seven remaining contestants on the show and boy, let me tell you, people have some OPINIONS about this.
The most common, of course, is that an all-Black alliance is racist.
Here's why it is not (I've said bits and pieces of this post already on the Primetimer Big Brother forum in various comments, but here it is all as one post).
The current Webster definition of racism is, "a belief that race is the primary determinant of human traits and capacities and that racial differences produce an inherent superiority of a particular race." And that's the key point (and something they made a point of recently adding). Racism, as it is a point of conflict in society, is only an issue because of White supremacy, the "inherent superiority of a particular race."
In the past of Big Brother, the dominant White-led alliances did not even CONSIDER themselves "White-only" alliances, they just "naturally" excluded the minority contestants. But of course, none of that is "natural," it's systemic racism. Our entire society is built around systemic racism, to the point where no one in, say, the Brigade, actually thought of their group as being "White-only," because they clearly just viewed their group as "normal." Like how a humorous movie about a White family is a comedy and a humorous movie about a Black family is a Black comedy. Clearly, White=normal in our systemically racist society (systemic because whether you're actively trying to be racist or not, it remains racist nonetheless).
Minorities voluntarily deciding to be in a minorities-only group is fine. It is different than the majority forcing them out of groups. That is the segregation that is a problem. It's also the segregation that we routinely see on Big Brother, where the minorities are treated as "others" by the White-ruled groups.
White supremacy is the overall problem with systemic racism and thus, White-only groups only exist in terms of White Supremacy, while minority-only groups are in existence in OPPOSITION to White Supremacy. That is why they will never be the same thing and one is okay and the other is not.
Think about it like something like, say, the Island of Misfit Toys in Rudolph the Red-Nosed Reindeer. Someone determined that those toys were the "other" and they all banded together because of that oppression. Now imagine some model toy going, "Hey, you guys banded together based on us labeling you as 'Misfits'! That's just as bad as us kicking you out!" People would laugh their Claymation ass out the door, right? And yet that's precisely what people want us to believe by saying that the oppressed banding together is no different than the oppressors banding together. It's a mistake.
It is also why being "colorblind" is so unintentionally offensive. Judging people by "just being people" is ignoring the shared awful experience that minorities deal with everyday. When you are "colorblind," you're erasing that trauma and lived experience that people deal with. Because reality is NOT blind to color, so trying to pretend otherwise is offensive to those that deal with it every day of their lives. It also quite often only comes up in situations like this.
Essentially, if systemic racism didn't exist, then the Cookout would be "just like" all of the other all-White alliances over the years, but obviously it DOES exist, so a group of minorities (or women, for that matter) choosing to band together is actively NOT "just the same" as the all-White/all-male alliances we've seen over the years.
When you perpetuate the power structure of society with a group, it is different than when the subjugated people in society band together in response to that power structure. Hence, Black-only groups are not the same as White-only groups and Female-only groups are not the same as Men-only groups.
And thus, The Cookout is not "racist."
That said, I imagine that going forward, CBS will not have six out of the eight non-White houseguests be Black. That's probably fair enough. It is not racist for the Cookout to form, but it was probably not the best idea, logistically, of CBS to have the "diverse" half of the house be six Black people out of eight. I imagine going forward we will see more Asian and Hispanic houseguests (as opposed to one of each like this season).
"Just a Reminder" is a bit less of an audience-participation feature, but hey, feel free to write in with suggestions if you feel like, to brian@popculturereferences.com