The Odd Media Coverage of Miley Cyrus' New Year's Wardrobe Malfunction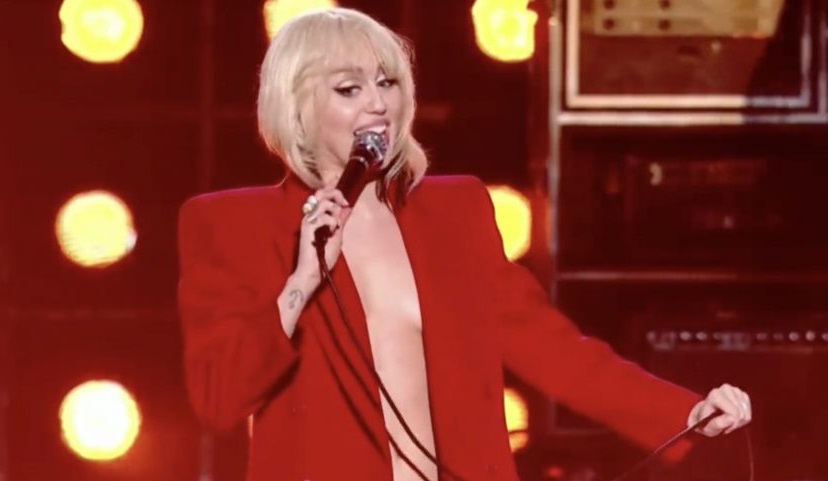 Today, I discuss how oddly the media has decided to cover Miley Cyrus' New Year's wardrobe malfunction.
Knowledge Waits is a feature where I just share some bit of pop culture history that interests me that doesn't quite fit into the other features.
In case you missed it, after the clock struck midnight in Miami where Miley Cyrus and Pete Davidson were hosting a New Year's Eve special for NBC, the pop star began to do a medley of her hit songs, including "Party in the U.S.A." when the skimpy top she was wearing broke in the back. The singer quickly covered herself and went backstage to get something to wear to cover herself (if you wish to believe this was all a stunt, then sure, fair enough, I have no idea one way or the other).
Her backup singers didn't miss a beat, continuing to sing the pop hit while Cyrus was backstage for about half a minute and she came back out wearing a red blazer from earlier in the show that didn't appear to be secured, which struck me as odd, since a move to the left or right could expose her breast, which presumably she was trying to avoid (unless, of course, it was all a stunt designed TO expose herself for the publicity. Again, I have no idea. I tend to think she was trying to avoid that, but who knows).
Miley Cyrus began 2022 with a wardrobe malfunction. #MileysNewYearsEveParty pic.twitter.com/D3BF4JNA0X

— Dave Quinn (@NineDaves) January 1, 2022
All said and done, Cyrus handled the whole deal with grace and charm and she deserves a lot of credit. She riffed, "Everybody's definitely looking at me now" and joked, "I'm still in the most clothes that I've ever worn on stage." However, on the way backstage when she was finished, she then turned and, sure enough, her blazer opened and one of her breasts was visible. Thus, if the idea was to avoid that (and yes, for a third time, perhaps she was not trying to avoid it), then Cyrus, you know, DIDN'T avoid doing that.
I don't care that she didn't fully manage to avoid exposing her breast, it doesn't matter to me, but I was weirded out by the media coverage of the incident, which all failed to mention that she DID expose her breast on live television!
EW's "Watch Miley Cyrus handle a wardrobe malfunction like a pro during her New Year's Eve show" didn't mention it.
CNN's "Miley Cyrus smoothly covers for a wardrobe malfunction in New Year's Eve show" didn't mention it.
Vulture's "Miley Cyrus Handles New Year's Eve Wardrobe Malfunction With Ease" didn't mention it.
Glamour's "Miley Cyrus Had a Major Wardrobe Malfunction on New Year's Eve—and Handled It Perfectly" didn't mention it.
Today's went even further with its "Miley Cyrus expertly handles wardrobe malfunction on stage at New Year's Eve show" by referencing Pete Davison's joke about her breast being exposed as, "Davidson had his co-host's back after the near-miss (emphasis added) on live television. While introducing rapper 24kGoldn, the Saturday Night Live star addressed Cyrus' wardrobe malfunction, announcing, 'I heard we may have had a little boob slip, so in solidarity…' before lifting up the bottom of his own shirt to reveal his chest.
Davidson, who was there, knew what happened and made a joke about it, while Today the next day decided that it DIDN'T happen, despite it obviously happening.
It's so odd to see stories specifically about an event not describe what actually happened at the event that they're ostensibly describing.