What Are the Lyrics to "Daddy Cop" on The Rookie?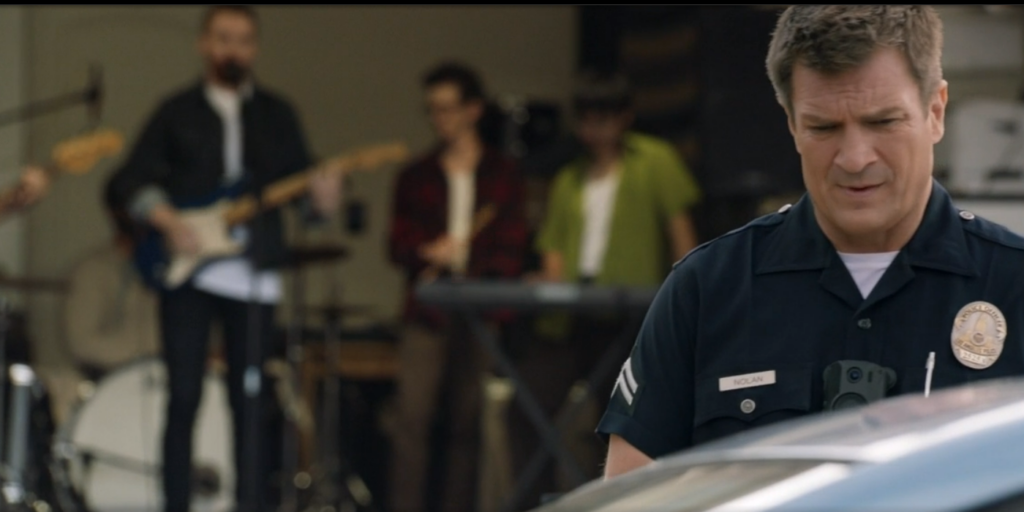 Today, we look at the lyrics revealed (so far) from the viral song, "Daddy Cop," from The Rookie.
In Pop Culture Questions Answered, I answer whatever questions you folks might have about movies, TV, music or whatever (feel free to e-mail questions to me at brian@pop culture references.com).
As we discussed the other day, this week's episode of The Rookie saw LAPD training officer John Nolan (Nathan Fillion) and his rookie, Celina Juarez (Lisseth Chavez), pull over a woman for a traffic infraction in front of a garage where a band is practicing.
The band, led by singer Zander Hawley (playing a character actually given the name "Rodge"), begin to improvise a song about the cops on the spot called "Daddy Cop," and it has become a bit of a viral sensation (one of the fun things about "unofficial" songs becoming popular is that no one really knows the name of the song, so you see people looking for "arrest me make it sexy song" or "cop cuties" or whatever).
Reader Tammy wanted to know what the lyrics were. Another reader, Will, actually responded with the lyrics, but, darnit, I had already put the effort into transcribing them, so I'm going to use what I wrote first rather than just copy Will (I'm sure we have the same lyrics, but it's the principle of the matter ;)).
Note that there are probably more lyrics that we just didn't hear, and hopefully Hawley releases a full version of the song soon. When he does, I'll be here with more lyrics, but for now, here are the lyrics to "Daddy Cop"…
Is that a baton in your pocket
Or are you just happy to see me?
License and registration, please.

She puts the "short" in "shorty"
And he looks like he wants to chase me
Cop cuties, cute and on duty
Navy blue booties, go ahead and lock me up

Arrest me, but make it sexy…
Arrest me, but make it sexy

Sell me some meth, please
So I can get arrested by this daddy of a cop
With his daddy cop walk
And his daddy cop arms and his daddy cop butt (Ow!)

Cop cuties, cute and on duty
Cop cuties, cute and on duty

Arrest me, but make it sexy
Arrest me, but make it sexy
Arrest me, but make it sexy
And here's the full scene…
"Arrest me, but make it sexy" #TheRookie @therookie on ABC. I loved the opening and the jingle on the latest episode. pic.twitter.com/cg3mgnZi86

— brokenpipe; (@chuksjonia) January 26, 2023
Thanks to Tammy for the question! And thanks to Will for answering it, as well. If anyone else has a pop culture question, drop me a line at my new and much shorter e-mail, brian@poprefs.com!