What's the All-Time Best 'Bottle Episode' of a TV Sitcom?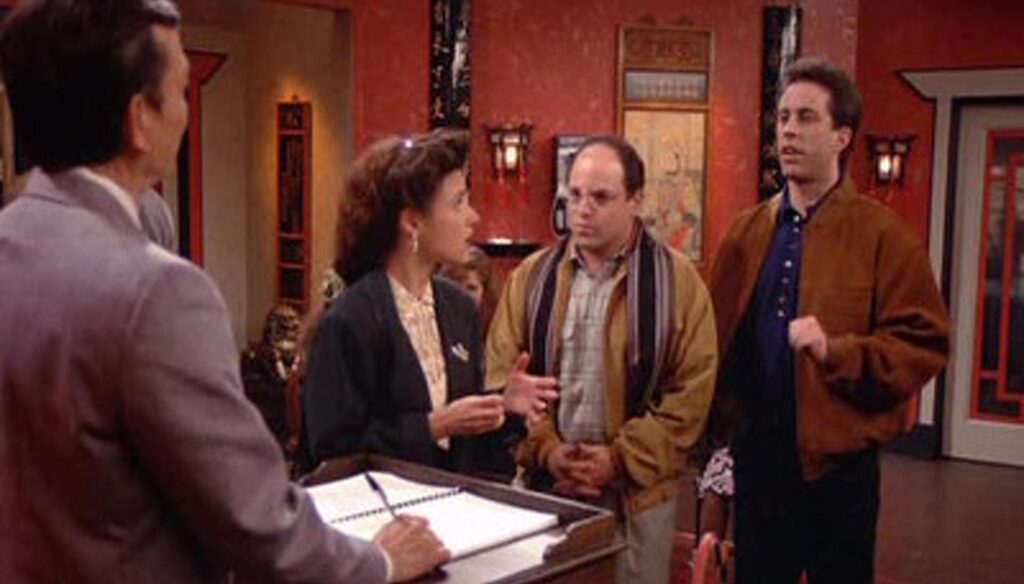 Today, I want to know what you think is the all-time best "bottle episode" of a TV sitcom.
Pop Culture Theme Time is a feature where I put a question to you to see what you think about a particular theme. I might later revisit the theme for a future Drawing Crazy Patterns or Top Five.
Bottle episodes are episodes that, FOR THE MOST PART, take place in a confined space (exceptions are made for, like, driving to and from a place and stuff like that). The idea came about from the past of TV when, to save money, shows would do episodes with less sets and less extraneous cast members, so they could cut costs down.
These episodes have also been able to be used to be almost like mini-stage plays, since your set is essentially just a stage in this instance. LOTS of great episodes have been bottle episodes, as it often requires the writers to step up their game in a big way. Dramas and sitcoms tend to approach bottle episodes differently, so previously, I asked people for their picks for the best bottle episode of a TV drama, and now I'm looking for your pick for the best bottle episode of a TV sitcom.
Here's a VERY IMPORTANT distinction. Bottle episodes, by their definition, have to be UNUSUAL episodes. What I mean is, if your REGULAR format is that every episode takes place in a single room, then having an episode in that format doesn't count as a bottle episode, even if it would if it were a different show. The two most notable examples off the top of my head are All in the Family and Barney Miller. All in the Family OFTEN had episodes that were just set in the living room and kitchen of the Bunker household, and almost every episode of Barney Miller was just set on the detective office floor of the 12th Precinct. So we can't call pretty much EVERY episode of those shows a bottle episode, ya know? However, for instance, when Archie was trapped in an elevator with a disparate group of people, including a young pregnant woman about to go into labor, you could consider THAT a bottle episode, as that was an UNUSUAL episode of All in the Family. The key thing to remember is that for it to be a bottle episode, it has to be different than a normal episode of the series.
My pick is "The Chinese Restaurant" from Season 2 of Seinfeld, where Jerry, George and Elaine spend the entire episode waiting to be seated at a Chinese restaurant. Now, here's the interesting thing, I think I am giving this sort of extra credit for just how bold it was AT THE TIME. It is still an excellent episode of TV, but at the time, it was so bold that NBC literally wouldn't let them do it, and Larry David thought of quitting the show if the network wouldn't allow them to do the episode. Obviously, it eventually came out, and it blew everyone's minds, and so I'm willing to stick it with it as the "best" still.
So that's my pick, how about you?
And feel free to suggest future Pop Culture Theme Time topics to me at brian@poprefs.com!