When Did Hill Street Blues Jump the Shark?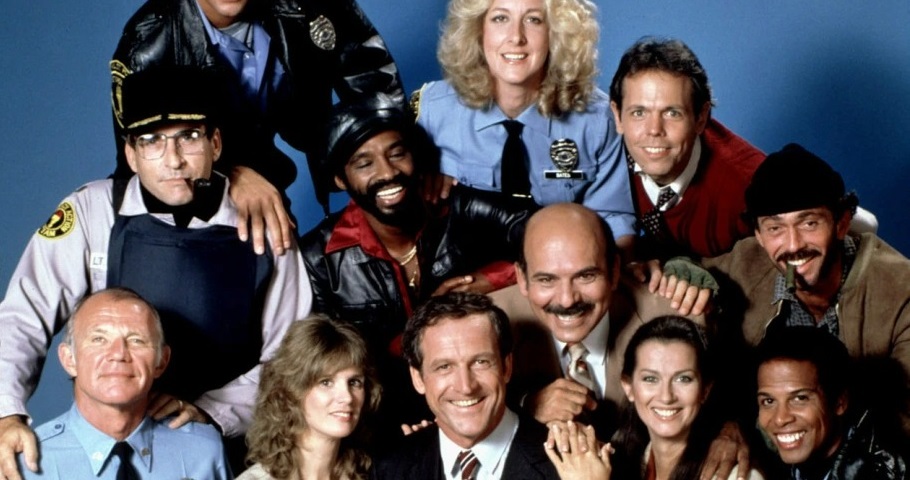 Today, we look at when (or if) you folks believe that Hill Street Blues "jumped the shark."
This is "Just Can't Jump It," a feature where we examine shows and whether they "jumped the shark." Jumped the shark (coined by Jon Hein) means that the show had a specific point in time where, in retrospect, you realize that show was going downhill from there (even if, in some rare occasions, the show later course-corrected). Not every show DOES jump the shark. Some shows just remain good all the way through. And some shows are terrible all the way through. What we're looking for are moments where a show that you otherwise enjoyed hit a point where it took a noticeable nose dive after that time and if so, what moment was that?
Hill Street Blues was long-running, critically acclaimed (it won 26 Emmys over its seven season run) police drama that stood out from other shows of its era by both serializing the stories (plots would carry over for a number of episodes) and highlighting the very human elements of all of the characters, led by the brilliant Daniel J. Travanti as Captain Frank Furillo, a noble man in an environment not at all suited for nobility. As I noted on Twitter the other day, the shoe somehow had TEN actors who appeared in all 144 episodes of the series. That's a shocking feat that I don't think will ever be surpassed by another show (that has at least 100 episodes). TEN CAST MEMBERS, PEOPLE!
So first…DID IT JUMP THE SHARK? I say no.
WHEN DID IT JUMP THE SHARK Originally, the show was written by creators Stephen Bochco and Michael Kozoll in most episodes. Then Anthony Yerkovich became the main other writer in Season 2, with Kozoll leaving after Season 2 to write films (beginning with the hit film, First Blood, introducing Rambo to the silver screen). Yerkovich then left to launch his own series, Miami Vice, following Season 3. By that point, David Milch had been recruited to write the show by one of the staff writers, Jeffery Lewis. Milch, Lewis and Bochco then guided the show through the next two seasons, but Bochco then left to launch L.A. Law, and Milch then became the showrunner for the final two seasons (perhaps WITH Lewis, I don't know for sure, but Milch was writing most episodes without Lewis at this point, so I doubt it). The show changed a LOT with Milch in charge, as it got much darker in tone. However, Milch is such a good writer that the show was still quite good for the final two seasons. Just noting that if you were looking for a moment that would even HINT at a shark jump, I guess it would be when Milch took over and dramatically altered the tone of the show (and also started shedding cast members as the spotlight of the show shifted from Travanti's Furillo to Dennis Franz's Lt. Norman Buntz, as Franz was sort of Milch's muse).
Let me know what you think in the comments or on social media!
Feel free to e-mail me at brian@popculturereferences.com for suggestions for shows for us to do in future installments!