When Did Mork and Mindy Jump the Shark?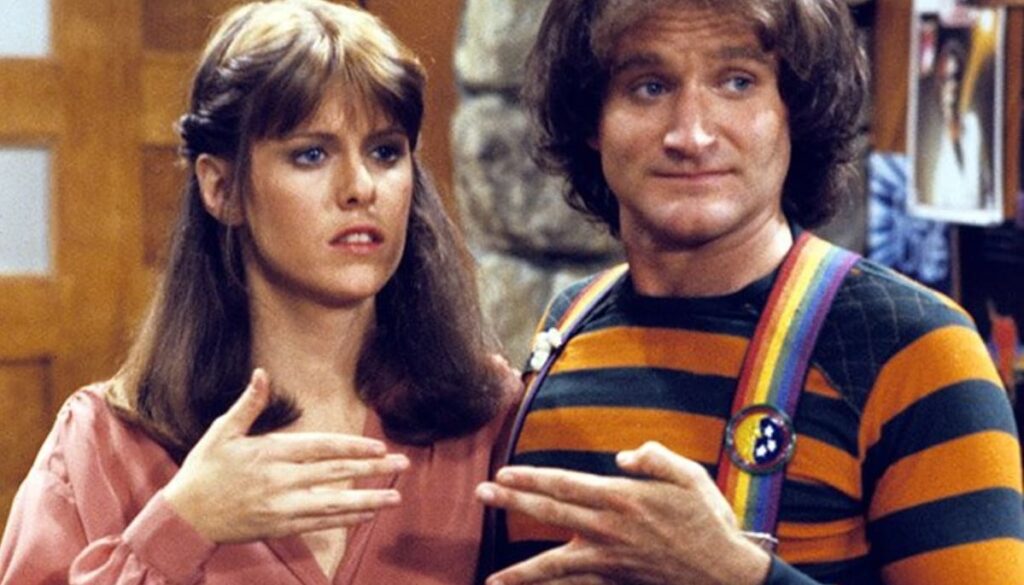 Today, we look at when (or if) you folks believe that Mork and Mindy "jumped the shark."
This is "Just Can't Jump It," a feature where we examine shows and whether they "jumped the shark." Jumped the shark (coined by Jon Hein) means that the show had a specific point in time where, in retrospect, you realize that show was going downhill from there (even if, in some rare occasions, the show later course-corrected). Not every show DOES jump the shark. Some shows just remain good all the way through. And some shows are terrible all the way through. What we're looking for are moments where a show that you otherwise enjoyed hit a point where it took a noticeable nose dive after that time and if so, what moment was that?
Mork and Mindy was a show about an alien named Mork (Robin Williams) who comes to live on Earth, and becomes roommates with an Earth woman, Mindy (Pam Dawber). Mindy helps Mork adjust to life on Earth, and they eventually fall in love.
So first…DID IT JUMP THE SHARK? I think so, yes.
WHEN DID IT JUMP THE SHARK An interesting aspect of Mork and Mindy is that it was never really ever as good as people remember it. Robin Williams was brilliant as Mork, no doubt about it, but the show never really seemed to formalize a plot AROUND him, which is a shame, as Pam Dawber was also excellent. Your two leads are that good and you fail to put a show around them? They should be put in TV jail for that! That said, when they got married, the show got a whole lot worse, so I'll say the Season 4 premiere, when they got married.
Let me know what you think in the comments or on social media!
Feel free to e-mail me at brian@poprefs.com for suggestions for shows to do in future installments!