When Friends Retconned Monica and Chandler's History Together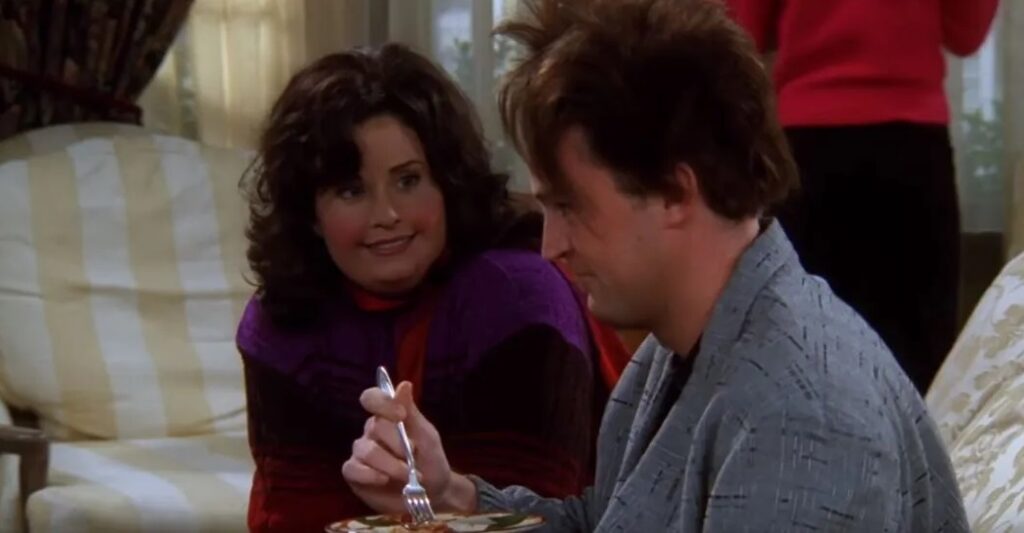 Today, we look at how Friends retconned Chandler and Monica's history together after they started dating on Friends.
In Abandoned an' Forsaked, we examine stories and ideas that were not only abandoned, but also had the stories/plots specifically "overturned" by a later writer (as if they were a legal precedent) with a retcon (retcon stands for "retroactive continuity," but we're specifically talking about retcons that contradict earlier stories).
Something that you'll see pop up in almost every sitcom that centers on a romantic relationship is that the show will somehow find a way to do a flashback featuring the lead couple, even if they didn't know each other until relatively recently. That's a normal enough approach, honestly, but what's weird is when shows do it with characters whose backgrounds with each other were already established, so the flashbacks inherently have to become retcons.
That's what happened in the Season 5 Friends episode, "The One With All the Thanksgivings." Monica (Courteney Cox) and Chandler (Matthew Perry) had recently started seeing each other in secret, and they hadn't revealed the truth to their respective friends yet by Thanksgiving (only Chandler's roommate, Joey, played by Matt LeBlanc, knew the truth).
In a memorable Season 2 episode, "The One with the Prom Video," the show revealed for the first time that Monica had been very overweight when she was a young woman. Chandler and Joey are shocked when they see her prom video, leading to a memorable (but quite casually cruel) jokes where Joey says, "Some girl ate Monica!" and Monica responds, "Shut up, the camera adds ten pounds," to which Chandler cruelly retorts, "Ah, so how many cameras are actually on you?" Obviously, these were all jokes that were nominally meant in good fun but, well, come on, that's still a fucked up thing to say to your FRIEND. But whatever, obviously Monica got over it, as a few seasons later, she and Chandler are regularly hooking up with each other.
Then, in the Season 5 Thanksgiving episode, we discover that Chandler was actually the reason why Monica lost her weight, as he was cruel to her when they first met at Thanksgiving back in 1987, when he attended her family's gathering as a guest of his then-new college roommate, Monica's brother, Ross.
After he was so cruel to her, she lost a lot of weight to try to seduce him the following year, so she could be cruel to HIM….
And in the process, she accidentally cut off one of his toes (and then forgot to bring the severed toe to the hospital, thus keeping it from being re-attached)…
So anyways, obviously, the show retconned out the fact that Chandler and Monica did not have a history together at first and now they did.
If anyone else has a suggestion for Abandoned an' Forsaked, drop me a line at brian@poprefs.com!