When Topanga's Sister, Nebula, Fell Prey to Chuck Cunningham Syndrome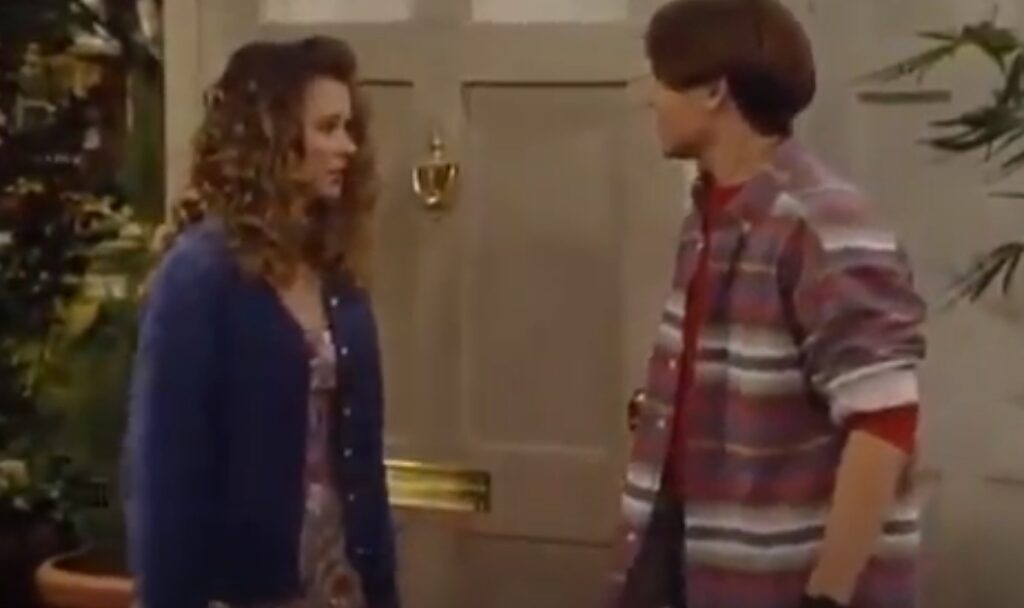 Today, we look at how Boy Meets World dropped Topanga's sister from the series.
In Abandoned an' Forsaked, we examine stories and ideas that were not only abandoned, but also had the stories/plots specifically "overturned" by a later writer (as if they were a legal precedent) with a retcon (retcon stands for "retroactive continuity," but we're specifically talking about retcons that contradict earlier stories).
August is Abandoned an' Forsaked month! All month long, I'll be looking at notable pop culture retcons.
This week will all be examples of a specific type of retcon – Chuck Cunningham Syndrome, where a relative (who was actually shown on screen) is retconned out of the show because they aren't necessary to the story anymore (named after Chuck Cunningham from Happy Days, Richie and Joanie's older brother who was retconned out of the show). Note that I don't mean examples where characters simply aren't mentioned again, I mean instances where they actively refer to the new state of affairs (you know, like saying someone who had a sister is an only child, stuff like that).
In the first season of Boy Meets World, the long-running ABC sitcom about a young boy named Cory Matthews (Ben Savage) growing up in the suburbs of Philadelphia, Danielle Fishel's Topanga Lawrence was introduced in the fourth episode of the series, a student in Cory's sixth grade class who was good at school and into stuff like meditation due to her hippy parents (who, you know, named her TOPANGA). Amusingly, Fishel originally wasn't even going to have the role (which is a prominent one in her first episode), as she lost out on Topanga initially. The other girl who was cast, though, didn't work out, and since Fishel had been given a minor role in that episode as a sort of consolation prize, she was available to step up and take over (as I detailed in an old TV Legends Revealed).
After her major appearance in the fourth episode (where she and Cory share their first kiss with each other), Topanga then settled into being a relatively minor character for the next 10 episodes or so (with Fishel not even appearing in episodes 5-7). However, Fishel was so charming that the show essentially made her a regular from Episode 8 onward (perhaps in response to the reaction to Episode 4?), missing only two episodes the rest of the season. While a minor character, still, she got a spotlight episode in the 13th episode, "She Loves Me, She Loves Me Not," where Cory's older brother, Eric (Will Friedle) visits Cory's class, and Topanga develops a crush on Eric, and begins trying to spend as much time with Cory as possible to see Eric. Of course, from Cory's perspective, he assumes Topanga is into HIM, due to, you know, her suddenly spending so much time with him.
Not only is she spending time with him, but she is manipulating him into willingly inviting her to his house by offering up a film, Godzilla Goes to College, that her older sister rented, that she knows Cory wants to see.
Ultimately, Cory figures out what the deal is, and gets Eric to let Topanga down easily. Eric gives her a very touching speech about how she doesn't REALLY like him, since she just met him, she's just interested in him because she thinks he is good-looking, and he explains that that isn't a real reason to be interested in someone, and she is mature enough to realize that. She concedes the point. As he's explaining that anyone who is into someone for just their looks would be "stupid and superficial," however, Topanga's older sister, Nebula (Krystee Clark), comes to the door to pick Topanga up, and Eric introduces himself as "stupid and superficial"…
And that's it for Nebula Lawrence. Topanga is later noted to specifically be an only child, thereby retconning Nebula out of existence.
Fishel became a full-time cast member in Season 2, and Topanga and Cory ultimately got married in the final season (oddly enough, though, not at the END of the series, but towards the start of the season).
You could argue Topanga's parents were also retconned when they decided that they were no longer hippies (and Michael McKean replaced Peter Tork as Topanga's dad), so maybe I'll write about in the future.
If anyone else has a suggestion for Abandoned an' Forsaked, drop me a line at brian@poprefs.com!