Which Film Character Had the All-Time Best Introductory Scene?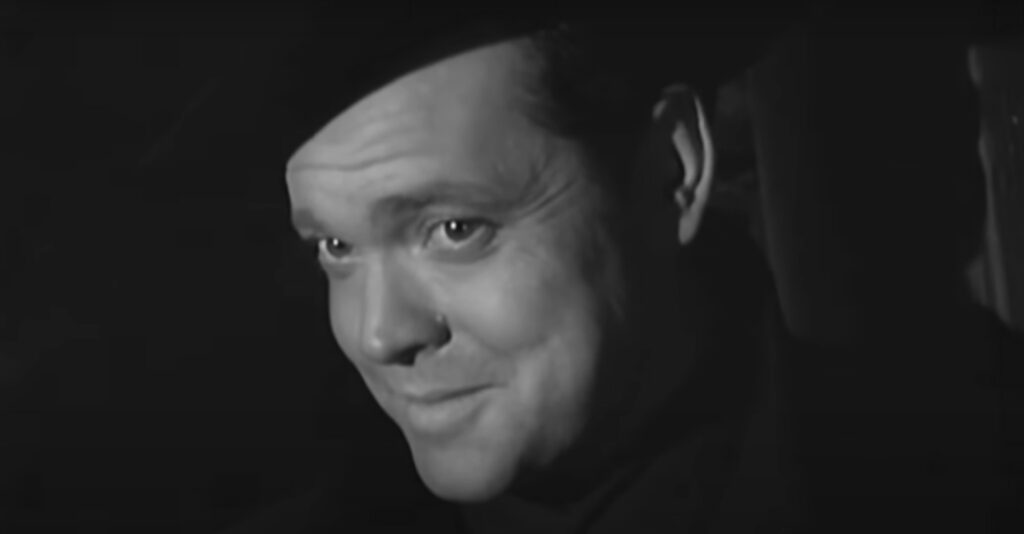 Today, I'm asking you what film character do you think had the all-time best introductory scene.
Pop Culture Theme Time is a feature where I put a question to you to see what you think about a particular theme. I might later revisit the theme for a future Drawing Crazy Patterns or Top Five.
I've asked you before about the best introduction scene for a TV character (as well as the best introduction scene for a new character on a TV series, as opposed to ANY TV character), and now we're looking for the best introductory scene for a film character.
First off, I think Indiana Jones' introduction is when he uses the whip to disarm the guy who tries to shoot him in Raiders of the Lost Ark, not when he removed the idol and was being chased by the boulder. It's still a cool introduction scene, but not the BEST (if I did count the whole ten minute sequence as one scene, then I guess I would put that #1).
Therefore, I'm going with the introduction of one of the greatest film villains of all-time, Harry Lime, in The Third Man. Spoilers for a movie that came out almost 75 years ago! The concept of the film is that Holly Martins (Joseph Cotten) shows up in Vienna to take a job from his old friend, Harry Lime, but when he arrives, he discovers that Lime had just been killed in a mysterious traffic accident. There were three men on the scene. Two were identified, but who was the THIRD MAN? Martins works with Lime's girlfriend, Anna Schmidt (Valli), to find out if someone killed Lime and who was that third man?
Well, one night, when Holly is with Anna, her cat leaves the apartment and walks down the street and presses up against a man in a nearby doorway, cloaked in the shadows. When Martins leaves the apartment, he notices the man, and shouts at him. A woman above the doorway opens her window to complain about the noise, and the light in her apartment floods the doorway below and Holly is shocked to see that the man is HARRY LIME (Orson Welles)! The third man at Lime's "death" was Lime himself!!
That smirk from Welles is EXQUISITE. He got his friend come to Post-War Vienna, he fakes his death before his friend arrives, he watches as his friend tries to solve his death and he ends up just SMIRKING at him when his ruse is discovered. That perfect sense of, "Yeah, oops, sorry, I sort of screwed you over, but oh well, you know it goes, old boy." Welles is so freakin' good as Harry Lime. The reason he is such a great villain is specifically BECAUSE he is clearly having so much fun with it all.
This is obviously a tough category, so I'm sure there are plenty of other good picks out there, so let me hear them!
Everyone, feel free to suggest future Pop Culture Theme Time topics to me at my new, much shorter e-mail, brian@poprefs.com!