Why Was the Bible Such a Big Clue in Mission: Impossible?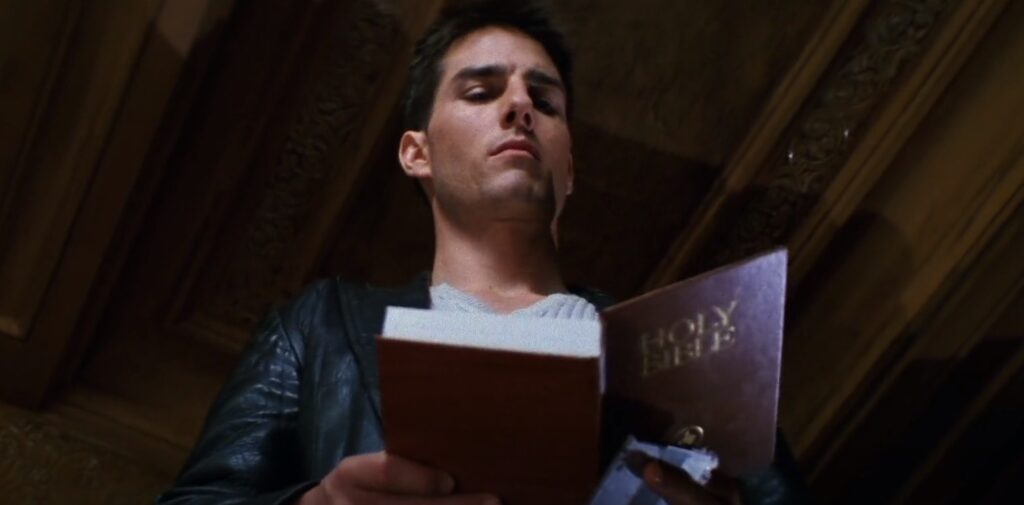 Today, we delve into an admittedly fairly confusing plot point in the original Mission: Impossible film.
In Pop Culture Questions Answered, I answer whatever questions you folks might have about movies, TV, music or whatever (feel free to e-mail questions to me at brian@pop culture references.com).
Reader Majere commented:
Excuse me, good sirs, I was always wondering how Hunt could figure out the true identity of Phelps in the movie. As far as I remember, when Hunt spotted a Bible from Drake Hotel (if I remember correctly) in Chicago, he grew suspicious. But frankly speaking, I really don't understand what it is to do with the exposure of Phelps. Grateful if someone could explain to me. Thanks.
Sure thing, Majere.
This is a common question regarding the first Mission: Impossiblefilm, because the film definitely does muddy the water a bit with an unusual piece of dialogue.
Okay, to set the scene, the film opens with Ethan Hunt (Tom Cruise) on a mission in Prague with the rest of his Impossible Mission Team, led by Jon Voight's Jim Phelps (playing the character Peter Graves famously portrayed in the original Mission: Impossible TV series). There is Emmanuelle Béart as Claire Phelps, Kristin Scott Thomas as Sarah Davies, Emilio Estevez as Jack Harmon, and Ingeborga Dapkūnaitė as Hannah Williams.
The mission, which was to acquire the second half of a top secret list of undercover operatives' names, goes bust, and seemingly everyone but Ethan is killed. He then learns that the mission was a decoy all along, and it turns out that someone using the code Job 314 was trying to sell the list to a famous arms dealer. It was a "mole hunt," and Ethan appears to be the mole they're looking for. Ethan escapes custody, and heads to the safe house his team was planning to rendezvous at if the mission went wrong.
Ethan figures out from seeing a Bible in the room at the safe house that Job 314 refers to a passage from the Bible, Job 3:14. He uses that information to enter a group for discussion of that specific verse, and communicates with the dealer, and has a meeting. The dealer, Max (Vanessa Redgrave) notes that she knew he wasn't the real Job, because Ethan included a quote from the verse, and the REAL Job never did that, they just used the verse name to pick the group, and then communicated via e-mail from that section of the group (So Job 3:14 followed Job 3:13, etc.).
After Ethan sent the first message to Max (he sent in many different languages), he was shocked to learn that Claire survived, as well.
Ethan figures out that they need to steal the real list of names to get Job to come out of the shadows to get the list from them. They hire two disavowed agents, Franz Krieger (Jean Reno) and Luther Stickell (Ving Rhames), to assist them. Krieger was specifically recommended by Claire. After they acquire the list, Krieger gives Ethan some grief about the fact that Krieger had physical possession of the list, so he wanted to renegotiate his compensation, but Ethan tricks him, and retrieves the list from him. Krieger interrupted Ethan while he was using the Bible from the Prague safe house to send the next message to Max, and Krieger knocked the Bible to the floor. When Ethan picked it up, he noted that it had a stamp on it saying it was from the Drake Hotel in Chicago.
Ethan instantly guesses who Job is, and, so, WHY? Well, earlier in the film, we learned that Jim Phelps had visited the Drake Hotel in Chicago. At the time he sees the stamp, Ethan still technically thinks Phelps is dead, but it is fair to note that not only did he never see Phelps' body, but when he ran to help Phelps and saw Phelps fall from the bridge after getting "shot," Ethan could see that there was no one else on the bridge at the time. Something he likely put out of his mind at the time, but was still there, nagging at him.
Ethan knows that the mole hunt meant that SOMEone on his team was likely Job. Before he knew Phelps was definitely still alive, he had to be suspecting Claire, especially since she brought Krieger aboard, and Ethan noticed that Krieger uses the same type of knife that was used to kill both the guy who had the decoy list AND Sarah. So when he sees the Drake Hotel stamp on the Bible, Ethan assumes that either Phelps or Claire was using the Bible for their Job code. Note that Ethan continued to use the Bible for his code, choosing the next passage to pick the next discussion group, so even though the earlier Job didn't quote the Bible (which is the line that really throws people, especially since Phelps later DOES quote the Bible to Ethan. It's just a bad line), it is clear that the Bible was part of the code, which is why Ethan brings it with him to London to contact Max. So seeing that the Bible in the safe house came from the Drake Hotel WOULD be at least a SLIGHT clue that it was brought there by Phelps and/or his wife. And that's all you need to put you into the right mindset to think of the other angles.
Ethan likely assumed Claire came up with the idea for Job after seeing the Bible from one of her husband's trips to the Drake Hotel. Once Phelps shows up alive a few hours after Ethan sees the stamp on the Bible, Ethan instantly assumes it is Phelps, and not Claire, since, well, come on, showing up alive mysteriously a few days later is SUPER suspicious already. There is even a great moment where Ethan sees in his mind how Phelps did it, but after briefly considering Claire working WITH her husband, Ethan then changes his mind, and "sees" Phelps doing it by himself (however, Ethan is obviously still very suspicious of Claire, so later wears a mask as Phelps to trick her into admitting that she was part of Phelps' plan).
To recap, someone on Ethan's team was probably using a Biblical code (even if not actually quoting from the Bible) to contact an arms dealer. Ethan Hunt knows he is not the mole. He finds a Bible from the Drake Hotel, where he knows Jim Phelps has visited on recruiting missions. The only two other members of his team who MIGHT be alive are Jim and Jim's wife, Claire. It makes sense that seeing a Drake Hotel stamped Bible would cinch it for him that Claire or Jim must be the traitor, and centered on Jim when Jim officially turned up alive a few hours later.
Thanks to Majere for the question! If anyone else has a pop culture question, drop me a line at my new and much shorter e-mail, brian@poprefs.com!