Classic 1950s TV Christmas #21 – The Many Loves of Dobie Gillis "Deck the Halls"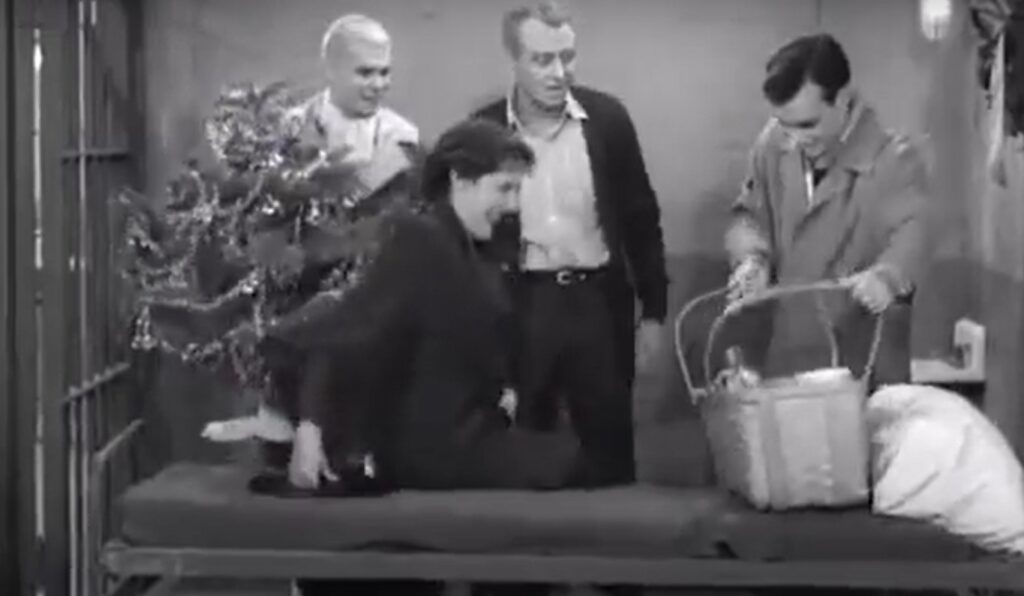 We continue our countdown of my favorite 1950s Christmas TV episodes with 1959's "Deck the Halls" from The Many Loves of Dobie Gillis.
Like the show I wrote about in the #22 installment, The Bob Cummings Show, The Many Loves of Dobie Gillis was ahead of its time. Like how The Bob Cummings Show was the first major sitcom to star a single guy dating lots of ladies (a popular format in the years since), The Many Loves of Dobie Gillis was the first network sitcom to star teenagers (as opposed to having teens as supporting characters on the series. Leave It To Beaver/a> was the first show to center on kids, but I think it's fair to say that by the time Dobie launched in 1959, the "Beave" was not yet a teen, so Dobie beat him to it).
In any event, like I said, the show centered on Dobie (played by Dwayne Hickman, who came over from The Bob Cummings Show, where he was the lead character's nephew) and his best friend, Maynard G. Krebs (a pre-Gilligan's Island Bob Denver), but this first season episode, "Deck the Halls," actually spotlighted Dobie's father, Herbert T. Gillis (played by Frank Faylen, forever a part of Christmas lore due to his performance as Ernie in It's A Wonderful Life), a grocery store owner.
Herbert is being driven nuts by everyone's greed at the holiday season and when a woman tries to return a turkey she bought from him back in June (while also looking to get the current sales price and not the discounted rate she paid back in June), that was the final straw and he threw the turkey through his own shop window. When he was disrespectful to the judge at his booking, he was thrown into prison. However, both the judge and the police chief don't want him to stay in jail because they are afraid of the bad publicity. Herbert, though, wants to make a statement and so he plans to remain in jail through the holidays.
However, his family surprises him by A. visiting him in prison with a tiny Christmas tree and plans to have Christmas dinner in his cell and B. taking care of everything at the store in his absence and he agrees to go home and he now embraces the spirit of the season.
It's a slight episode, but decent enough. One of the things that freaks me out watching early Dobie episodes is that they made Dwayne Hickman bleach his hair blonde to distinguish him from his popular Bob Cummings Show character and it looks FREAKY. He eventually started losing hair from the treatment and they let him go back to his natural hair color in later seasons. Man, TV shows did not give a hoot about their actors' well being back in the day.