Classic 1950s TV Christmas #23 – Dennis the Menace "The Christmas Story"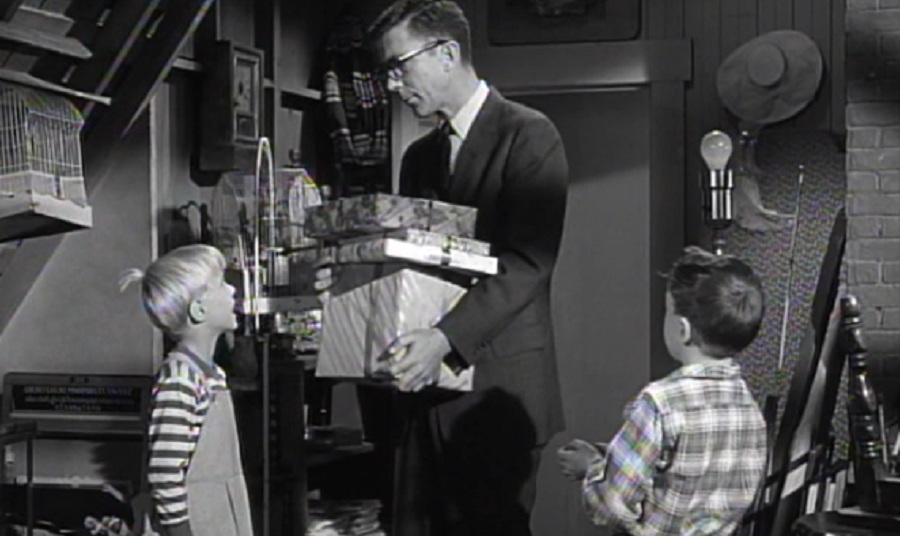 We continue our countdown of my favorite 1950s Christmas TV episodes with 1959's "The Christmas Story" from Dennis the Menace.
What strikes me about Dennis the Menace is that it really is one of the most bizarrely accurate comic adaptations I've ever seen for a TV series. Young Jay North really is the spitting image of the Dennis of the comic strip and the same goes for Herbert Anderson as Dennis' eyeglass-wearing father. Joseph Kearns is excellent as Mister Wilson, the neighbor that Dennis always annoys, but that's a bit easier of a role to cast.
Of course, the same stuff that seem cute in a comic can seem annoying in a live action setting and that's definitely always been the test with Dennis the Menace. Jay North was a fine young actor, but Dennis is inherently an aggravating character and your enjoyment of the show will really rest on how much he bugs you. I imagine little kids liked him a lot back in the day.
In this 1959 episode (written by Peggy Chantler Dick and William Cowley and directed by Don Taylor), Dennis is insistent on finding out his Christmas presents before Christmas Day. And….that's really the entire plot of the episode, Dennis just trying various ways of discovering his presents before Christmas Day, especially the sled that he was hoping he would receive from his grandfather.
Dennis actually IS pretty clever with his various plots (one really good one is to wind up an alarm clock and "gift it" to someone so that his mother puts it with the rest of the presents and so when the alarm goes off, he will know where all of the presents are).
In the end, he calms down enough to make everyone feel nice and Christmas, he even gets Miser Wilson to cry and call him a Christmas angel (while Dennis, of course, has sneaked into Mister Wilson's house to see the presents that he has figured out that his parents have hiding in Mister Wilson's closet).
IS THERE A "MAYBE SANTA CLAUS IS REAL?" BIT THAT I ALWAYS HATE? Nope!