Classic 1950s TV Christmas #24 – Highway Patrol "Christmas Story"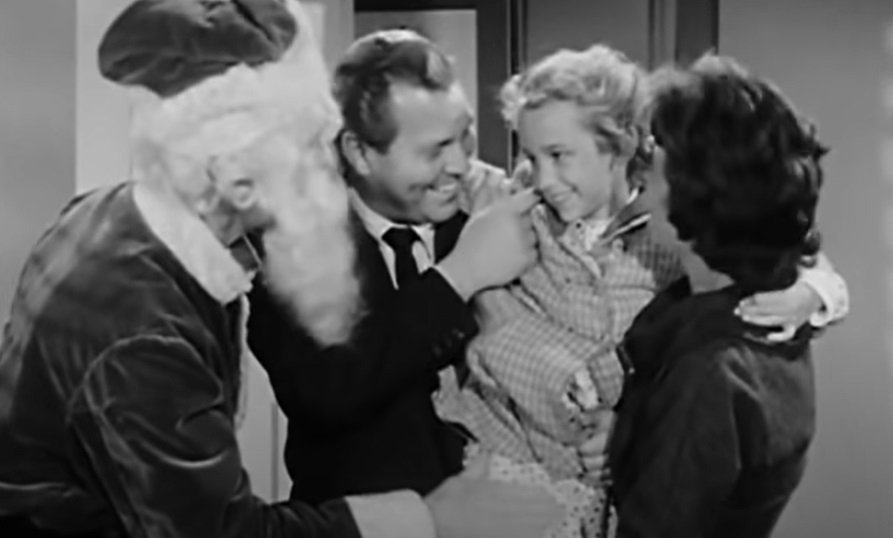 We begin our countdown of my picks for the top 1950s Christmas episodes with 1956's "A Christmas Story" from Highway Patrol.
My criteria for the stories are A. No adaptations of Christmas films (there were SO many of those back in the day), B. only actual story episodes (so no Christmas specials, as they are way too hard to compare against each other) and C. Christmas spirit counts extra, so a great episode that is dark as heck will be ranked not as high as a less great episode that is festive (but, still, if an episode is great, I'll still rank it as, well, come on, we're still looking for quality TV here). The episode all originally aired in the 1950s.
Highway Patrol was a pretty straightforward police drama starring the great Broderick Crawford as Dan Matthews, the head of a police force in some Western state (probably California, but it's super vague).
In this Christmas episode from 1956, written by Don Brinkley, a woman has taken her daughter and left her husband two days before Christmas. She's heading to her sister's, but she stops at a motel along the way and when she wakes up the next day, her daughter is missing.
Dan is brought into action and when they find the girl's handkerchief with blood on it, everyone thinks the worst. The man had left home to go drive around every motel looking for his wife and child and he is brought into things pretty quickly as he is ruled out as a suspect. Dan is a bit of a jerk to the woman, giving her grief about leaving her husband on Christmas, but in general, he tells her he's not a gossip columnist and doesn't really care if she thinks it WAS the right thing to do. The guy shows up and he admits that he has been terribly neglectful of his family and the final straw was when he forgot to show up to take his daughter, Julie, to see Santa Claus at the local mall so that she could give Santa her letter where she asks for a dog.
Dan realizes that Julie must have walked off to hand deliver the letter. We see that Julie has found a Santa Claus outside of a Christmas Mission and she has a wounded dog with her. The blood was the dog. Julie wants Santa to help fix the dog's foot and also accept her letter. Santa goes to call the cops, but Dan comes across him before he can do so.
Santa, Dan and Julie reunite with her parents and it's a merry Christmas for everyone.
IS THERE A "MAYBE SANTA CLAUS IS REAL?" BIT THAT I ALWAYS HATE? Not really, but when Dan offers to drive Santa Claus back to the mission, he turns him down, explaining that he has his own transportation. Dan gives a little look, and it's a slight bit of wocka wocka. Not enough to irritate me, though.