Classic 1950s TV Christmas #4 – The Loretta Young Show "Christmas Stopover"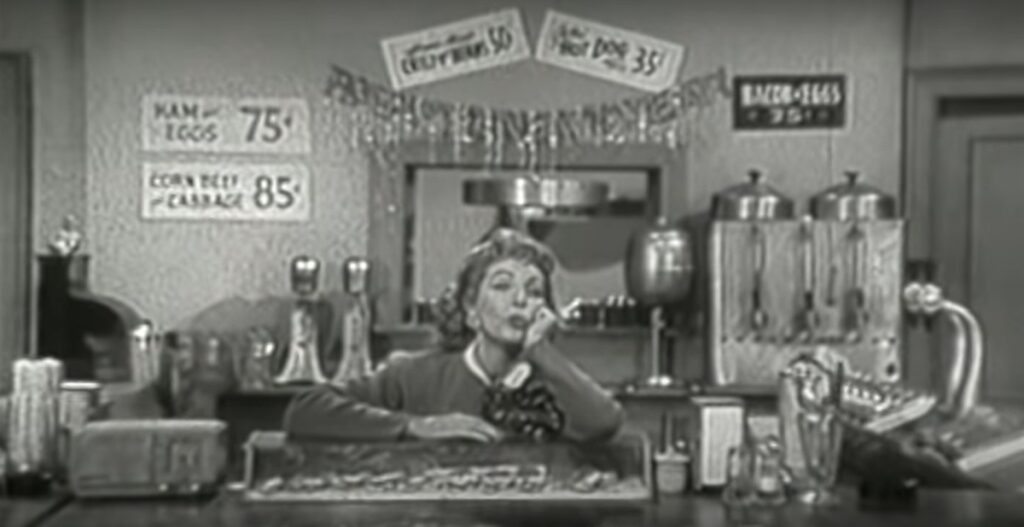 We continue our countdown of my favorite 1950s Christmas TV episodes with 1955's "Christmas Stopover" from The Loretta Young.
Loretta Young is a fascinating figure in that she began as a child star in silent films and then became a movie star in the 1940s, winning an Academy Award in 1947 for The Farmer's Daughter and then nominated for the award again in 1949 for Come to the Stable. So unlike most other actors who moved to the new medium of television, Young was riding high in the films, but she thought television gave her a fine opportunity to do diverse roles every week and speak directly to her audience (the concept for The Loretta Young Show, at first, was that the scenarios in the episodes would be in response to letters Young received. She would end each episode with a summation of the message of the episode and often she would quote the Bible (she was a devout Catholic). However, she worked herself too hard and she couldn't do the start of Season 3 of the series due to exhaustion. When she returned to the show in Season 3, midway through the season, she began to cut down on her acting duties and only acted in about half the episodes, while still hosting and introducing (and summing up) ever episode.
Interestingly enough, her first appearance in Season 3 was the very episode we're talking about today, "Christmas Stopover," where Young plays a waitress at a diner that is in a train station, so she only gets customers when there is a train stopover. Due to some issues with the train line, the passengers for the train to St. Louis are stranded their overnight and so the diner is more crowded than usual. Young's waitress is a bit of a sad sack. She dreams of a ring from her boyfriend for Christmas, but he's clearly stringing her along.
Two notable customers at the diner are a young boy who is headed to his mother's after spending half the year with his father (his parents are separated and don't communicate with each other even though they're both obviously still interested in each other as they are always asking their son about each other) and a lonely serviceman who flirts with the waitress but gets shot down, since she has a boyfriend.
The boy speaks to his mother and she lets him know that he isn't getting the bicycle that he had hoped for. He's sad and the waitress is sad for not getting her ring, but the kid notes that his teacher says that when god says no to a prayer, it's because he has something BETTER in mind. The waitress, by the way, has already cleverly gotten the kid what he really wanted when she learns that the boy's father doesn't live too far away so she tricks the boy's mother into thinking that she has been letting the kid drink eggnog. Sure enough, the mother calls the father and he arrives to drive the boy to his mother's. He is upset at the waitress until she explains that she served the boy eggnog-flavored ice cream. The boy is so excited that not only did his parents talk, but they're going to see each other on Christmas.
Meanwhile, the serviceman brings the waitress a plant as a Christmas gift and notes that he's probably going to settle down in this area. She agrees to let him get food from a local restaurant and bring it to the diner for them to eat Christmas Eve dinner together. She then notes to the kid that his teacher was right, god said no because he had something better in mind for both the kid and the waitress.
Clever stuff and very well acted by both the boy (Bobby Clark) and Young. Young was even nominated for an Emmy for this role (Best Actress in a Single Performance, a common category back in the days of anthology series), losing to Mary Martin for Martin's iconic performance as Peter Pan.