Classic 1950s TV Christmas #5 – Father Knows Best "The Angel's Sweater"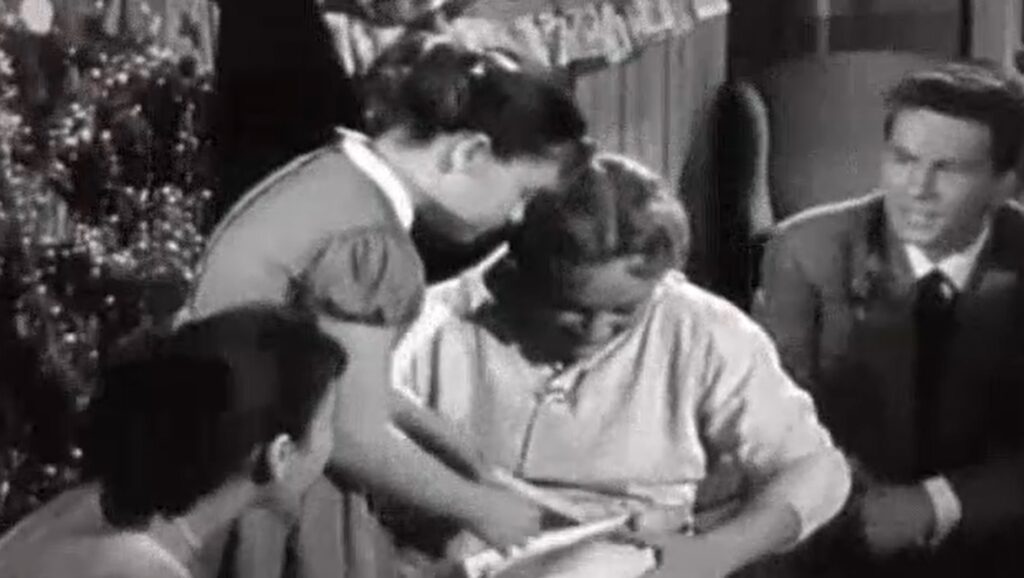 We continue our countdown of my favorite 1950s Christmas TV episodes with 1956's "The Angel's Sweater" from Father Knows Best.
Generally speaking, Father Knows Best was the highlight that all 1950s sitcoms had to be judged against and most would be found very lacking. The writers of the show, like the one who wrote this one, Roswell Rogers, had a knack for making every episode really feel like a half hour film. The production quality and the script level (and the performances from the cast, with Robert Young brilliant as the titular Father who knows best, but also Jane Wyatt as his wife and the excellent Elinor Donahue as the oldest daughter and the not-quite-as-good-but-still good younger kids, Billy Gray and Lauren Chaffin). The show has been a hit on the radio, but Young felt that it was too crass and recast the show for television and dropped some of the more aggressive jokes (Jim Anderson on radio would often insult his kids as being stupid, that sort of stuff). He didn't like that they always just went for the laughs on the radio show and he wanted the TV show to be warmer and it certainly worked, as the show was one of the most heartwarming show around.
There are two Christmas episodes of Father Knows Best and they're both excellent. I really didn't know which one to rank the highest, but ultimately, this episode used a trope I almost always dislike (even though it was used well enough in this episode), so this one came in second.
The concept of the episode is that Jim Anderson's sister is coming to visit and when little Kathy (Chaffin) tries to take her suitcase upstairs for her, she drops it and damages the suitcase. Aunt Neva responds harshly, leading to Kathy (her nickname on the show was "Kitten") running to her room to cry. Her sister, Betty (nicknamed "Princess") goes to console her and Kathy just VICIOUSLY tears into Aunt Neva and Never overhears her and everyone is miserable (Neva wants to just go stay in a hotel).
There is a burst water pipe and the Andersons are shocked that local fix-it guy will come on Christmas Eve to help them out. He discovers a hiding Kathy and they get to talking and he tells her a Christmas fairy tale. This leads to one of those annoying bits where everyone in the cast plays a character in the story, but whatever, it's a good bit about how the best thing that you can do in a situation like this is to just show love for your fellow man.
So later, Kathy is giving a Christmas present to Aunt Neva and breaks down crying, explaining that she doesn't hate Neva, she loves her and Neva breaks down crying as she's so happy and it's just this big ol' heartwarming moment.
I love that they had Kathy get pretty dark before learning it is better to love than not.
Good stuff.